2018 is the year of many things for Malaysia, including a boom of new luxury hotels opening in Kuala Lumpur with the most recent one being the much-anticipated Four Seasons Hotel Kuala Lumpur. As a brand and the experiences it offers, Four Seasons has made quite a name for itself but how does this property differ from the others? How does it adapt to the local culture and its surroundings while still retaining its identity? What are the dining options? What can couples expect from its wedding services? We speak to Nelson Hilton, Senior Marketing Director of Four Seasons Hotel & Residences, Kuala Lumpur for all the answers.
Hi Nelson! Congrats on your recent appointment and welcome to Kuala Lumpur! What are your thoughts of KL so far?
Thanks so much! My family and I have really been enjoying our time here. Kuala Lumpur is such a vibrant and cosmopolitan city — rich in culture, diversity and extraordinary people. It's been an absolute pleasure discovering the city's unique mix of attractions, from the incredible architecture to the bustling street markets and beautiful parks; there is so much to see and explore, especially for my young family.
With such an extensive experience working with the Four Seasons, how would you describe the brand and what are some of the attributes unique to the brand as compared to the others?
Four Seasons is easily recognisable as one of the world's leading luxury hospitality companies. We are known for our intuitive and impeccable service. Unique to the brand is our focus on providing guests with a truly immersive luxury lifestyle and experience. We maintain that sense of privilege through our intuitive care, connecting with every guest that comes through our doors and constantly anticipating the needs of our guests.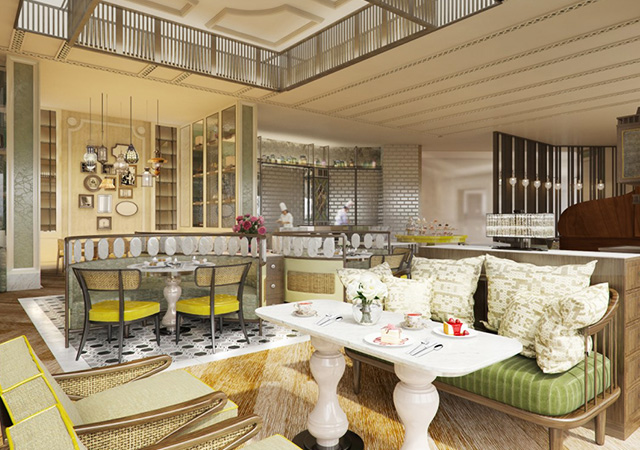 Any insider information you'll be able to share with us?
Let's just say that although I'm closely connected to the property, I'm just as excited as the next person for the hotel's debut. From the six extraordinary restaurants and bars, and museum-quality art exhibits, to the "staycation" opportunities at our serviced apartments, the hotel itself is truly the city's new destination for an immersive luxury lifestyle.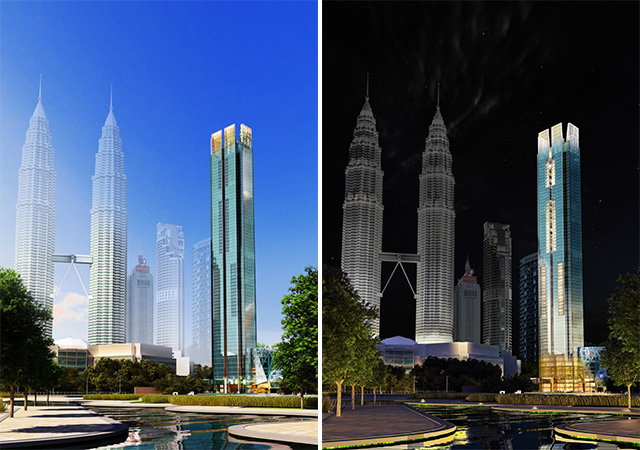 Describe the concept of the design for Four Seasons KL.
The hotel is a stunning landmark, both inside and out, soaring 65-storeys above the heart of the city. To achieve a distinct sense of place, we teamed up with renowned KL-based architectural and design firm NRY Architects and interior design firm Wilson Associates. This visionary team has redrawn the skyline with a contemporary approach that reflects both the city's vibrant energy and cultural heritage. The design lends itself to be inviting and approachable, yet also represents a dynamic social hub. The views are also absolutely breathtaking, with the majority of the hotel overlooking the KLCC Park.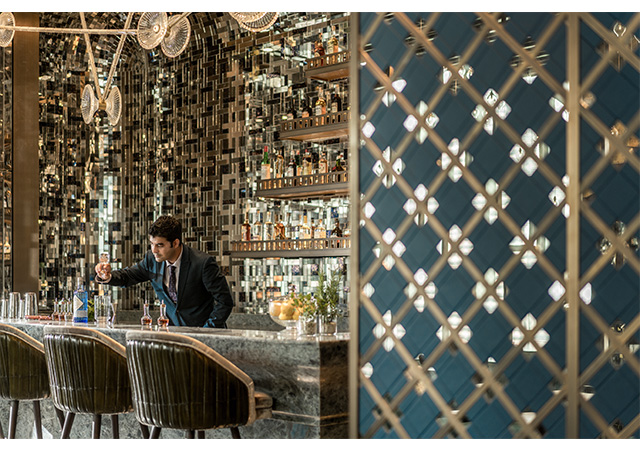 Tell us about the dining options.
Our six restaurants and lounges will break the boundaries of hotel cuisine, stepping away from the world of typical hospitality dining and into that of a new culinary epicentre. This will be where Four Seasons' commitment to innovative culinary practices will collide with global flavours. There's something for every palate and no shortage of incredible cuisines. From authentic Cantonese cuisine at Yun House to Bar Trigona, a stylish bar that focuses on craft cocktails, as well as our very own pastry shop, Decadent, located at Four Seasons Place; the cuisine is a primary focus.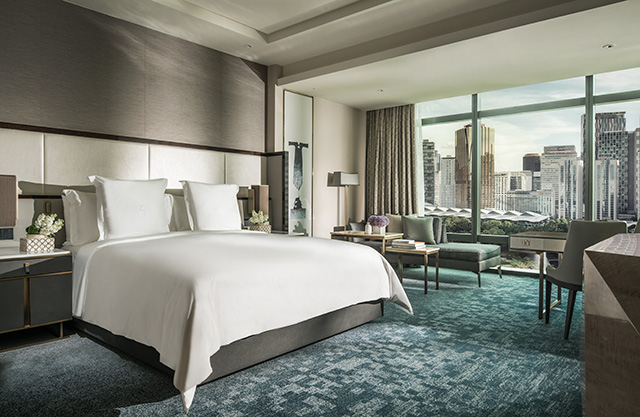 Name three things you love about Four Seasons KL that guests would appreciate too. 
There are definitely more than three things that make Four Seasons extraordinary, but at the top of my mind, one of my favourite things about the property is the central location in the heart of the bustling Golden Triangle neighbourhood — it's truly an urban oasis.
Secondly, the hotel offers exclusive access to a completely immersive luxury lifestyle, from our indoor infinity pool to the spa, to our six unique restaurants and lounges.
Lastly, Four Seasons features 27 ultra-luxurious serviced apartments, which allow guests to have the best of both worlds with access to our incredible hotel services and amenities, yet with the warmth and comforts of home.
For me, these three areas offer the convenience, luxury and comforts that make travelling effortless with my family. Happy kids, happy travels.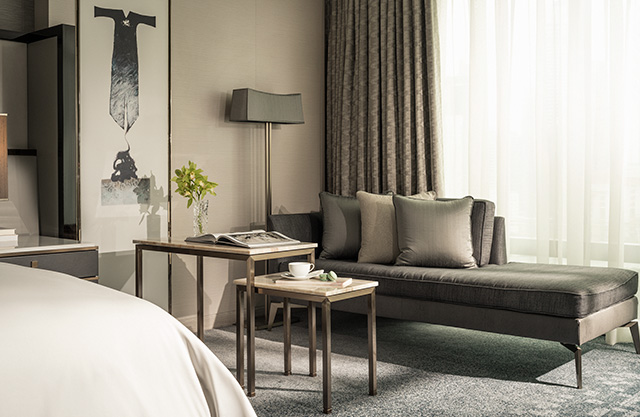 Weddings are a huge affair in KL — what can couples expect if they're planning to host their special day at Four Seasons KL? 
I always like to say, 'If it can be imagined, Four Seasons can make it happen.' Our team of wedding specialists will do just that — create an unforgettable and customised event. The best part: we will take care of all of the details, from the flowers and wedding cake, to invitations and décor, making for a beautiful and stress-free celebration.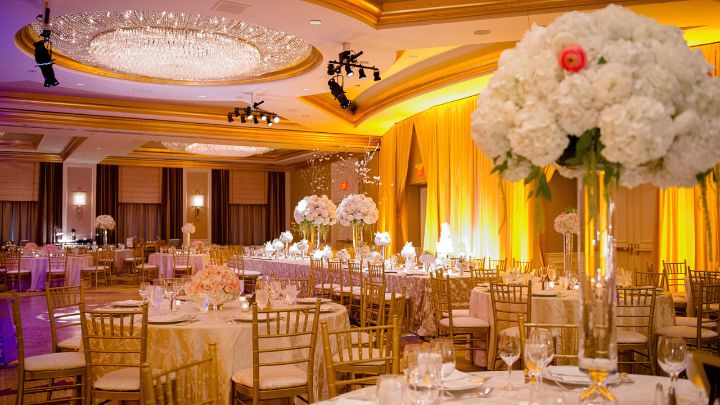 What are some of the curated local experiences that guests can expect?
Based on the guest's interests, our Concierge will create a customised, highly curated itinerary to truly experience all that Kuala Lumpur has to offer. Additionally, the hotel will have an abundance of on-site experiences that capture a sense of place, such as spa and culinary on-site experiences.
What are some of the unique features of Four Seasons KL, which other Four Seasons hotels do not have?
As one of the tallest buildings in Southeast Asia, the 65-storey tower will be dedicated solely to sharing the Four Seasons lifestyle with locals and guests from around the globe. The building, collectively referred to as Four Seasons Place Kuala Lumpur, encompasses a six-floor shopping platform known as The Shoppes at Four Seasons Place, in addition to the 209-room Hotel and 242 Private Residences — making this property the largest residential development by the brand to date. There's never been a Four Seasons property like Four Seasons Place Kuala Lumpur. 
Four Seasons Hotel Kuala Lumpur is now welcoming guests. For more info, visit their website, Facebook and Instagram.
145, Jalan Ampang, Kuala Lumpur City Centre, 50088 Kuala Lumpur
| | |
| --- | --- |
| SHARE THE STORY | |
| Explore More | |