Film, TV + Theatre
'WeCrashed': What Jared Leto and Anne Hathaway have to say about their new AppleTV+ series
"Elevate the world's consciousness"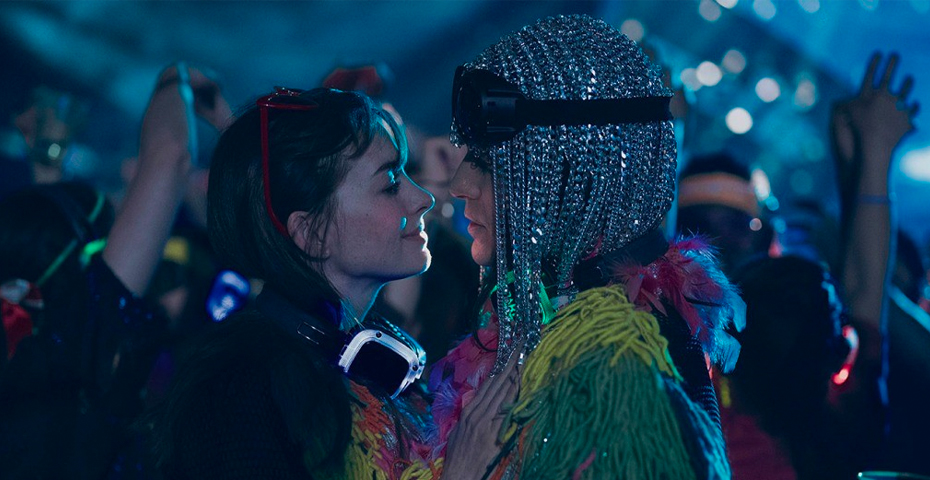 How much could a coworking space company be worth, or could go on to achieve? For Adam Neumann, the founder of WeWork, the magic number was US$47 billion. This either impressed onlookers or bewildered them, especially when news of its unfortunate downfall broke. The company grew rapidly into a global brand in less than a decade, but its value plummeted in less than a year. In its golden era, it continued to expand by the masses, receiving astounding amounts of investment, and gaining almost a cult following amongst its "members". But the Apple TV+ limited series isn't going about it like a mere business origin story. The tagline is "a love story worth $47 billion". This was a side of the story that you won't find in the headlines.
Starring Jared Leto as Adam Neumann and Anne Hathaway as Rebekah Neumann, it's important to highlight that as much as WeCrashed is inspired by the actual events, the eight-episode drama series isn't a documentary. Instead, the production notes frequently cited the producers wanting to humanise the story and inject it with empathy. Granted, the critical point of events remain true to a tee, such as Softbank founder Masayoshi Son, enamoured by Adam's grand ambitions and generous confidence, first invested US$4.4 billion in WeWork, valuing the company at US$20 billion and later, pushing that valuation to US$47 billion.
WHY THE STORY OF WEWORK
Showrunners, executive producers and writers Lee Eisenberg and Drew Crevello wanted to work on the series after first listening to early episodes of WeCrashed: The Rise and Fall of WeWork, the podcast by Wondery of which the series is based. With the exception that the two longtime friends shared the same vision of how they wanted to tell the story. In an exclusive roundtable interview, Eisenberg, whose credentials include five seasons of The Office, tells us that "the story of Adam and Rebekah is the story of WeWork".
"I've always been fascinated by stories of the rise and fall of businesses, but what was most exciting about this one was that there was a love story at the centre of it. That was the thing that was really delicious and juicy," said Emmy-nominee Eisenberg.
JARED LETO AS ADAM NEUMANN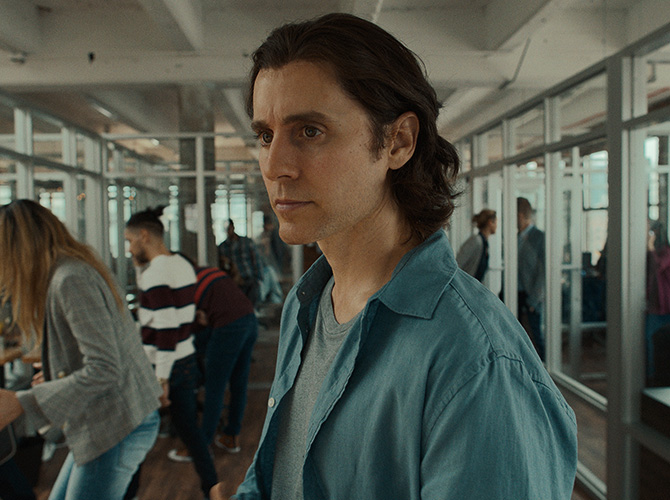 It was easy to binge-watch through the eight episodes in time for the virtual interviews because the casting was perfect. Jared Leto carried the same magnetic charm as Adam, selling you the vision he sold to his investors. But because you also see the ugly side of the business, his greed, and his unrealistic ambitions—despite having all the right people around him who offered sound advice—you might find it hard to sympathise with him. In addition, Leto does incredible voicework in mimicking the real Adam's accent and mannerisms. Of course, the actor is known for diving deep into his roles. For example, Adam Neumann grew up in a kibbutz in Israel, which is an intentional agriculture-based community or settlement. Leto attempted to recreate that experience but was "shut down".
"I didn't get a chance to go live on a kibbutz. I actually tried to, but I wasn't allowed to go to Israel as they were under lockdown. That would have been special, but it's a remarkable story and a compelling character. The nice thing is that it's such a recent story, so there's a ton of material, and I was just buried in research and loved it," said the actor and musician.
As for the accent, he shared, "I just surrounded myself with Israelis, educated myself and practised. I wanted to stay committed to doing the best job to represent that dialect."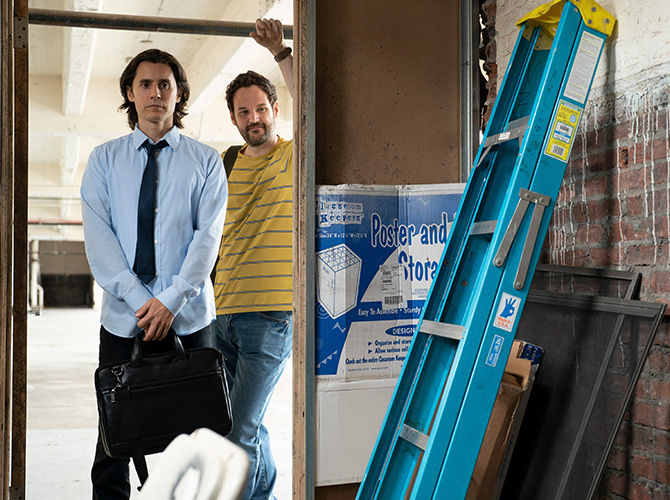 Accents aside, Leto even went through a special effects makeup process complete with prosthetics designed by Oscar winner Kazu Hiro. The process wasn't as long as what he went through for Paolo Gucci in House of Gucci, but Leto admitted it was more complex and took a lot of trial and error to achieve that subtlety. "Fortunately, we shot the third episode first so we could continue to refine the look and feel," he shared.
When asked what drew him to play the role, Leto replied, "I liked the idea that this was a character who built a company from nothing to a US$47 billion empire. He had tons of success and made his dreams a reality, but he also experienced tons of failure. There's a bit of the flight of Icarus theme there."
ANNE HATHAWAY AS REBEKAH NEUMANN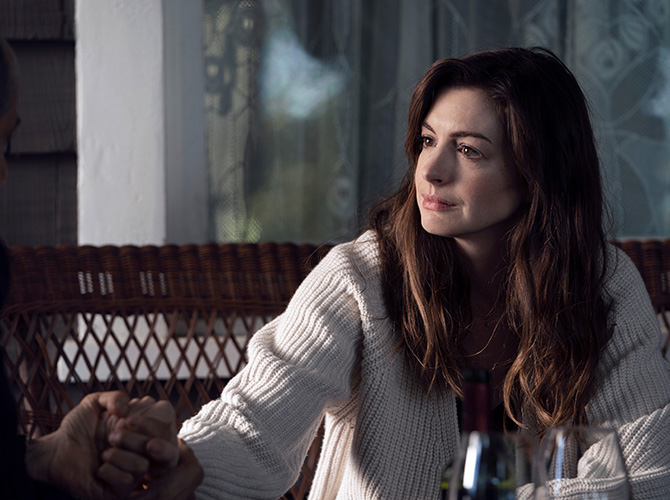 Matching that same charisma on-screen is Anne Hathaway as Rebekah Neumann, who, in reality, isn't mentioned much in the news. While every channel and platform adored Adam's big speeches, the one behind the scenes giving Adam that push while grounding him was his wife and WeWork Chief Brand Officer. Hathaway shared, "When WeWork was founded, Rebekah was not listed as a founder until 2016. I think that's very interesting, and the series gives a portrait and an exploration as to what could have caused that."
Compared to Leto with Adam, Hathaway had less research material readily available online. "I didn't know anything about the WeWork story until I was sent the pilot—somehow, I missed the entire thing—so I did what anybody would do after reading it. I Googled them. I read the media narrative of them, which I think we can all agree is specific, but I was curious as to how true it was. Then I realised that we have a few people in common, so I reached out to them and the word that was used multiple times by multiple people was that Rebekah was sweet."
"I didn't get any of that from the stuff I read online, which got me really interested in who she actually was. At this point, there has been a podcast, a documentary, several books—there has been a lot of attention as to what happened," she continued.
So what sold Anne Hathaway to do the series? "It felt like an opportunity to explore the people involved, and they really were just people. They're human beings, you're a human being, and I'm a human being, which means we're a mixture of traits that are admirable, traits that we're working on and some that we haven't quite gotten yet. I was interested in exploring who this person was from that perspective," shared The Devil Wears Prada star.
Hathaway has a wide range in her acting, but to this particular writer, the one thing that stood out the most was how she projected Rebekah's voice—a low, calm tone. "Watching Jared's performance as Adam was integral to my understanding of how to do a great voice. I witnessed it with Meryl Streep in The Devil Wears Prada, but I didn't know how to articulate what it was that she did. There's a difference between doing an accent and finding the voice of the character, and what Jared had developed in his portrayal of Adam was such an intimate relationship with sound. I was blown away by it and was so inspired that it immediately made me rethink the way I approached my voice work," said Hathaway.
By the midpoint of the series, it was clear that there were no villains in this story as Hathaway portrayed a woman who was lost, or as the producers concluded, a searcher. Rebekah Neumann, after all, is related to the Gwyneth Paltrow, and perhaps, many of us might be able to empathise the human feeling of living under someone else's shadow. We see her struggle with finding her own identity, for herself and the world to see.
MEET THE NEUMANNS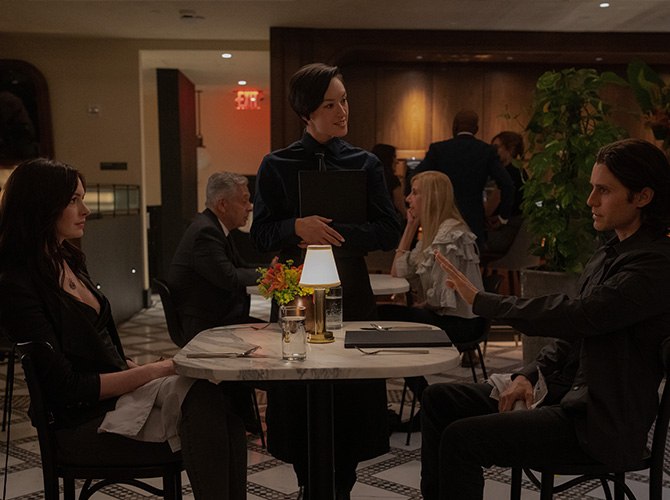 However, the one constant throughout the story is the bond and love shared between Adam and Rebekah—this chemistry shines through in the series.
Hathaway describes the relationship between the two characters as "passionate, wild, supportive, deeply loving and probably cosmic". Rebekah Neumann didn't do that many interviews, but the School of Greatness podcast that she did is often referenced. During the show, she said she always felt there would be a ceiling with other guys. But with Adam, there wasn't any. "So, as per her own description, I would probably say [their relationship] is limitless," answered the actress.
"One of partnership and love," was Leto's response. "They are fiercely loyal to one another. They have six kids together now and remained committed through this wild ride. I think Adam would credit Rebekah for helping to make him and the WeWork company that it became. She helped him achieve some of his wildest dreams. But this is a story of two people who achieved the impossible and dealt with a massive amount of failure too. It's pretty fascinating," he shared.
And yet, there were no preparations for this natural interaction on screen.
JARED LETO AND ANNE HATHAWAY ON WORKING TOGETHER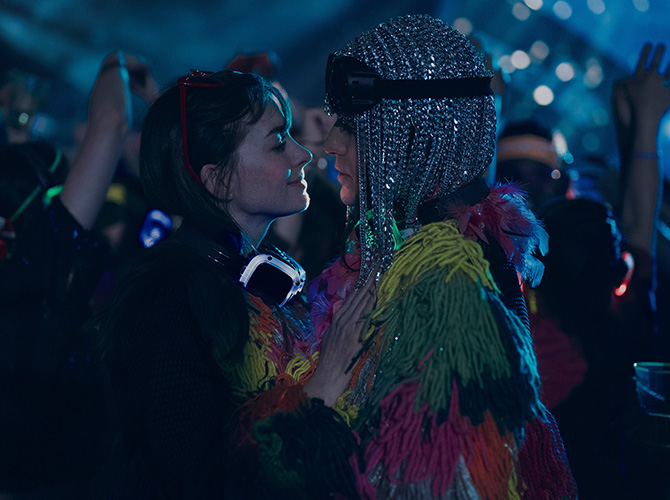 "I'd love to say that we had a bonding experience or went out to a million meals together, but we didn't," Hathaway quipped. "Jared isn't someone who rehearses, so it was a lot of exploration in the scenes with him. We never really talked about what we were going to do. We just brought it to each other, and most of the time, we wound up dancing."
"There's just something about the strength of the writing and the connection between Adam and Rebekah. Jared and I both knew that was what it was all about, and we opened ourselves to it completely," she recalled. The actress continued to tell us that by the third take of their first scene together, they improvised a dance.
Leto equally had the same admiration for Hathaway. "We both recognised an opportunity there—with the material and characters. I have a lot of respect for her. She's a tremendous actor and a perfect partner in crime for this journey. I have a lot of gratitude for the opportunity to work with her," said the actor.
When asked about her favourite scene in the show, Hathaway had one that stood out in her mind:
"There's a scene where Rebekah and Adam are leaving New York, and they're in the backseat of the car when they turn up 'Roar' by Katy Perry. I think the line in the script was that they smile at each other. But it was at the end of six months of filming and one of our last scenes together—till this day, I don't know if Jared and I were doing it or if it was us as Adam and Rebekah—but we lost our minds. We just started laughing, we were howling, and we were crying. That release and knowing that we had gone on our journey together, along with our characters, was a beautiful moment that existed in multiple worlds."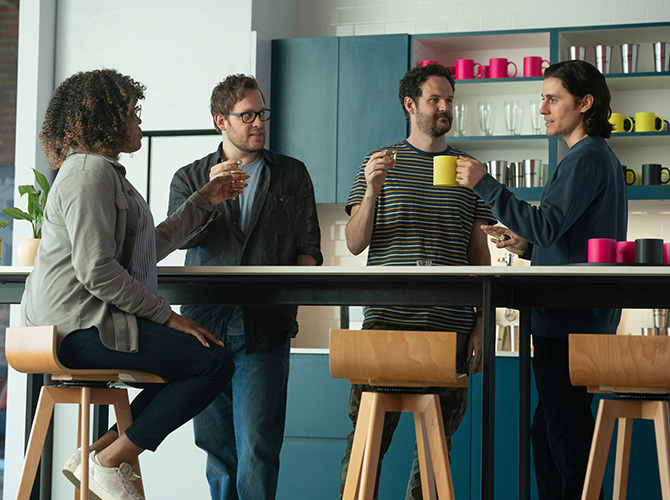 Speaking of 'Roar' by Katy Perry, we asked producers Eisenberg and Crevello the reason behind this song choice because it appears very often. To our surprise, it's because it's true. "That Adam Neumann was obsessed with that song. How we use that song is kind of emblematic of how we approached the show. We tried to take little nuggets and kernels of stories we had heard and repurposed them in a more dramatic fashion," answered Crevello.
"You'll notice we use 'Roar' in different ways throughout the show, and it's all based on the fact that he loved the song and would blast it in the office. So, we tried to make it a recurring motif throughout the show."
By the end of the series—when 'Roar' gets played in a grand, slow-paced instrumental rendition to match Neumann's forced resignation as CEO—it felt like the end of a rollercoaster ride as the car slowly headed back to its station. It is a drama series, after all, but it might pique your interest in how WeWork is doing and what the Neumanns are up to these days.
WeCrashed will premiere globally on Apple TV+ with the first three episodes on March 18, 2022, followed by new weekly instalments each Friday.
| | |
| --- | --- |
| SHARE THE STORY | |
| Explore More | |