Film, TV + Theatre
Buro At The Movies: The true story behind 'Once Upon A Time In Hollywood' and why it's darker than you think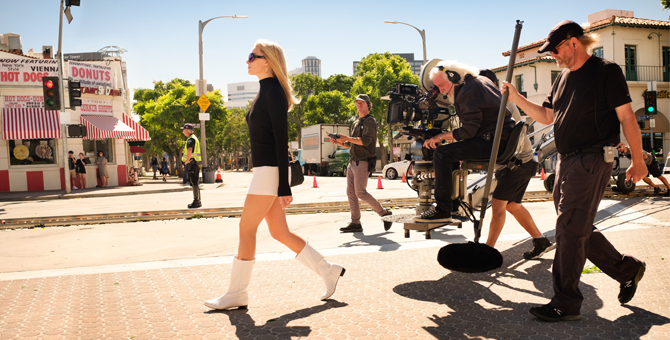 For one, it is director Quentin Tarantino's ninth film (his past work includes Pulp Fiction, Inglorious Basterds, Kill Bill and The Hateful Eight). The American filmmaker has been very open about his decision to retire after completing his 10th project. He even joked about it when he was on Jimmy Kimmel Live! last month, so this might very well be the second-to-last masterpiece of his we ever get to see. Secondly, this movie is loosely based on the gruesome Manson murders that rocked Hollywood back in the '60s. So if you're into real-life adaptions (think The Social Network or American Crime Story), then this would be right up your alley! However, do bear in mind that this, like most of the director's other films, is a fictional narrative set against a largely historical backdrop.
Set in 1969 at the height of hippy Hollywood, this movie follows the fading career of Leonardo DiCaprio's Rick Dalton, an aging TV star who was famous in the '50s and early '60s but has been struggling to transition into motion picture stardom. Brad Pitt plays Cliff Booth, a former war hero and Rick's long-time stunt double. Though both characters are fictional, Tarantino admits that they were based on real people. Rick's character was inspired by American actors George Maharis, Edd Byrnes and Ty Hardin; whereas Cliff's character was born when Quentin referenced the famous friendship between actor Burt Reynolds and his stuntman, Hal Needham.
Rick and Cliff aside, every other character in the movie did exist in real life. Surrounding the two men's journey are Al Pacino as Marvin Schwartz, an emeritus agent selling the virtues of Italian westerns, Kurt Russell as Randy, a stunt coordinator, Mike Moh as famous martial artist Bruce Lee, Dakota Fanning as the Manson family member Squeaky, and Margot Robbie as Sharon Tate, the idealised ingénue who just happens to be Rick's neighbour. Sharon is married to Roman Polanski (played by Rafal Zawierucha), the hottest director in town thanks to his film Rosemary's Baby. Both Sharon and Roman are on every party list, living the high life with the real inner circle of Hollywood—everything Rick hopes to have.
As previously mentioned, while Once Upon A Time In Hollywood is a work of fiction, it uses the Manson family murder as the underlying plot. So before you watch the movie, here's a quick summary of everything you need to know about what happened that fateful summer night. Trust me, the details are important if you want your jaw to fall to the ground (like mine did) when the twist presents itself. After all, rewriting history is what Quentin Tarantino is known for.
On the night of 8 August 1969 at 10050 Cielo Drive in Beverly Hills, an almost nine months pregnant Sharon Tate along with four others (coffee heiress Abigail Folger, celebrity hairdresser Jay Sebring, Polish movie director Wojciech Frykowski and Steven Parent, a friend of the estate's caretaker) were brutally murdered by members of the Manson family. At the time of the murder, Sharon was a 26-year-old budding actress that carried the title as "one of Hollywood's most promising young starlets." This year marks the 50th anniversary of the actress's death.
How did the murders happen?
In what was described as a "killing rampage that terrorised Los Angeles" by the Associated Press, the murders were orchestrated by American cult-leader Charles Manson. In the same news report, the victims were said to have been "slain 12 hours before their bodies were discovered by a maid, who ran screaming to neighbours." Officers who attended the crime scene recounted how the killings "appeared methodic and ritualistic because one victim had a hood over his head and two were tied together by a white nylon rope around her neck and pulled across a ceiling beam in the living room." Besides that, the Manson family not only stabbed Sharon a total of 16 times, they even used her blood to spell out the word "PIG" on the mansion's front door.
Who was Charles Manson?
Charles Manson was born on 12 November 1934 to a teenage mother in Cincinnati, Ohio. Britannica recounts that Manson spent most of his life in juvenile reformatories or in prison for crimes that include petty larceny, armed robbery, burglary, and auto theft. In 1968, he became the leader of a communal religious cult of devoted followers (made up of mostly young women in their late teens and early '20s) who were willing to kill and die for him. It was also noted that being part of the "family" meant giving Charles all your money and having sex with anyone he told you to.
That same year, the Manson family created a home base in Spahn Ranch in Los Angeles where they would take LSD, a hallucinogenic drug, and listen to Charles preach about the past, present and future of humanity. According to Helter Skelter: The True Story of the Manson Murders, an account written by the Manson trial's prosecuting attorney Vincent Bugliosi, Charles allegedly instructed his second-hand man, Tex Watson (played in the movie by Austin Butler) to take Manson family members Patricia Krenwinkel, Susan Atkins and Linda Kasabian to "that house where Melcher used to live and to totally destroy everyone in it, as gruesome as you can."
Until this day, the clear motive as to why Charles Manson ordered the killings on Sharon and her friends is still unknown. The only possible theory attached would be Charles wanting revenge on Terry Melcher, a record producer who declined to sign a music contract with him. Terry and his girlfriend, actress Candice Bergen, were the previous occupants of the Cielo Drive home where Sharon Tate was murdered in.
Where are the Manson family now?
CNN outlined the aftermath of the murders and revealed that Susan Atkins, who was charged for a previous murder, was the one who told her inmates in November 1969 about the gruesome killings. The gossip led LAPD to arrest Charles Manson and the rest of his family on 8 December 1969.
In 1971, Charles, Patricia and Susan received the death penalty while Tex was sentenced to death. However, the death penalty in California was abolished the following year and the sentences for all Manson family members were commuted to life in prison.
Charles Manson died on 19 November 2017 due to natural causes.
'Once Upon A Time In Hollywood' will be released in theatres nationwide on 15 August 2019.
| | |
| --- | --- |
| SHARE THE STORY | |
| Explore More | |