Film, TV + Theatre
Review: Season 3 of 'You' stays true to its roots by portraying the ultimate twisted love story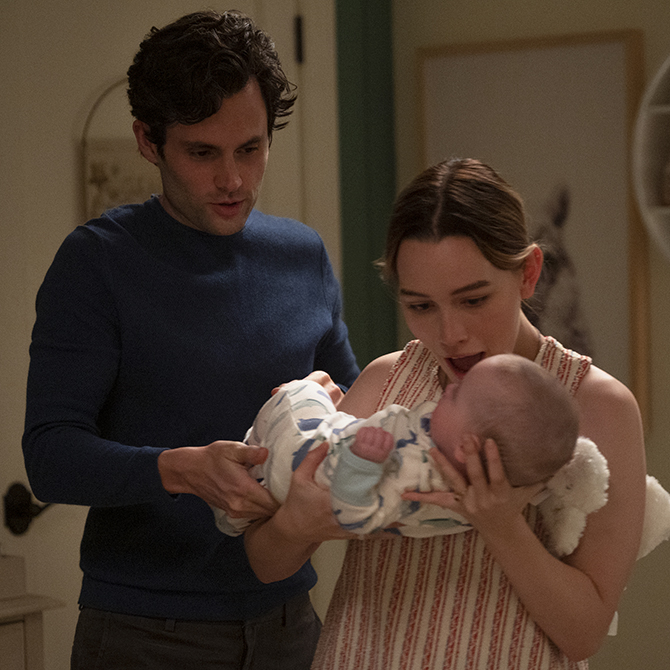 You is a psychological series starring Penn Badgley as Joe Goldberg, a lover of literature and book conservation. While he appears to be the perfect man who has it all together, Joe has personal demons that he can't seem to overcome. In addition to a traumatic childhood where he witnessed his mother being in an abusive relationship, he yearned for the love and approval that she withheld from him.
Consequently, he's brought his mummy issues into adulthood and longs for a maternal figure in his love life. When Joe's eyes are set on 'The One', he becomes obsessed and completely devoted. Based on the books by Caroline Kepnes—there are currently three, with the latest published in 2021—You vividly portrays the extremes of toxic romances and how far one would actually go for the sake of "love".
Recap of You: Seasons 1 and 2
---
Spoilers ahead for both seasons
---
In Season 1, we were introduced to Joe in the New York bookshop where he works. It's easy to sympathise with this lonely man-child and empathise with his yearning for true love. Though we don't see much character development for Joe, the appearance of his first love, Candance Stone, sheds some light on who Joe really is: A maladjusted man-child who enjoys the thrill of stalking, who kills when he doesn't get his way. This is all but confirmed when he murders Guinevere Beck, his love interest who doesn't reciprocate his feelings. Joe really takes heartbreak to a chilling new level.
Watch the trailer for Season 1:
In the second season of You, Joe wants to start over—he changes his name to Will Bettelheim and moves to LA. Here, he tries to be as "normal" as possible but, you guessed it, falls in love with Love (played by Victoria Pedretti). And yes, her name really is Love. They eventually get closer but Love's brother, Forty, keeps interjecting. After more digging by Joe, we find out that Love and Forty's parents are 1. wealthy and 2. not all that they seem. Through their family dynamics, we get to see how elitism among psychopaths works. It wouldn't be You without dead bodies piling up, while we also finally start seeing some character development from our lead serial killer, Joe.
Watch the trailer for Season 2:
You: Season 3
The third season of You quickly picks up the pace with intensely consuming episodes, so do block off your time as the compulsion to binge-watch this season is hard to suppress. Let's start by taking a quick flashback to Season 2, which ended with Joe feeling the urge to know everything about his new neighbour and ominously voicing out his ever-famous line: "You, I need You". This brought up speculations of whether Joe is actually able to be in a committed relationship, or if he's addicted to constantly needing a new obsession in his life.
Season 3 starts off with Love delivering their baby boy, which Joe is upset about as it was supposed to be a girl. His inner demons torment him because he is afraid he won't know how to raise a man. To get away from it all, Love and Joe move to Madre Linda, an upper-class suburban town that's filled with momfluencers and tech entrepreneurs. Joe, who comes from humble beginnings, hates the highly polished veneer of his new community but puts up with it for his son, even making a promise to leave his murderous past behind.
To feed his boredom, Joe tries to get closer to their neighbour Natalie (the mystery woman in the last episode of Season 2). It doesn't help that Natalie seems to be flirting with Joe, tempting him with gestures he cannot resist. She picks out books for him from the library and he goes over to her house for a glass of wine. No, nothing more happens, but he is already envisioning an imaginary life with her. When Joe comes to his senses and realises that he's falling for Natalie, he tells Love they need to curb their boredom by actually doing something.
Surprisingly, Love agrees and attempts to open a pastry shop in a town where no one likes sugar and being gluten-free is a must. Natalie, who is a realtor, helps Love pick the perfect space. But, what she doesn't know is that Love has found out about her budding relationship with Joe—and Love isn't happy.
What to expect throughout the season
---
Mild spoilers ahead
---
Expect to see and feel a plethora of emotions right from the start. By the first episode, Joe starts to work in the local library and his little thing with Natalie is dead (literally and figuratively) thanks to Love's impulsiveness. But, as they say, when one door closes another opens. Joe's new love interest—will he ever learn?—is a librarian he works with. They connect over witty banter about F. Scott Fitzgerald, while Love and Joe also start to mingle with Madre Linda's posh residents. However, we know this could never last—and there's blood, lots of it, in this season. Love's brother, Forty, also makes a cameo.
Despite being a married man and a father, Joe still clearly enjoys the chase, despite (or in spite of?) the risk of being caught by his just-as-deranged wife. People have hobbies to give them purpose in life and for Joe, that seems to be sneaking into houses and stealing the panties of women who catch his interest. You'll question his motivations and judgement, as well as Love's—but also relate to the sheer horror of finding another woman's belongings stashed away in your house. The series of unfortunate events in this season confronts the ugliness of Joe and Love's twisted relationship, as well as whether the two killers are perfect for each other.
What has always set You apart from many other crime thrillers is the disturbing premise that you never know who might be a psychopath—it could be the soft-spoken guy in the bookshop or the neighbour with a new baby. In its third season, the show continues to serve up shocking twists in mundane settings, in addition to more body counts to unpack in the fourth season that's now been confirmed by Netflix.
Watch the third season of 'You' here
| | |
| --- | --- |
| SHARE THE STORY | |
| Explore More | |