Film, TV + Theatre
#FriendsReunion: Twitter's best memes and reactions to the cast of 'Friends' getting back together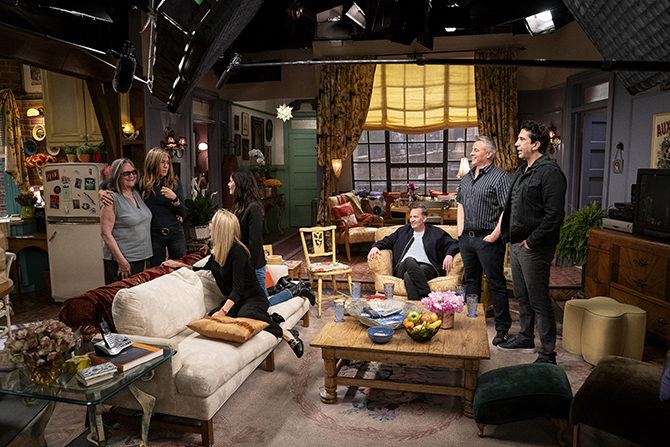 17 years after the last episode aired, the Friends cast has finally reunited. This special episode was released on 27 May via HBO Go in this part of the world. Many fans (52 million to be exact) of the '90s sitcom tuned in to the event. Was the long-awaited reunion worth the wait? Definitely! How can you not feel nostalgic seeing Jennifer Anniston, David Schwimmer, Courtney Cox, Matthew Perry, Lisa Kudrow, and Matt LeBlanc on the same set again?
Titled "The One Where They Get Back Together" (following the naming tradition of the sitcom's episodes), it revealed some shocking revelations about the cast. Apparently, while Schwimmer and Anniston's characters were in a complicated romance on screen, they were actually crushing on each other in real life. As for Matt LeBlanc, he suffered a few injuries on set and even had to go to the hospital for dislocating his shoulder.
Another noteworthy mention is the many guest stars who made an appearance during the reunion. Lady Gaga showed up to do a duet with Lisa Kudrow of her character's signature song, 'Smelly Cat'. Justin Bieber, Cara Delevingne, and Cindy Crawford came together to model some of the show's most outrageous looks. Opinions were split, however, about the decision to have talk show host James Corden host the reunion
Needless to say, many tears were shed for this two-hour special. If you're a big fan of the show, be sure not to miss out! Some fans have also taken their reactions to social media. See them below:
1.
WHO COULD'VE SEEN THIS COMING: Lady Gaga performs 'Smelly Cat' with Lisa Kudrow in the 'Friends' reunion. pic.twitter.com/KBrgkrZbad

— Def Noodles (@defnoodles) May 27, 2021
2.
Mr. HecklesI could be alive. #Friends #FriendsReunion pic.twitter.com/cKJMhblpBG

— زيـاد الحِـمدي (@Ziad_Alhemdi) May 21, 2021
3.
"bts will appear as special guests on friends: the reunion" bts: pic.twitter.com/fv7JAukDaF

— kath (@MOONT0KKI) May 27, 2021
4.
emma geller-green still has her grandparents :') #friendsreunion pic.twitter.com/dPi2O7DEgW

— nicole (@anistonily) May 28, 2021
5.
phoebe screaming "my eyes, my eyes!" will FOREVER be iconic #FriendsReunion pic.twitter.com/UuSGAevHtk

— yoloyoloyo(@pri1606) May 27, 2021
6.
Justin Bieber wearing Ross' potato costume Sputnik on the runway #FriendsReunion pic.twitter.com/NpVS4y3XbM

— Feea⁷ (@feeafarhanah) May 27, 2021
7.
Me when Jen & David admitted that they were crushing hard on each other #FriendsReunion pic.twitter.com/Tbj3AbPa8r

— (@wynifique) May 28, 2021
8.
I can't stop crying #FriendsReunion pic.twitter.com/aG48ChxmdL

— LW (@lalillaaa) May 28, 2021
9.
My heart shattered into thousand pieces #FriendsReunion pic.twitter.com/T9FD9kRMDq

— (@tasquueen) May 28, 2021
10.
Paul Rudd wasn't in the Friends Reunion bcos he was still stuck in the quantum realm #FriendsReunion pic.twitter.com/cYH4tqZ1VW

— cybae (@cybelbarrs) May 27, 2021
11.
when Matthew Perry looked over & smiled at Matt Leblanc and said "Ah Matty it's good to see you" I felt that #FriendsReunion pic.twitter.com/7jUET7cRP7

— Ryan J. Racine (@ryanracine) May 28, 2021
Click here for more news on movies and TV shows.
| | |
| --- | --- |
| SHARE THE STORY | |
| Explore More | |