1. I promised my friends I'll watch it with them on Thursday though. Better not post this on Instagram Story then.
2. Only Michelle Yeoh can make wet, curly hair look okay for her age. I hope I won't look like an aunty next time.
3. Wait, what's the point of the flashback?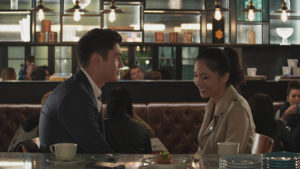 4. I would have signed up for economics if I knew it meant learning how to win at poker by playing mind games.
5. Get your own cake, Henry Golding… er, I mean, Nick Young!
6. Hey! That scene with Eleanor Young reading Bible passages was actually shot in Malaysia.
7. Michelle Yeoh looks so good.
8. Never underestimate the power of social media.
9. "Walao" makes a guest appearance.
10. Author Kevin Kwan makes a cameo. Blink and you might miss him.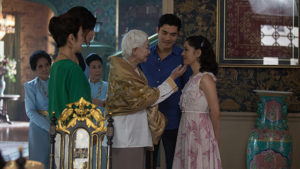 11. The Singaporean culture of chup-ing a table with a packet of tissue makes a cameo.
12. Nick Young becomes Henry Golding the travel show host as he introduces Singaporean hawker food to Rachel.
13. Why did they cut the kissing scene?
14. Awkwafina as Rachel's friend Peik Lin is hilarious. She plays the character so effortlessly that you'd instantly like her.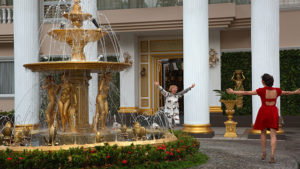 15. Peik Lin's entire family (actors included) is comedic gold and seems to be the family that represents a few common Chinese habits that are all too familiar — "these are just simple dishes", encouraging guests to eat, directly try to set up daughter's friend with son, etc.
16. "Asian Ellen" — oh, Ken Jeong. The whole cinema erupted with laughter at this. Actually, we've all been laughing a lot so far.
17. Hey, this was shot in Malaysia too!
18. Not-as-rich second cousin Oliver is now easily one of my favourite characters.
19. I now have a girl crush on Gemma Chan and Astrid — same thing.
20. Why does almost everyone have a British accent?
21. Who wears a gold sequin jumpsuit to an island getaway?
22. Hey! This was shot in Langkawi!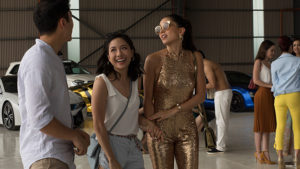 23. A lot of reviews mentioned that Constance Wu and Henry Golding had great chemistry as Rachel Chu and Nick Young but really, if there was an award for it, it should go to Constance and Michelle Yeoh — as unacceptable potential daughter-in-law and formidable potential mother-in-law. Both hold their characters so well. Every pause, every word, every gaze is so intense that it really gave life to Rachel and Eleanor from the pages of the book — not that I read the book (yet).
24. Michelle plays the role of Eleanor in a way that you wouldn't hate the character or feel the anger as Rachel did. Both the script and the actress managed to weave in so many other emotions that justify her actions in a way where you would understand her position as a wife, a mother, a daughter-in-law and potential mother-in-law.
25. Honestly, is there a man as charming as Nick Young? His character seems almost flawless!
26. I'm not going to cry. I'm not going to cry. I'm not going to cry. Oh, okay, there are tears now. The mother-daughter conversation between Kerry (played by Tan Kheng Hua who most of us might know her better as Margaret in Phua Chu Kang) and Rachel was heartfelt and touching. The backstory had the right amount of exposition where only a few words were enough to make you feel what they felt. By now, it seems this is also a story where the female characters shine. The willfulness of a daughter of a single immigrant mother, the strength said mother found to put her child first over love, the burden of a woman who married into a rich family and kept everything together but never seemingly enough, and so many more layers that I can't go into detail or risk truly spoiling it for you.
27. The mahjong scene between Rachel and Eleanor — hey, this was shot in Penang! — is easily the best out of the entire script. It's the scene that carries such a heavy context and symbolism beneath a mere game of mahjong. The delivery of the lines was flawless by Constance. The reactions from Michelle had a weight to it. Yes, these two are the real stars of the show.
28. The airplane scene — the reveal. My heart melted. That's all I'll say without spoiling anything. (Also, the aunty.)
29. Harry Shum Jr.!
30. Harry Shum Jr.!
'Crazy Rich Asians' premieres in local cinemas on 22 August 2018. For a more professional movie review, these guys got it covered.
| | |
| --- | --- |
| SHARE THE STORY | |
| Explore More | |