Culture
Former beauty queen Deborah Henry on empowering and celebrating refugee children in her new book,"You're In Not Out"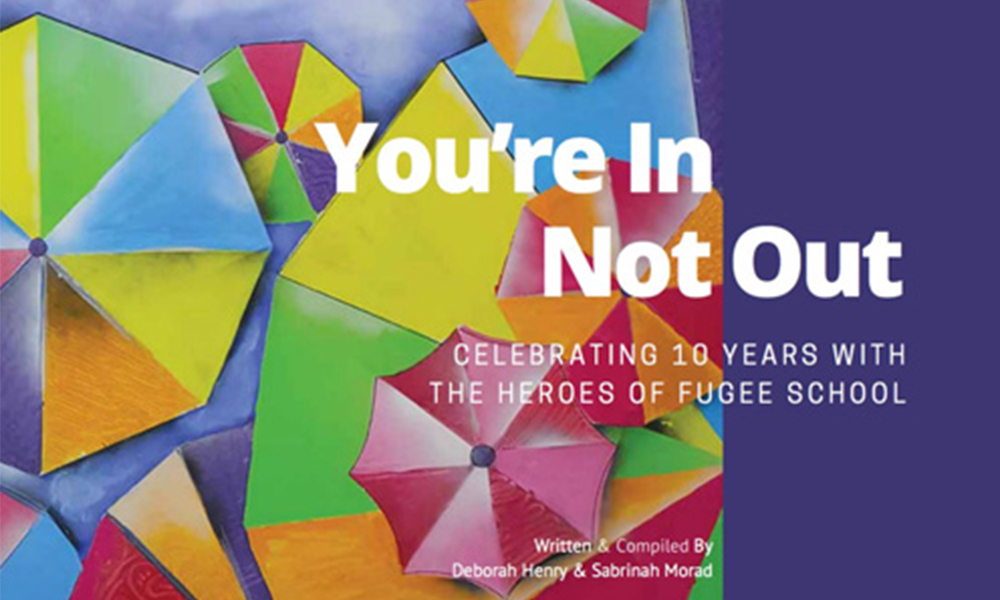 You may recognise Deborah Henry from her former days in entertainment—she's been on the covers of international titles and was crowned Miss Malaysia World in 2007 and Miss Universe Malaysia in 2011—but she's best known today for her humanitarian work, which champions the rights of refugees, women and children.
In 2008, Henry co-founded Fugee School, a non-profit education hub in Malaysia that provides primary, secondary and tertiary education opportunities to refugee children. Believing that all children have the right to an education, the school has since successfully empowered over 400 children, and continues to do so.
Currently, there is no Malaysian law that recognises the rights of refugees, leaving them with little to no access to legal employment, education or healthcare. As of February 2020, according to UNHCR (United Nations High Commissioner for Refugees), there are some 46,520 refugee children below the age of 18 in Malaysia and only 30% (that are of school-going age) are receiving some form of education in community learning centres.
In celebration of their 10th anniversary, Henry and Fugee School introduces You're In Not Out, a new book about the stories and viewpoints of refugee children to shed an important spotlight on the challenges of being a refugee in Malaysia—through their eyes. The coffee-table book is dedicated to refugees all around the world and provides a rare insight into the lives of the students and the journey of the school over the years.
Below, we spoke to the model-turned-humanitarian about her experiences, the school, and why her new book is a testament to the real heroes of her life—the students of Fugee School.
Tell us about the moment that made you decide to champion the lives of refugee children.
"I was first truly made aware of the difficult situation that refugees in Malaysia go through when I hosted an in-house documentary about refugees for UNHCR in 2008. During the documentary shooting, I met a Somali refugee family with four children aged 10-14.
"The children were living in very difficult conditions; they weren't going to school and could hardly speak, read or write in English. I was devastated knowing that not only were they going through such difficult times at that moment—but their lack of education also meant that they had even less chance of changing their situations in the long run.
"I knew then that I wanted to do something to improve things, to empower these children with the ability to truly make a difference in their own lives."
How did you start Fugee School? Could you share with us the challenges you faced during the initial establishment of the school?
"After the visit to the Somali family in 2008, I got together with Shikeen Halibullah, my good friend and co-founder of Fugee School, to figure out how we could help these children.
"It began with giving those four children Maths and English lessons and the word spread from there. Within months, we had other families approaching us to teach their kids as well. With the overwhelming demand for support, we knew we had to ramp up our efforts.
"In early 2009, Shikeen and I met with Shafie Sharif, a Somali community leader who was already offering private tuition classes amongst the community. We combined our expertise and resources and founded Fugee School in May 2009.
"There were, of course, many challenges that we faced—chief amongst them being funding and a location for the school. Back then, we were young and inexperienced when we started the school with little background in education, no-profits or fundraising.
"We just really believed in the cause and that it was the right thing to do. But the challenges were real. We learnt on the go and hustled a lot to get the support of friends, family and strangers—who make up our Fugee Friends today."
What is the school's overall objective? And how has the school grown since establishment?
"The objective of the school is simply to ignite an endless passion for learning in every child. No matter the national, racial, religious or financial background, we want every one of our students to realise their full potential and value by equipping them with the right academic, creative and life-skills in an environment free from discrimination and exclusion.
"I am proud to say that, what started out as two university graduates giving tuition to four children has now turned into a 10-year old organisation that has impacted and empowered the lives of over 400 children."
Do you have an educational philosophy and what curriculum does the school follow?
"We want to equip every child with the tools to succeed in life, whatever that may be. As such the school adopts a holistic education approach that focuses four key pillars: education, emotional development, grit and aftercare. They are all aimed at developing the hard and soft skills of refugee children so they will be able to reach their full potential.
"We offer education to children of all ages, from kindergarten to tertiary education. We also emphasise heavily on extra-curricular activities, be it sports, technology or music. Emotional development is equally important in helping them overcome the traumas of war and displacement. As such we organise emotionally-centred activities like yoga, art therapy and sandwork.
"We believe this will help them cope with challenges they face today and will encounter in the future; training them to be resilient, adaptive and empowered individuals. Ultimately, we want them to become agents of social transformation, adopting leadership roles and helping build resilience in their communities."
To date, how many refugee kids have been accepted into the school and how have their lives been transformed? What is one memorable success story from Fugee School?
"In the past 10 years the school has successfully empowered over 400 children. The education and live skills they have obtained have not only benefited them but also the rest of their families.
"We also measure their success not only by what they have accomplished but also by what they have avoided. For many refugee children, a grim future is unfortunately quite common. I am proud to say that through the school we have by large helped our children avoid such fates.
"One particular success story that I would like to share is that of Nawa. Nawa joined Fugee School quite a bit later than the other students but she was committed and passionate always. She had a real drive and desire for life and to accomplish something meaningful with hers.
"In her time at Fugee School, she crammed 12 years of education in four years to get a high school diploma. This led to a scholarship for the University of Nottingham's foundation programme. Now, Nawa lives happily in Texas and is working to save enough money to continue her tertiary studies. In a world where just over 1% of refugees make it to university, I am extremely proud to say that she has made it."
What are the main challenges facing child refugees in Malaysia?
"I believe that in tough situations, children suffer the most and often in silence. They experience and witness things no child should have to and the trauma lasts for years to follow.
"Which is why I think the main challenge for refugee children in Malaysia, or as a matter of fact, anywhere in the world, is access to education. Going to school is not simply about gaining knowledge, but also about re-establishing a sense of normalcy, routine and focus for the child. Being in an environment that is supportive and caring gives children something to hope for.
"Education is the key to opening all doors and this is what we try to instil in the children, always. We believe that every child regardless of their status as a refugee, stateless or citizen, should have access to education. No child should be left behind."
What are the biggest misconceptions about the refugee community in Malaysia?
"I think many believe refugees are here to take from us and the more they take or get given the less is available for Malaysians. This couldn't be further from the truth. Our country can support the core needs of refugees here and it can be a win-win situation for everyone, when refugees are enabled to work they don't have to rely on handouts so they instead can contribute to the economy, and in this situation, everyone will benefit."
What do you think refugees' experiences have to teach us about the relations between majorities and minorities today, especially in a society as multicultural as Malaysia?
"Basic human needs are all the same. We love, cry, and feel all the same. I have met so many refugee families from all over the world who share the same core concerns as all my friends in KL. They think of their children's futures, whether they are able to provide for them, how they can earn more money. I don't believe people want to be a burden on society; they want to have some basic rights that allow them to be productive members of society.
"One of the reasons why I like travelling is because it can make you uncomfortable—you end up in places and situations that are different, where you are the minority and experience what it feels like to be the odd one out. I think all Malaysians should know what that feels like as we get so entitled and comfortable with our current lives. I always say, don't only make noise when your rights are under threat, but learn to speak up for everyone's rights even when it doesn't directly affect your life. More so now than ever before, we desperately need to go within and discover our shared humanity."
How did the idea for You're In Not Out come about, and what are you most excited to share about the book?
"The book was crafted as a way to celebrate 10 successful years of Fugee School. But not only to showcase the accomplishments of the school and more importantly, to highlight the accomplishments of our true heroes—the students.
"This lovingly crafted coffee table book offers a window into the lives of our students. Through photos, words and artwork, You're In Not Out is a testament to the students' continued successes, resilience and determination for a brighter tomorrow."
What do you hope readers will take away from the book?
"We want the book to open eyes and minds. We want its stories to open up the eyes of the public to the very real plight of refugees in Malaysia so that we can truly make a meaningful change, from a legislature level all the way down to simply how we interact with them.
"The sheer grit, resilience and hope conveyed by the children through their work in the book will also show people that it doesn't always have to be all doom and gloom. Even in the face of incredible adversity, there is still room for hope and happiness.
"All of us could use this message, particularly in a global climate like the one we are facing now. This is when we realise we are more alike then we know. We all share the same dreams, joys and hopes and concerns."
What are your aspirations for Fugee School in the future?
"When we first started Fugee School, it was never meant to be a long-term project. My hope was that there would come a time when refugees would have easy access to education in Malaysia so that facilities like Fugee School would no longer be necessary.
"Unfortunately, more than 10 years later, not only is Fugee School necessary, we're also seeing an increase in demand and influx of students yearly. Fugee School will always be here for students who are in need and we will endeavour to increase our efforts to match the growing demand.
"This was the thought behind establishing Fugeelah—a social entrepreneurship lifestyle accessory brand. Fugeelah works with refugees and marginalised Malaysian communities developing unique fashion accessories that are all at once fashion forward, whilst encapsulating the refugee experience and perspective within the pieces. All the profits channelled directly back into Fugee School to help keep the school sustainable."
What empowers you in life?
"I am empowered and inspired by so many random things, actually I guess that would mean I am inspired by life. It's the little and big things that happen, the people I meet, the way some people think and act. I constantly 'borrow' what I like in others and adapt it for myself.
"I am empowered by human stories. Stories of courage, hope, tenacity, love, sacrifice and victory. Many of these stories come from people we happen to label refugees."
"You're In, Not Out" is now available online and at select bookstores around Malaysia. All proceeds go to educating refugee children at Fugee School.
| | |
| --- | --- |
| SHARE THE STORY | |
| Explore More | |