He's known for his traditional Japanese dishes with a Peruvian twist. He co-owns an empire of restaurants in 22 locations worldwide, and it's a name that everyone knows. Chef Nobu Matsuhisa is no ordinary man but he did come from humble beginnings that led him to where he is today. These lessons, these values, these stories—all have been jotted down in his first memoir, simply titled Nobu: A Memoir. We'll be reading it soon, as might you, but before that, we thought we'd ask the man himself for a couple of insights when he was in town for the book launch.
On writing the memoir
"This is actually the English translation of the Japanese one, which was published three years ago. I have restaurants all over the world and a lot of people work for us, and they tend to ask me how I became a chef. I would explain and tell them it wasn't easy. I encountered a lot of hardships but I never gave up. With this book, I can share my story with everyone and I hope one day, people will tell me, "Thank you, Chef Nobu. The story of your hard work inspired me and I did it too." That's what I want to hear."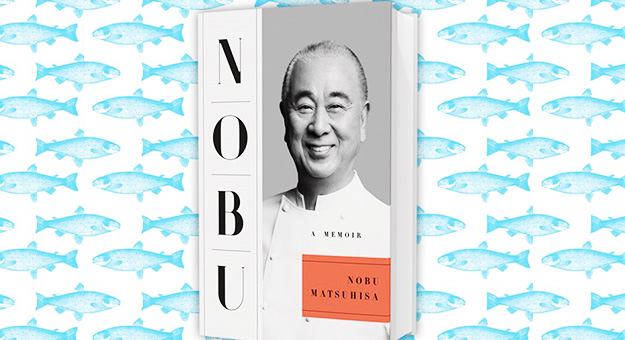 On the challenges of writing the memoir
"The English one is easy because we only needed to translate it. The Japanese one took two years because I was travelling a lot. And it's not written by myself but by a ghostwriter, so it was hard for me to visit the ghostwriter who is in Tokyo. But even so, there are stories which I wanted to be told a certain way but he preferred to do it in a different way."
On the Nobu style of cooking
"It's true that technique is very important. And Japanese food is popular because it has a lot of variety and it's healthy. In Japan, the dishes are often inspired by each of the four seasons and that applies also to its presentation. But to me, most of the time, it's cooking with the heart."
On the toughest time of his life
"It was when I opened my first restaurant in Alaska. It burned down fifteen days after its grand opening. I almost tried to kill myself after that but I didn't because I thought of my family. They supported me throughout my hardships and that's why I'm here today. I want people who feel the same as I did to be inspired by my book and not give up. To always try their best with passion."
On his best advice
"Don't stop. Just go one millimetre a day. Life isn't like math. In math, one plus one is two. In life, depending what you do, one plus one can equal to a hundred."
Nobu: A Memoir is available for RM122.90 at MPH, Kinokuniya and other major bookstores.
| | |
| --- | --- |
| SHARE THE STORY | |
| Explore More | |