This article is best viewed on desktop for these beautiful photos.
There's nothing wrong with wanting youthful, wrinkle-free skin. There's nothing wrong with an extensive skincare regime to ensure that either. There is, however, a skewed perception of the words "ageless" and "beauty" in societies all over the world.
French photographer, Rehahn, who's based in Vietnam's Hoi An and simultaneously working to photograph all 54 tribes of Vietnam, was inspired by this. Internationally renowned for his portraits and the depth of stories they tell, he started the "Ageless Beauty" project to prove otherwise. The series of portraits is his love letter to the older folk that many have otherwise overlooked.
Be enlightened by his photos from the project and read on as Rehahn shares more about his admiration for the people and country of Vietnam and what beauty really looks like.
"The photographs are not edited to smooth wrinkles and erase years, instead, the marks of age are celebrated and brought into high relief." — Rehahn, Ageless Beauty in Vietnam
When did your Ageless Beauty project start? 
Ageless Beauty started four years ago at the moment my photograph of Hidden Smile (Madam Xong) entered the permanent collection of the Women's Museum in Hanoi. I was inspired by the reaction to the portrait of Madam Xong (Hidden Smile) in the Women's Museum in Hanoi. The face of this beautiful, elderly woman with so much emotion in her eyes sparked something in those who viewed her.
This portrait quickly became one of my most famous photographs. It made me realise how many people were concerned by 'age' and how many were hungry for a different definition of what beauty might mean.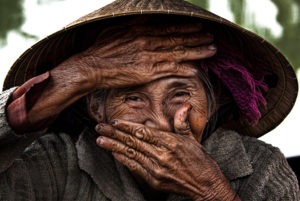 Are the Ageless Beauty photos from all around the world?
For now, Ageless Beauty is only in Vietnam, but I will consider whether I would like to make it international later.
Will it be a continuous project, or will it have an end?
This is a continuous project. There is so much inspiration all around me. I believe that the concept of ageless beauty is something that's important to discuss right now. People are obsessed with the beauty of youth, but there are so many other forms of beauty that should also be valued.
Will there be an Ageless Beauty book?  
Why not? But if I do a book I would like it to be an in-depth reflection on the subject, not simply a collection of photographs. It may still be too early to do a book-length project. I still have a lot to learn and to perhaps gain some maturity and perspective. I'm starting to have white hair now, so perhaps it will soon be the right time if wisdom comes along with it.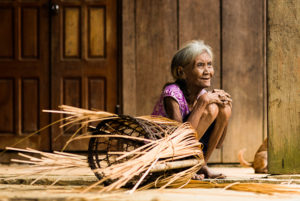 What is your own definition of beauty?
When I look through my lens, I am looking at the light and shadows, the definition of the eyes and the lines around them. I'm considering how to frame my subject to create a powerful image. What attracts my attention is less about physical beauty and more about the spirit of the person. I look for sparkling eyes, smiles… This is why I loved photographing Madam Xong. It is impossible not to smile when I'm around her. She has an inner joy that is contagious.
Do you think people put too much emphasis on youth and youthful appearance?
Yes, I do. I believe that there is so much to learn from our elders and we can't do that if we disregard them and allow them to become invisible.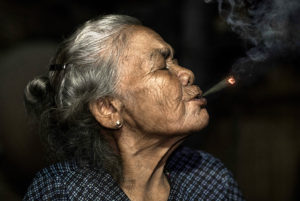 For your Precious Heritage project, you're currently on a mission to photograph all 54 of Vietnam's tribes. What's your motivation for that project?
Before being a photographer, I was always an avid traveller. I'm curious about diversity, different cultures and textiles. I spend hours listening to people talking about their life, their story, their culture.
In many places, these traditional cultures are fading faster and faster. As a photographer, I think I have the opportunity to record and document their last hours. I live in Vietnam and I have the possibility to go almost everywhere to research them. I can stay a week with them and interview the chief of the village. The people in the tribes are often very talkative.
I had the dream to make a free museum and I did it in 2017, opening the Precious Heritage Art Gallery Museum in Hoi An.
Which individual Vietnamese tribe that you've photographed has made the biggest impression on you?
I spent three days with An Phuoc, and there was this little girl, Cham, with amazing blue eyes. At first, her family was not keen to take photos but we spoke about their culture and I was invited to stay for lunch. They were happy to talk about their tradition and to share stories with me. The second day, I came back and proposed to help this family and the girls. Sapa, her older sister, wanted to be a photographer so I bought her a camera. They are now in my Giving Back project because this is one of my best sellers. I bought a cow for the family and bikes for the girls. I visit them three times a year and even invited them to stay in my house in Hoi An, twice last year.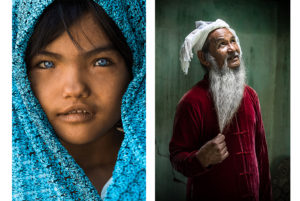 A lot of your work focuses on giving something back to people and improving their lives. Why is that important to you?
I have a special relationship with many of my subjects. They became like family and we meet every year. I make my living from these photos, so it feels very natural for me to give something back to the people I photograph.
I also think it shows tribal people the interest that people can have in their culture and it gives them a sense of pride. Those people are often poor and I want to use my galleries to help them.
What made you choose to live in Vietnam, and particularly in Hoi An?
It was a personal choice, not a professional one. I love the lifestyle and the optimism of the people here. The country has a stable economy similar to the Glorious Thirty in Europe (30 glorious years after World War II) and it's easy to open a gallery.
Hoi An is a small town surrounded by rice paddies and the beach. The sun shines all year and the minimum we have is 20 degrees, which is like summer in my Normandy. I love the spirit and the optimism of people who live here.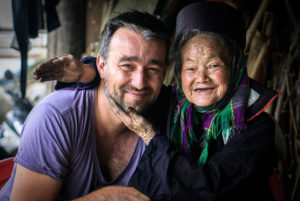 Last, but not least, what makes a great portrait?
In my opinion, a great portrait is the one that you will always remember. It's not only about technique but more about eyes and stories they can tell. I was often called "the photographer who captures the soul" and it's the best compliment I could ever receive. I spend time with people to know them before, to make them feel comfortable and to gain their trust. I've spent hours with some of my subjects before shooting.
Rehahn's work has amassed a huge following and with the profits he gained, he has not only built several museums in Vietnam, but also started a Giving Back project. From this very initiative, he has gifted a rowing boat to Madam Xong as well as bought cameras and cows for families he's photographed. In addition, he has covered medial bills, house repairs and for several Vietnamese children he photographed, their education.
For more on Réhahn's Ageless Beauty and Precious Heritage projects, his museums or for prints of his work, visit his website.
Réhahn's books include Vietnam: Mosaic of Contrasts (Vol 1 and 2) and The Collection: 10 years of photography. 
Follow him on Facebook and Instagram.
| | |
| --- | --- |
| SHARE THE STORY | |
| Explore More | |