Culture
Artist Poesy Liang tells us how she juggles between cats, work and fame
Multi-tasking at its best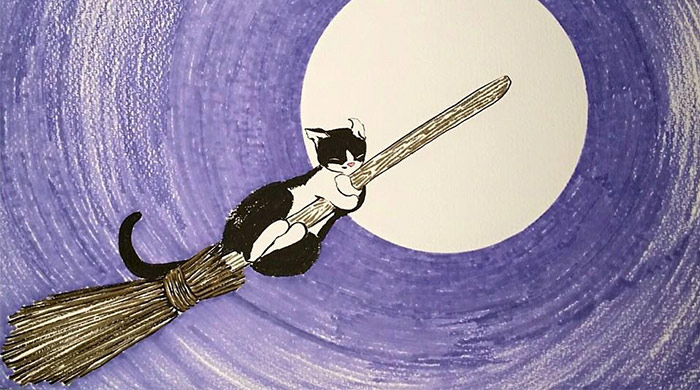 Where do we begin with Poesy Liang? An artist, writer, poet, composer, jeweller, multidisciplinary designer, entrepreneur and philanthropist, Poesy has made her name over the past decade or so, creating and selling her artworks and building an individual empire of her own, while sparking philanthropic movements both home and abroad.
Poesy's background story is both inspiring and bittersweet: A survivor of a rare benign spinal cord tumour, Poesy has become a motivational beacon of hope as she's survived three spinal surgeries and partially recovered from two encounters with paralysis. She has used art – and all its many facets – to heal and fuel her way of life, which in turn feeds her desire to do something more for humanity.
I always tell my clients who collect my art: "Well, you guys prosper; remember to distribute." Why do you need to be a leader if you're not going to do anything for the people?
I didn't know what to expect, going in to interview this multi-talented woman who has gone through and done so much more than most of us would be able to do in a lifetime… and mostly on her own, at that. As I stepped up to her pop-up gallery located at MiCasa All Suite Hotel, Poesy greeted me warmly while her two new additions to her family – two mischievous little white kittens named Dot Dot and Miss China – scampered over to greet me too.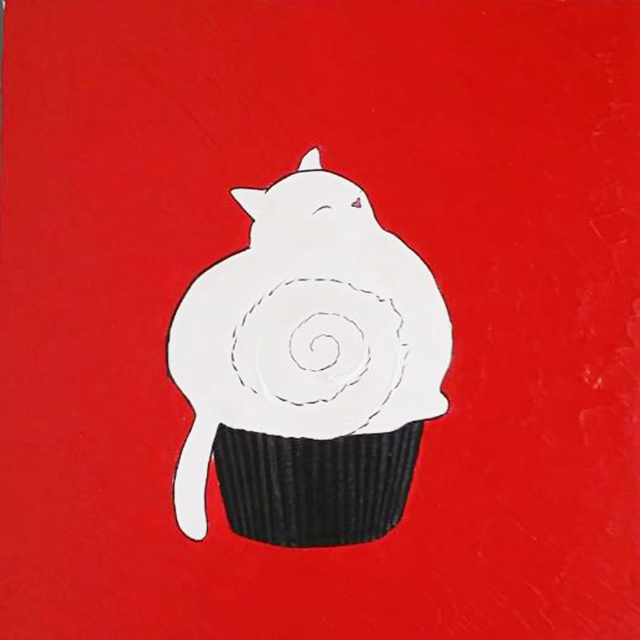 It's easy to see that Poesy is a cat lover. Heck, anyone who's familiar with her work would already be aware of that, as the artist had previously created (and re-created) several series of cat paintings – her Rooftop Cats and Cupcake Cats – that have been rather popular with both netizens and clients alike. But cats aside, a bulk of Poesy's artwork borders the sweet, the comical, and the classic, in both cartoon and landscape forms. Each of her paintings has its own backstory that she documents on Facebook.
But this year is going to be very different for Poesy, as she reveals to me that she'll be leaving the famous cats alone for a while, to create "a lot of random things" this year. One of it is an anime, a short animated film that she's been working on for the past couple of years. As the anime represents a deep look into Poesy's actual life story, she has taken charge of writing its script, creating its characters and musical sounds, painting each frame (on canvas!), and overseeing its production.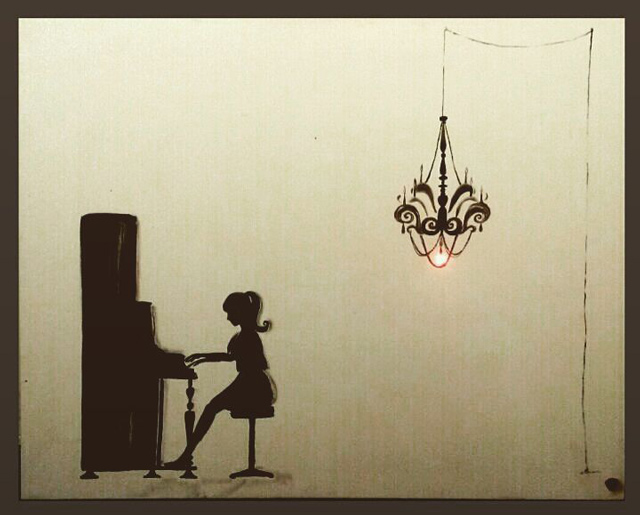 On top of all that, she's still creating and re-creating artworks, starting a new line of skirts, running her jewellery line and art business, engaging in her philanthropic projects, playing music, writing, being interviewed by media like Buro 24/7 Malaysia, and looking after her family. So how exactly does one lady handle it all? We find out here:
Would you consider yourself a very organised person?
Planning is a very big thing, yes. I'm quite particular with my time. I try to be organised. For someone without a personal assistant, I think yes, I'm quite organised.
You've got many different projects going on simultaneously. When you're working, how do you separate all these different personalities you go through?
When you look at housewives, they do a lot of things and they switch from one to the other: from driver, to caretaker, to banker, to chef. Basically we're just juggling our daily lives like that. It's just that I happen to fill my roles with all these things that are brandable and monetisable. But let's say if I'm a mother, it's exactly the same type of thing; or if you're a CEO you're running HR, sales, marketing procurement – so many things.
So I just cycle through it. It comes with priorities as well. So if I have a task list, I will budget my time – it's all very systematic. I think the planning comes with a lot of groundwork, and it's a practice that you get better with over the years.
I'm doing a lot of things because of great opportunities and recognising opportunities. Monetary success will come either way if I work hard. But it's what we do with success that matters.
Initially did it take a lot of discipline to get into this momentum?
Discipline is a big thing. Well, as an artist I need to be practising all the time, so that comes with discipline. It's just like when we're in school and we have all these papers to study for, it's also wearing different hats.
Would you consider yourself successful?
No, not at all. I mean, I'm doing a lot of things because of great opportunities and recognising opportunities. Monetary success will come either way if I work hard. But it's what we do with success that matters. So my big goal is to help whoever I want to help and have the ability to do that, not just financially.
It's a lot of things: it's changing lives; changing something for a community. Those things take influence, so yes, I think I'm on my way there but that's not my end success. It's not the fame; so what if everyone knows you? What are you doing with it?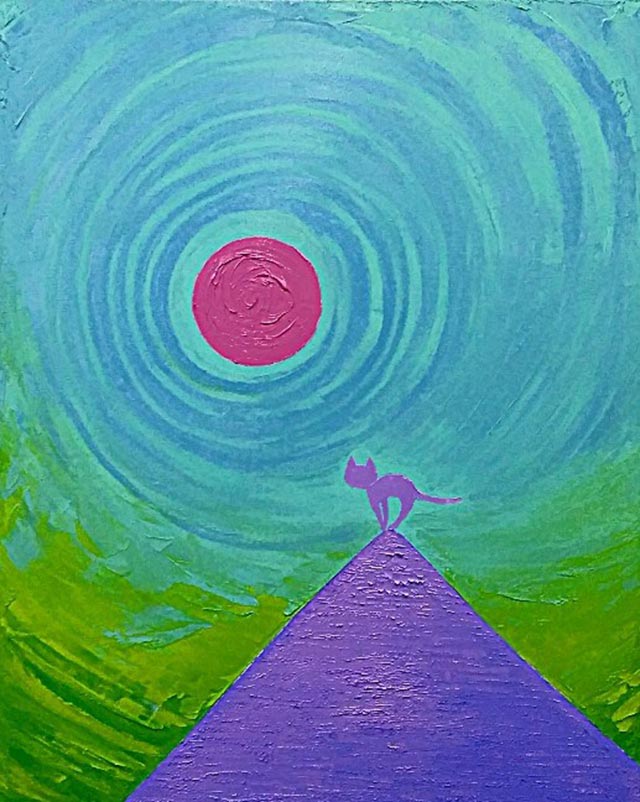 So you want to have a bigger impact on communities?
I do have a philanthropy goal in mind. It sounds very grandeur, so I basically just do what I can. Right now, I have all these things but sometimes I'm still struggling to make ends meet. Despite that I already now incorporate my values and messages into how I do things. I work with underprivileged and intellectually challenged children, and refugee children as well. And I try to give opportunities to people who don't have them. In a way it's like my act of gratitude as well. I always tell my clients who collect my art: "Well, you guys prosper; remember to distribute." Why do you need to be a leader if you're not going to do anything for the people?
Do you ever reach a point where you get writer's block? How do you get past that?
Yes. Just switch to the next thing. So if you get stuck with painting, you go and play the piano or write, or play with your wardrobe or gemstones. There are really a lot of things to do… or even cook! So I always find that when there's writer's or painter's block, it obviously means that I'm really bored with what I'm doing. So I just move on to the next thing that interests me. And a lot of things interest me. I'm naturally curious… like a cat.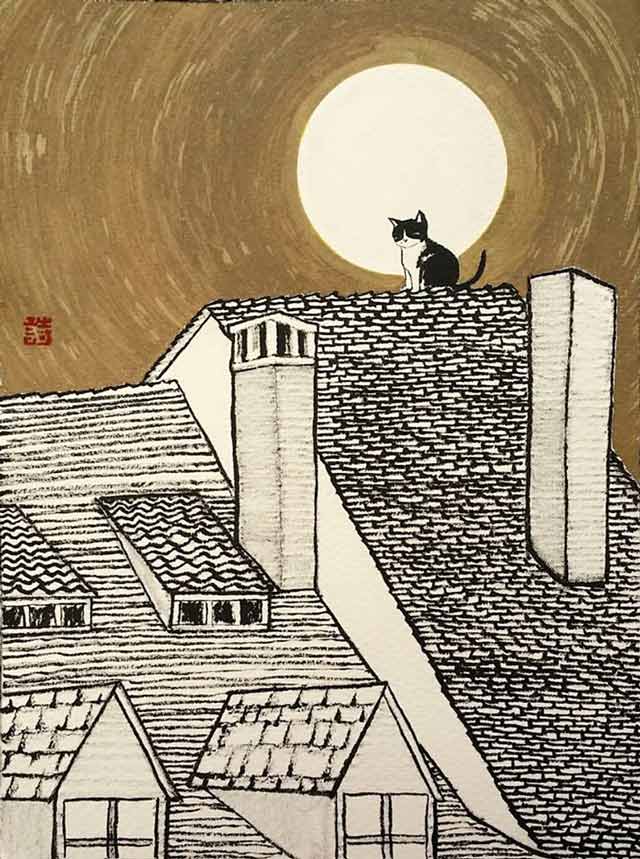 How does your creation process usually go? What inspires you?
It's very random. The cats came about in such an accidental manner that it's like a branding I can't even shed now. I painted the original 16 Rooftop Cats randomly while sitting in the dark. So a lot of things came about accidentally.
I was an interior designer before, so those are more methodical. There's many approaches. For the Cupcake Cats, it was two Novembers ago that I wanted to do a cat lovers' week. I bought 16 canvases, and two days before the show opened I was still blank. And then I picked up one of my old notebooks – I scribble things everywhere, that's one of my habits – and inside there were over 20 Cupcake Cats in different positions, which I totally forgot about. So I put them up on canvases.
So it ended up doing so well, but I don't really know where the original idea came from in the first place because it's been so long that it's been in the book.
You grew up trained in classical Chinese art. Do you feel that this basic training is essential for an artist to develop?
It's definitely good to have it, techniques and everything. Even in architectural school it helped me, big time. And even in my career in the commercial side, yeah, art training has been an added advantage. And I wish I had more. I wish I knew how to deal with certain chemicals the correct way; if you went to art school, you'd be able to learn everything. And that's what I'm missing.
But I'm still going for workshops here and there, and still hanging out with people in their garage and learning how to weld. I still study. Every summer I learn a new skill.
This year will be different. I'm working on more serious stuff, on topics like being good to your elders. I'll get into more random stuff this year… I basically already have enough cat paintings to sell to every cat lover in this town.
I think it's definitely a blessed situation to be in, but I don't want to turn into a monster. I've got an awareness to just govern that.
Tell me more about your anime. The story is basically your personal story. How does it feel to put out something so personal?
I'm okay now. Before we even started with the script – this was two years ago – I had to go for counselling. But I was really, really tired of telling my story in person. So I just decided to do this, because of all these people who were asking me to write books and do movies, and I didn't see that as a feasible thing I wanted to do. As time passed, media kept coming back to ask the exact same questions, and I kept getting invited to talk about the exact same thing. And I finally thought, how do I get to the next page? I want to turn the page.
So I just condensed the story to what hits people the most, plus a little bit of the stories that I've not told, such as the personal stuff, the romantic side, those that I've not told earlier to media.
Having told your story so many times, has that helped you get through any issues that you had?
Now I'm totally numb. I did say to myself this year, "Enough! Just finish the job – no more talking about it." I think what I'm really fearing is that it will turn me into a megalomaniac, you know, because you're always talking about yourself the whole time. I see a lot of people who have that sickness. It's always, "me, me, me," and here I am, I've got a shop with my name on it, and everything's me, and everyday my job is to be me and to show everything about myself.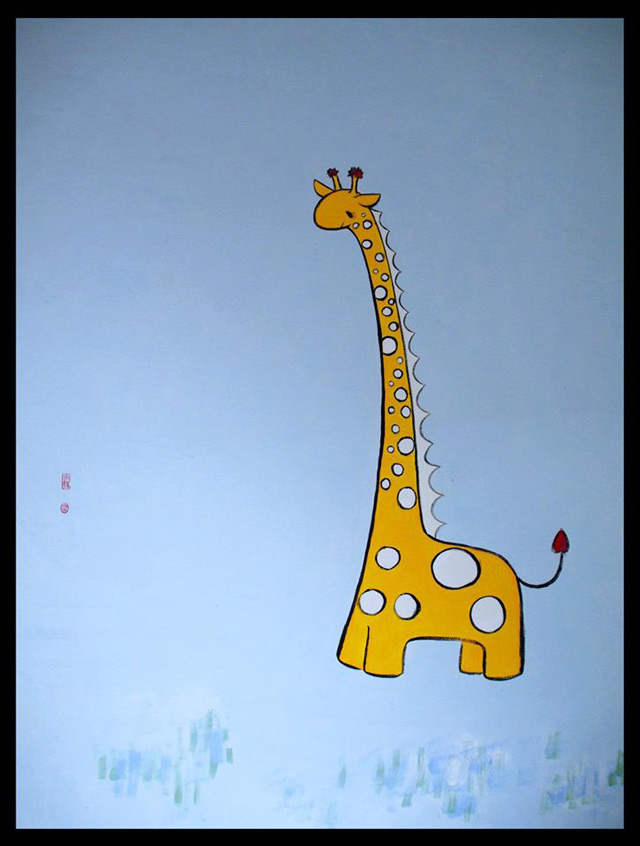 You don't like it?
I think it's definitely a blessed situation to be in, but I don't want to turn into a monster. I've got an awareness to just govern that.
What do you do to bring yourself back down to earth?
It's just at the back of my mind. And never put yourself in situations where you have to meet people who make you get defensive. Because when you meet people who don't like you and they do nasty things to you, that's where the ego comes out. So I basically filter a lot of negative exposure, or even just regular exposure, because as an artist you need to have your own space and go back to yourself. And you must always remember the way to go back to yourself and make it as simple as possible, because sometimes things, events, and life will deter you from that path. The glitz and glamour can be very shallow. It's wonderful to just oblige and indulge, but every human needs to balance themselves.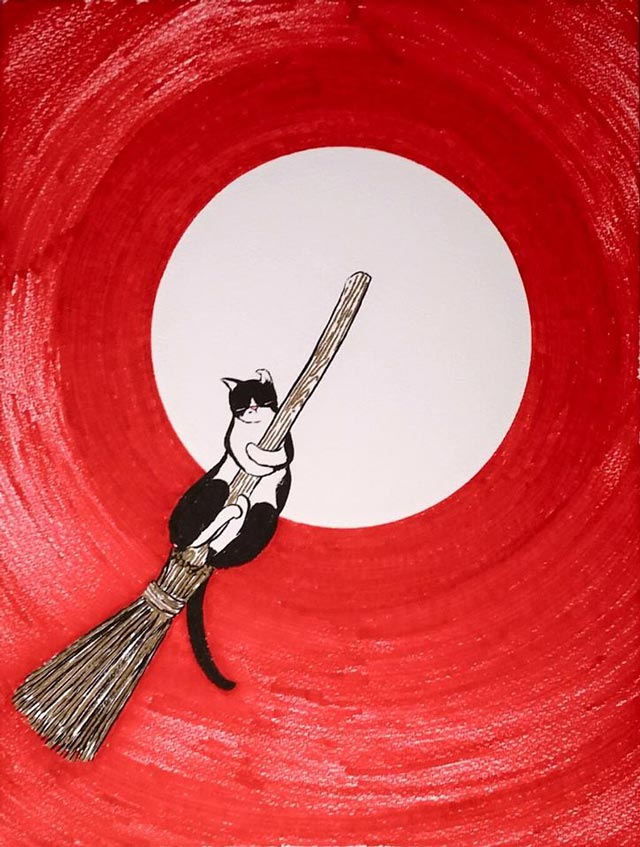 Poesy Liang's pop-up gallery is currently located at MiCasa Hotel Shoppes (contact +601 6888 6310 for viewing, by appointment only). To see the full scale of her work, head to her official website.
Related stories:
"It's kind of like validation for my insanity," artist Trevor Andrews tells Buro 24/7
Malala Yousafzai talks life after winning a Nobel Peace Prize
| | |
| --- | --- |
| SHARE THE STORY | |
| Explore More | |