1. It will mark Strandbeests' debut in Southeast Asia
You might have caught sight of the Dutch artist Theo Jansen's incredible wind-powered machines in the news or social media, soon you'll be able to see them in person and in motion at the ArtScience Museum in Singapore from 23 June till 30 September 2018—sounds like it's time to make plans for a trip down South!
2. The exhibition is titled Wind Walkers: Theo Jansen's Strandbeests
A major retrospective of Jansen's life work, the exhibition will feature sketches, prototypes, interactive activities, and of course, his iconic sculptures. "I am excited to bring the Strandbeests to ArtScience Museum in Singapore and I hope that the audience will enjoy interacting with them as much as I have creating them. The Strandbeests will remind visitors to push the boundaries of their creativity and never give up on their dreams," says Jansen.
3. Strandbeest means 'beach animal' in Dutch
Originally created as a solution to the threat of flooding caused by rising sea levels—the wind-powered creatures push and pile sand on the beach shore to form natural barriers—they have advanced in form and function over the years, captivating onlookers with their naturalistic movements. Jansen has described his sculptures as "a new species on Earth".
4. Wind Walkers will feature 13 Strandbeests
Take a walk with the beasts. You'll be able to meet 13 large-scale Strandbeests, from the most recent creations to 'fossils' of past beasts, as they roam the galleries of ArtScience Museum.
5. Meet Animaris Siamesis, the largest Strandbeest in the exhibition
Born in 2010, Animaris Siamesis measures 10 metres in body length and weighs over a massive 240kg!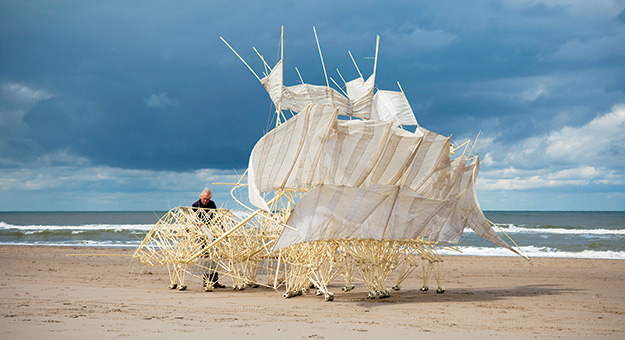 Wind Walkers: Theo Jansen's Strandbeests will run from 23 June till 30 September 2018 at ArtScience Museum, Singapore. 
| | |
| --- | --- |
| SHARE THE STORY | |
| Explore More | |