The David and Lucile Packard Foundation Headquarters, Los Altos, California USA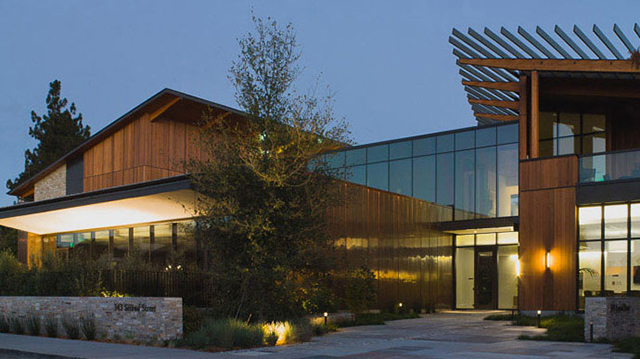 This 50-year-old philanthropic organisation's headquarters is the largest net-zero energy-certified structure in California. Spanning 49,000 square feet, the building produces more energy that it actually uses, thanks to a rooftop solar array. EHDD Architecture designed the building.
Photo credit: David Livingston / Packard.org
Micro Emission Sun-Moon Mansion, Dezhou, China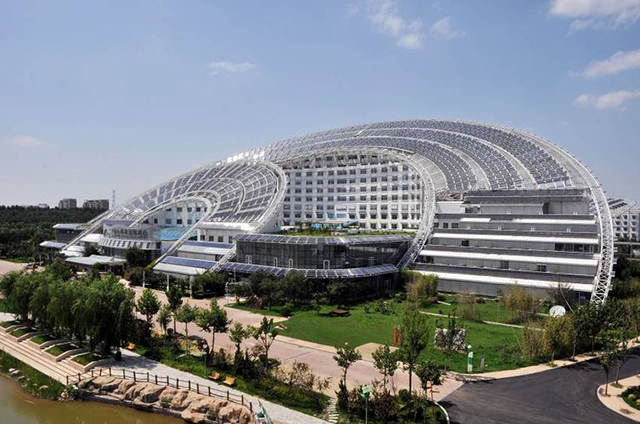 One of the largest solar powered structures in the world, the Sun-Moon Mansion measures a whopping 75,000 square metres in size. Bearing a resemblance to a sun dial, this building is powered by solar energy that includes a solar powered hot water supply, energy saving glass, and some 50,000 feet of solar panelling. The building is home to offices, a hotel and a conference centre.
ACROS Fukuoka Foundation Building, Fukuoka, Japan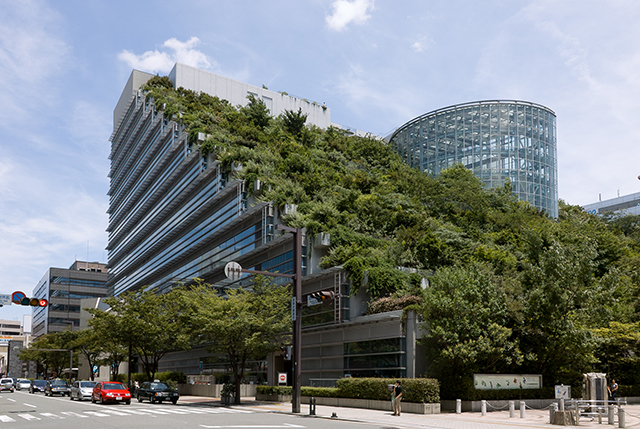 Launched in 1995, this building combined native greenery with architecture and has become a must-see in Fukuoka. Its interior houses a massive atrium that fills the entire space with natural lighting, while a natural irrigation method is used for water drainage.
The Crystal, London, UK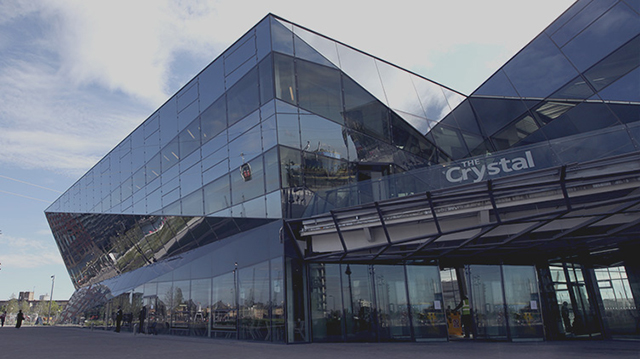 Designed by Wilkinson Eyre, most of the Crystal's electricity is generated by photovoltaic solar panels. The building is illuminated by a combination of LED and fluorescent lights that depends on the amount of daylight present, while the roof doubles as a rainwater collector. Sewage is also treated, recycled and reused onside while the recycled water is also purified and converted into drinking water.
Image from The Crystal.
Bahrain World Trade Center, Manama, Bahrain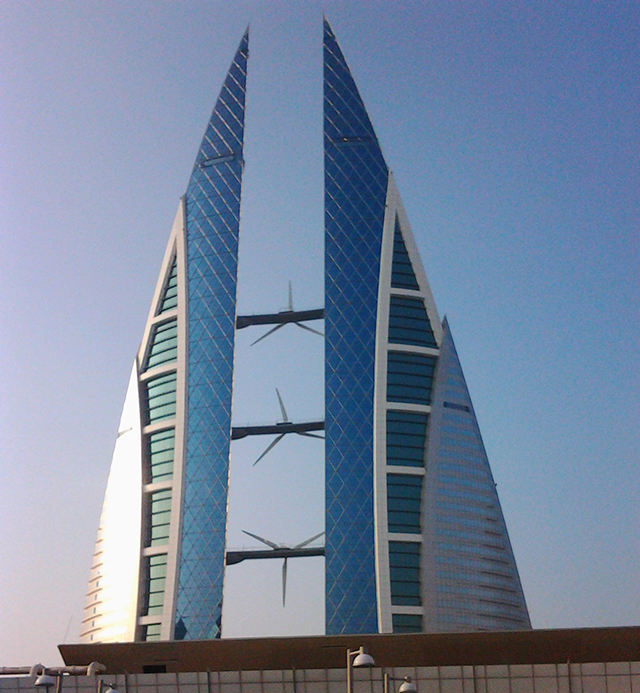 Built by Atkins, the BWTC was the first skyscraper in the world to include its own wind turbines. The 50-floor twin towers are connected through three sky bridges, each of which accommodate a 225kW wind turbine. These turbines contribute to 15% of the building's energy consumption.
One Angel Square, Manchester, UK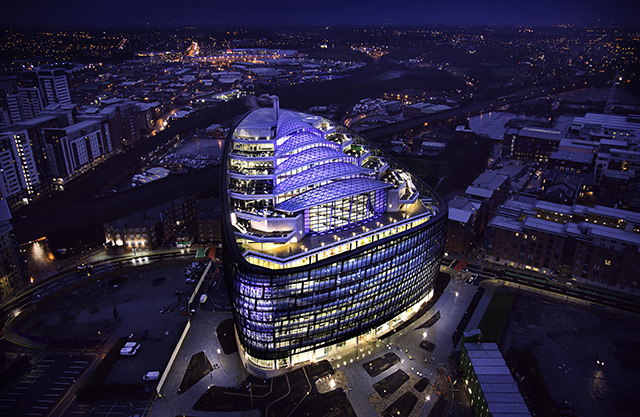 Housing the headquarters of British consumer group Co-operative Group, this green building has plenty of tricks up its sleeve. It is powered by a Combined Heat and Power (CHP) system that runs on pure plant oil, which utilises rapeseed oil that is grown on the company's very own farm land.
Pixel Building, Melbourne, Australia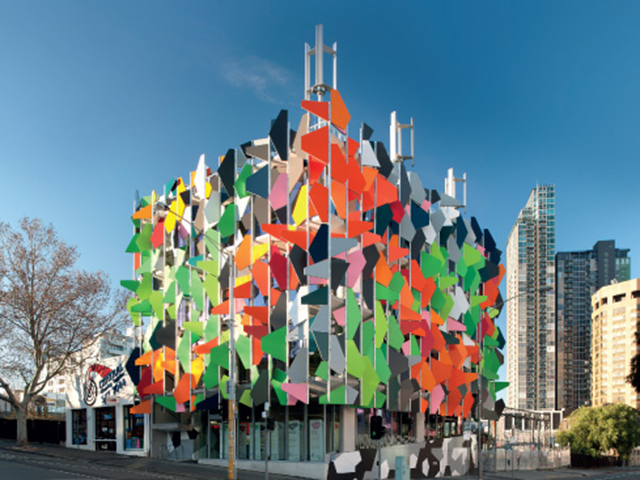 The first ever building to be awarded a perfect Green Star score, the Pixel Building is 100% carbon free – meaning that the building's renewable energy compensates the carbon produced annually. The building also has a system that allows an offset of the carbon contained in the construction materials of the building.
Image from Pixel Building
Shangai Tower, Shanghai, China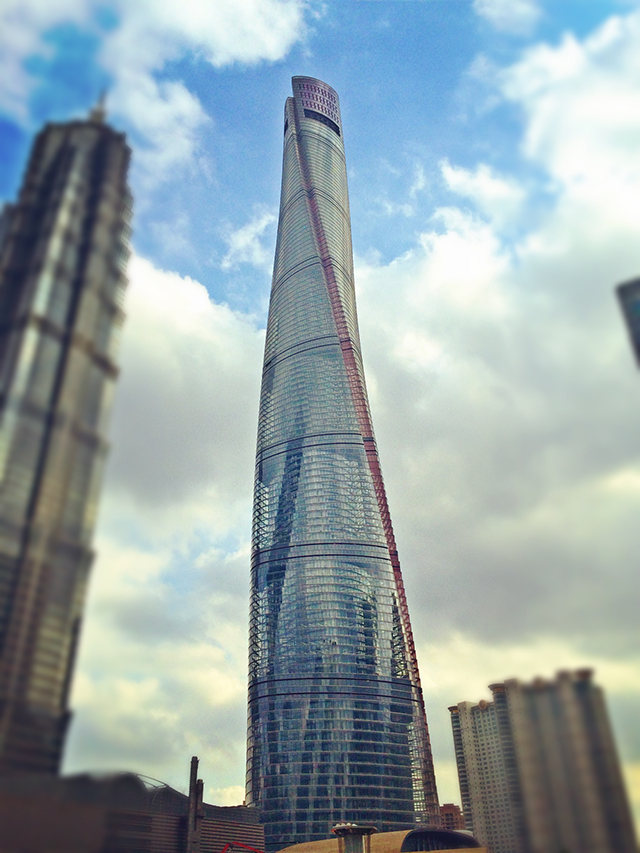 Designed by Gensier, the famous Shanghai Tower has wind turbines near the top of its structure. These turbines power the building's outer lighting and park areas while utilising transparent layers for natural lighting. The second-tallest building in the world after Dubai's Burj Khalifa, the Shanghai tower also has smart controls that monitor its energy usage for efficiency.
Wat Pa Maha Chedi Kaew, Sisaket, Thailand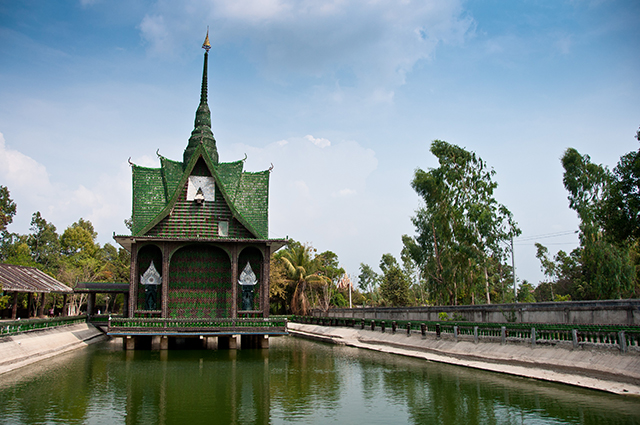 It turns out there is a temple in the northeastern province of Thailand that is build out of beer bottles. A Buddhist temple located in Khun Han, Sisaket, its construction began all the way back in 1984, and used over a million empty beer bottles in its build up.
SUNY-ESF Gateway Center, Syracuse, New York, USA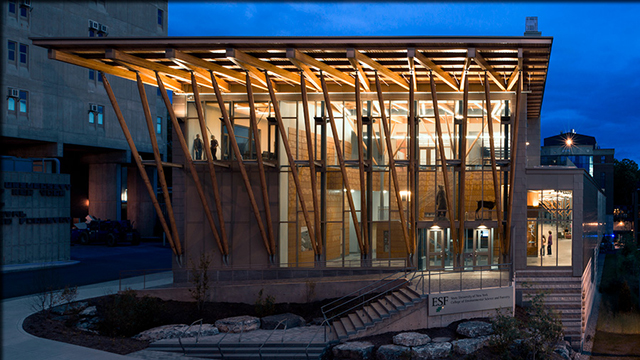 It's not surprising that the College of Environmental Science and Forestry (ESF) at the State University of New York's Syracuse campus would be eco-friendly. The building produces more energy that it actually requires, and the excess electricity goes on to power four adjacent ESF buildings, while providing a whopping 65% of the campus' annual heating needs.
Photo from ESF.
| | |
| --- | --- |
| SHARE THE STORY | |
| Explore More | |