If you head to the Sabah Street Art Gallery in downtown Kota Kinabalu now, you'll find the graffiti site sports a brand new look—each pillar is now dressed in unique portrait murals as part of 'Pillars of Sabah', a project that was created and unveiled in conjunction with Malaysia Day.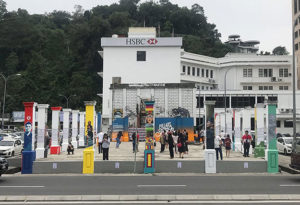 Spearheaded by renown local artist Red Hong Yi along with educator, ecologist and filmmaker Jared Abdul Rahman, 'Pillars of Sabah' features the works of 30 Sabahan artists honouring 30 people from Sabah who have inspired them. Each artist was allocated a pillar, upon which they painted their chosen portraits on one side, and their own self-portrait on the other. It was no easy feat, but Red, Jared and the group of artists managed to pull it off, through hot weather, rain, tight timeline and all.
"We wanted to transform this site into one that would inspire visitors through art and stories of these people," says Red. "It is a way to tell our Sabahan stories, of Sabahans contributing locally and globally. Not all the nominees are very well-known, but they've given so much of their heart to make change for the better, and this has inspired the artists. We hope this will become a major tourist attraction in Sabah too, one that will encourage the arts and educate people about our unique heritage."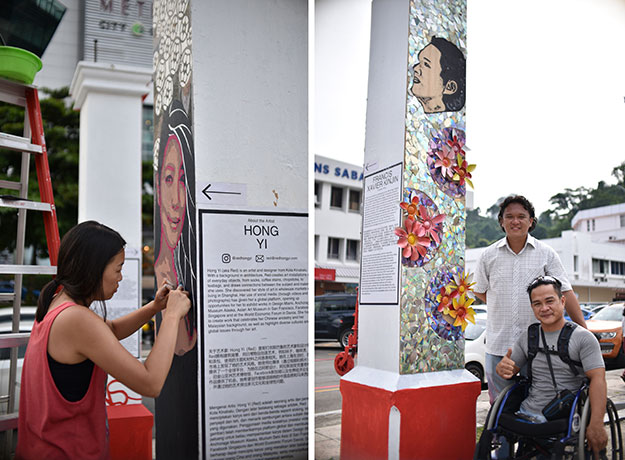 Left: Red Hong Yi putting the finishing touches on her pillar; Right: Artist Japson Wong with his potrait subject Francis Xavier Kinjin, a funiture maker that never let his disability hold him back.
It also stands as a great platform for the local artists, a diverse group of talents that range from graphic designers and cartoonists, to fine artists and architects. "Jared and I wanted the pillars to be an open portfolio for the artists, so they can be contacted for work and supported by the community—you can actually find their short biography and contact details on the pillars."
Planning a trip to Sabah for a getaway? Here is one more place to add to your must-visit list!
Check out more images of the project on Instagram under #PillarsofSabah.
| | |
| --- | --- |
| SHARE THE STORY | |
| Explore More | |