Details matter; especially when it comes to designing for a prestigious brand like the Four Seasons, something that Ed Ng and Terence Ngan, the design duo behind AB Concept, understand well—the Hong Kong-based studio is known for their work behind some of the most beautiful and luxurious hotels, restaurants and private homes around the world after all. That is also probably the first thing you'll marvel at as you step into the three different restaurants and bars designed by them at the newly opened Four Seasons KL: Yun House, The Lounge at Four Seasons, and Bar Trigona.
Each space has its own unique identitiy. At the Chinese restaurant Yun House, a courtyard-style reception welcomes guest into a multi-dimensional dining space featuring beautiful use of materials and motifs, like the stunning wall of "clouds" made of 20,000 pieces of ceramic discs. Meanwhile, The Lounge at Four Seasons on the sixth floor boasts a 230-degree view of KLCC urban Park, with an interior inspired by an antique collector's colonial home, featuring elegant hues of pale green and yellow against light shades of wood. Then there is Bar Trigona, wearing modern touches of blue, teal and gold and symbolic rattan elements all at once.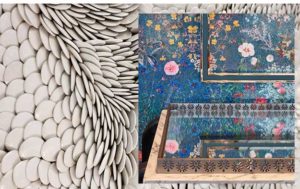 Exquisite design details as seen at Yun House
How did these beautiful spaces come to be? We speak to Ed Ng, Co-Founder and Principal of AB Concepts to delve into his design state of mind:
Three different F&B outlets, three different concepts. How did you approach each space while taking into account KL's unique energy and culture?
"It was never our intention to design a space with a concept in mind already; when we were familiarising ourselves with the space and location, we just wanted to let our mind roam free. But of course, we also had to immerse ourselves deeply into the history and culture of the city for inspiration. We then combined the atmosphere of each venue with Four Seasons' brand values and tone to create the final design.
To us the concepts of Yun House, Bar Trigona, and The Lounge are actually our interpretation of Kuala Lumpur's unique background, but each with its own special cultural identity. We wanted each space to be distinctive from each other and for it to differ from the hotel's general atmosphere—this idea of differentiation is one that we have always believed in and worked in throughout the entire design process of the F&B spaces. However, despite the unique twist, the designs are still rooted with elements that belong to Kuala Lumpur."
How do you want people to feel as they walk into these establishments and spend time in there?
"At the end of the day, we are creating a unique experience with the use of local contexts which hopefully allows people to feel very comfortable and joyful when they're spending time in these spaces. Although place is unique in its own way, at the same time, we hope to also create an experience that is culturally familiar to local Malaysians.
Starting from The Lounge, this area is a very open and light-hearted veranda-style setting that represents both the westernised and colonial influence of Malaysia. Using its urban identity, The Lounge demonstrates Malaysia's story through pastel colours paired with wooden detailing bearing resemblance to a typical colonial housing style."

The Lounge at Four Seasons
"The Bar Trigona greatly resembles Malaysia's multi-cultural demography as it takes a step further to play around with the idea of East meets West. Through elements that are traditionally used in Malaysian crafts such as bronze, glass, and leather, this unique synchronization of elements are weaved together to represent the diverse culture in Malaysia."

Bar Trigona
"The Chinese restaurant, Yun House, further took a step to look into the local Eastern perception. Paying true homage to the society's Chinese and Malaysian heritage though the use of pewter, rattan, ox bone, and 30 types of cloth—it creates a warm familiar feeling of local families, as well as a sense of openness and opulence for guests to enjoy, while seasoning it with a highlight of colonial connection."

Yun House
 Having visited KL to work on the project, what would you say sets the city apart?
"It is amazing to see how seamlessly the diversity of different cultures and religions come together in one city—seen from its food to its architecture. And whilst this rich history is being well preserved, it's also great to see how the city is very forward-thinking as it seems to develop at a very rapid pace with a wide array of hotel brands, lifestyle concepts, and F&B emerging into this vibrant melting pot of a city."
How do you find inspiration in all the different cities that you work in?
"The location of each project is actually one of the most important sources of our inspiration. Cities that have deep cultural context, rich history, and heritage are always a great inspiration to a strong, bespoke narrative that is transformed into a story which truly belongs to the city.
I think this might also be the reason, without it being a coincidence, that most of our projects are located in the gateway cities like London, Milan, Tokyo, New York, Kuala Lumpur, and of course Hong Kong. Or iconic destinations such as Algarve, Bali and St Jean Cap Ferrat."
What is your definition of good design?
"This is in fact a very interesting topic as the answer is constantly  evolving, especially for the past 10 years. Beauty, quality as well as the mindset of comfort in interior design is very important these days, and it has really become a default, especially for top hotel brands like Four Seasons. People nowadays are really looking for something more abstract or conceptual realised through design, whether it is an experience, a photogenic moment, or a concept of community and interactive society, these touchpoints are added value that guests consider.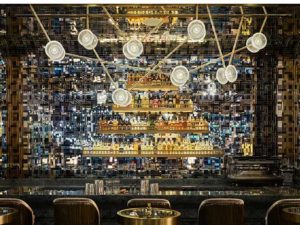 Timeless modernity shines throgh at Bar Trigona
A good design is always meant to fulfil the expectation of the ongoing society. However, the tricky part of this is also the sustainability of design through time. A design that becomes the "old" trend too quickly will never be a good design, but those that remain beautiful and timeless in the eyes of people 10 years down the road are the ones that are successful."
Learn more about AB Concept and the work they do at the website.
| | |
| --- | --- |
| SHARE THE STORY | |
| Explore More | |