Art + Design
Auspicious rabbit decorations for your home this Chinese New Year
Go rabbits
FEATURED IMAGES: Royal Selangor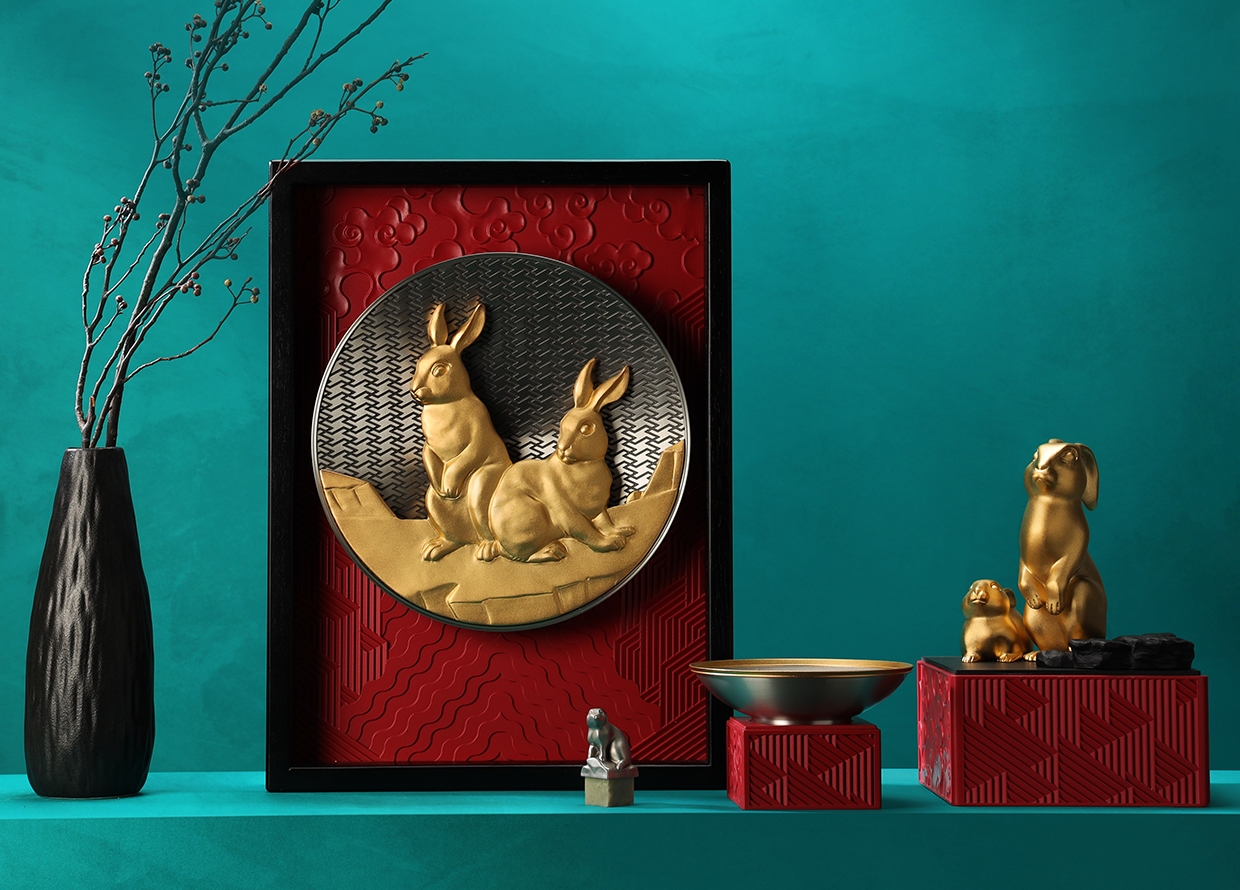 Those celebrating Chinese New Year will know that prepping and decorating your home is very important to usher in good luck and prosperity. The auspicious red colour should be seen everywhere—from ang pao packets on the wall and hanging Chinese lanterns to upside-down paper cuttings, Chinese New Year decorations are no funny business. In fact, this year it's bunny business. 
To fully get into the spirit of the Year of the Rabbit, we've compiled some of the most stunning and adorable rabbit items to further elevate your home.
Louis Vuitton Rabbit Box
To celebrate the Lunar New Year, the fashion house has released its Precious Rabbit collection which consists of apparel, accessories and lifestyle items. This Rabbit Box is the perfect decoration piece as it's equal parts stylish and functional. The box features several of the Maison's iconic symbols such as trunk corners, Louis Vuitton studs, and Monogram flowers. Secured with a magnetic closure, the Rabbit Box can be lifted to store important small items whilst serving as a beautiful and playful countertop piece. 
Availability: Official website
Swarovski Chinese Zodiac – Rabbit
Designed in the precious colour of gold, this stunning piece displays 640 faces of golden crystal and is a guaranteed show-stopper for any guests visiting your home. The Chinese Zodiac Rabbit features a curved crystal base that takes the shape of the Huang Jade fans seen in Chinese art, the Chinese character for rabbit, and the Swarovski logo. Collectors can even purchase all 12 zodiac animal pieces to form the full collection, symbolising the circle of life. 
Royal Selangor 2023 Year of the Rabbit Collection
Inspired by the zodiac animal and its fervour and curiosity about the world, Royal Selangor has introduced its Lunar New Year offerings featuring four captivating pieces. The first is the limited edition plaque that stars two rabbits, gilded in 24K gold, against a 'ten thousand years' longevity pattern incised on a satin finish pewter parabolic disc. It's further stylised with waves, rocks, and clouds in crimson composite resin to create a picture of the earthly plane and heavenly splendour. The plaque is available for personal engraving in either landscape or portrait orientation. There are only 1,000 individually numbered pieces worldwide, making this a special one-of-a-kind gift. 
Secondly, the Wealth Bowl features a rabbit encased in a 24K gilded medallion at the centre. It is surrounded by the other zodiac animals on the inside of the bowl and has a gold rim to bring wealth and luck. The bowl also comes with a similar display stand. The next piece is a Rabbit Figurine that sees two 24K gilt rabbits standing side-by-side as they enthusiastically survey the year ahead. The final piece in the collection is the Rabbit Seal which consists of a rabbit sculpture, modelled to convey gentleness and curiosity, resting atop a soapstone plinth. 
Flower Chimp Lucky Rabbit
If you have a green thumb, why not consider decorating your home with a rabbit-inspired flower bouquet? Flower Chimp's adorable arrangement will no doubt spark joy and fortune with its medley of pastel pink petals and a fuzzy bunny perched in between. Placed as a centerpiece in your kitchen or dining room, the Lucky Rabbit set will usher in more flourishing moments of celebration this CNY!
Lego Lunar New Year Parade 
Here's a festive decoration item that can involve the whole family for a time of fun!  Get together and build Lego's Lunar New Year Parade which comes with three connectible parade floats. The rabbit-themed float moves as you push it; the music-themed float's onboard mini drummer will drum as it moves; and the dragon on the Lego float will move as you push the float! Further, the set comes with 18 mini figurines dressed in the Year of the Rabbit costumes. Part of an exciting range of Traditional Festive sets, this festive masterpiece will bring life and playfulness to your home. 
For more ideas on how to get CNY-ready, head here.
| | |
| --- | --- |
| SHARE THE STORY | |
| Explore More | |