Can you guess the theme behind Pillars of Sabah's new phase?
Remember how the Sabah Street Art Gallery was transformed with Pillars of Sabah, where 30 local artists painted the pillars on site with unique murals? Unveiled on Malaysia Day last year, each pillar featured the artist's self-portrait on one side, and the portrait of a Sabahan who has inspired them on the other. Don't fret if you missed the first installation, because the community art project is still going strong—Pillars of Sabah 2.0 was recently unveiled along with fresh murals in a heavyweight theme that sends out an important message.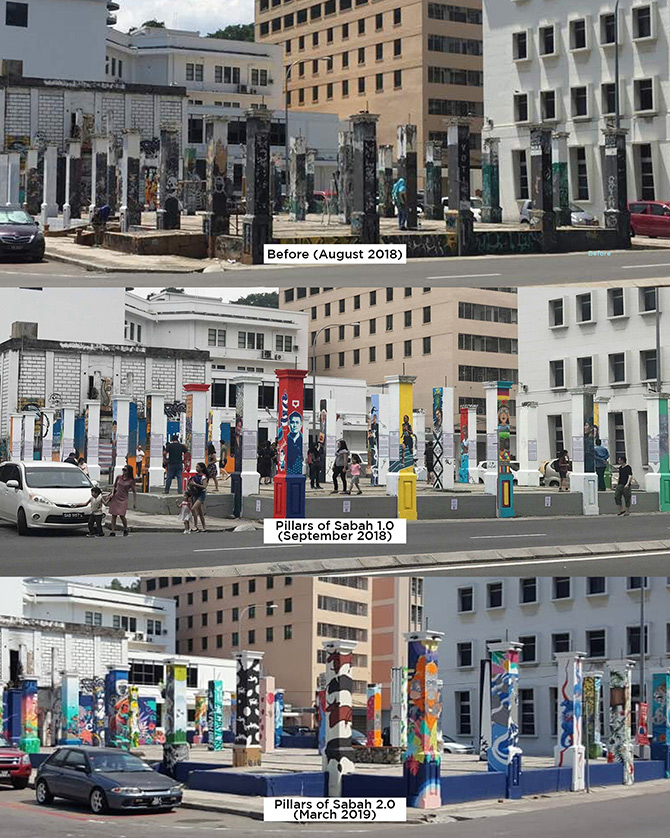 A collaboration with WWF-Malaysia and Nippon Paint Malaysia, Pillars of Sabah 2.0 once again saw 30 artists allocated a pillar each for them to work their magic. This time, the artists were tasked to feature an endangered or threatened Bornean animal on their pillars in an effort to raise awareness for biodiversity conversation. Each pillar is done in the respective artist's own style, so a vibrant range of different artistic styles can be seen on site, from pop art and cartoons, to hyper-realistic and 3D art. Information about the animals can be found on the back of the pillars along with the artists' contact details.
Pillars of Sabah is led by Kota Kinabalu natives designer Melissa Lo, artist Red Hong Yi and filmmaker Jared Abdul Rahman. For more information on Pillars of Sabah, follow them on Instagram.