The Tokyo Olympics 2020 is almost coming to an end, with the past two weeks seeing no lack of blood, sweat, and tears as over 10,000 athletes across 206 nations put their hard work and skills to the test on the world stage.
Even as we admire the talent and determination of these athletes through our screens, let's not forget those who work behind the scenes to share these extraordinary moments with those cheering them on back home and around the globe. Think the organisers, broadcasters, photographers, volunteers, and many more who have braved countless obstacles to make the best of the Games in hopes of lifting the human spirit during the ongoing pandemic.
Among them is Annice Teo Ann Lyn, a former figure skater turned photographer who has previously been accredited for covering the 2018 Winter Olympics in Pyeongchang, South Korea. We catch up with Annice amidst her hectic schedule for a peek into a day in her life at the Tokyo Olympics 2020, as told in her own words:

Saturday, July 23, 2021
5:30am
View this post on Instagram
I wake up and immediately open the curtains to usher the sunlight in and jump into a quick shower. I have instant banana oats and coffee made in my room which I brought from Malaysia as I'm still in my 14 days of Olympic Bubble quarantine.
I slap on minimal beauty products and tinted moisturiser, in attempt to look appealing while still keeping everything simple. I put on my vest and credentials (super important for the Games as every accredited photographer is required to have both to enter the event venue).
6:22am
I start packing up everything, referring to my daily check list—my phone, sufficient water, my camera gear list (chargers, cables, fully charged batteries, SD and CFexpress cards), high-demand tickets (for the opening ceremony) and a couple of onigiri (which I got the day before from the convenience store) to catch the Olympic daily shuttle bus, which comes every 30 minutes at the front of the hotel.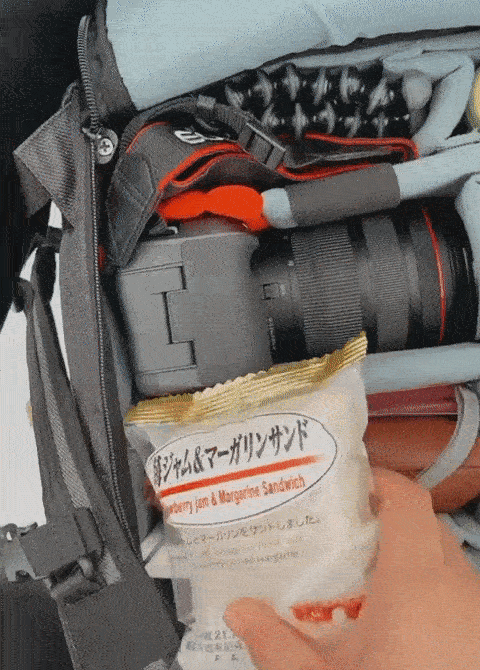 7:30am
Here's when I update clients, check emails and catch up with family and friends during the one-hour bus ride to the MTM (Media Transportation Mall). It's the place where the bus fetches us from our designated hotels to gather in one spot by the Japan port, so that all media can transit to board another shuttle bus to head to their respective competition venues.
From here, I board another bus to Yumenoshima Park Archery Field to cover our first national athlete in action—Syaqiera Mashayikh—as she competes at the Women's Individual Ranking Round.
8:30am
I always plan to go to the competition venue an hour before it starts so that there's enough time to check-in with security, register at the Venue Media Centre (VMC), and get a brief from the on-site photo manager. This is important to get a good grasp of the competition venue, to know where the ingress and egress (note: rights to enter/exit the venue) is, the nearest toilet, other shortcuts, and most importantly, the photo position—which will determine your photo outcome.
9:00am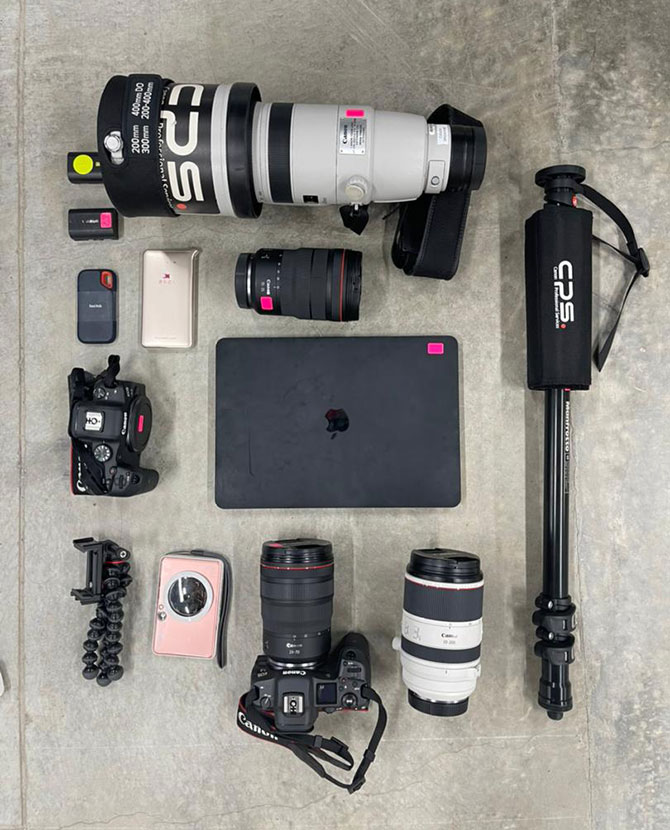 Now I start prepping by taking out my cameras, checking the settings, and ensuring I synchronise both cameras with www.time.is. I also have to get a locker at the competition venue to place my personal valuables in for safety. Then, I go up to the photo manager's desk to get the competition start list and to check on our national athletes' placement or stat list.
9:45am
After getting all the information I need, I carry two bodies (read: cameras—Canon EOS R5 and Canon EOS R6), and three to four different types of lenses to the archery ground, namely (for the benefit of my fellow photographers):
Canon EF 200-400mm f/4L IS USM Extender 1.4x Lens
Canon RF 24-70mm f/2.8L IS USM Lens
Canon RF 15-35mm f/2.8L IS USM Lens
Canon EF 8-15mm f/4L Fisheye USM
Oh, and water—don't forget water.
10:00am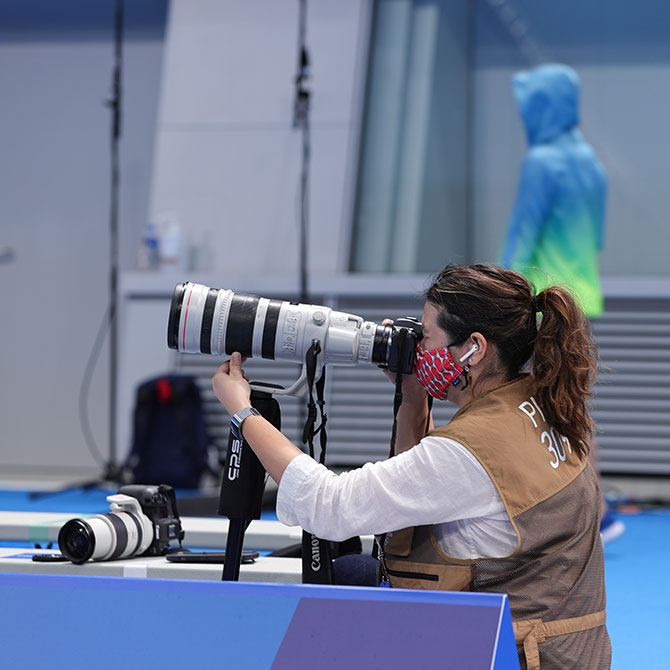 The Archery Women's Individual Ranking Round starts! First, I stay in the mandatory photo position, using the first 45 minutes to get all the key shots—expressions, action, emotions, and memorable moments. Then, I take a step back to observe what's around and if there are any other creative photos I can make out of it.
10:45am
Under the scorching hot sun, I look for the nearest shade to send in/file in the first batch of photos to be distributed.
11:30am
After all the mandatory shots are covered from all angles, it's time to have some fun with creative shots! I follow the athletes to collect their bows and arrows, walk back and forth to compose and snap good pictures.
12:30pm
The competition ends and I head back to the VMC (Venue Media Centre) to settle down, grab some sandwiches and bananas (provided by the competition venue). Plus, a Coke won't hurt! I continue editing and backing up photo dates for the morning. Finally, a breather!
1:30pm
I pack up everything and catch the shuttle bus, get some rest, and catch up with friends and social media. I also utilise this hour to post on Instagram Stories to show friends the behind-the-scenes of a "Pandemic Olympic".
2:30pm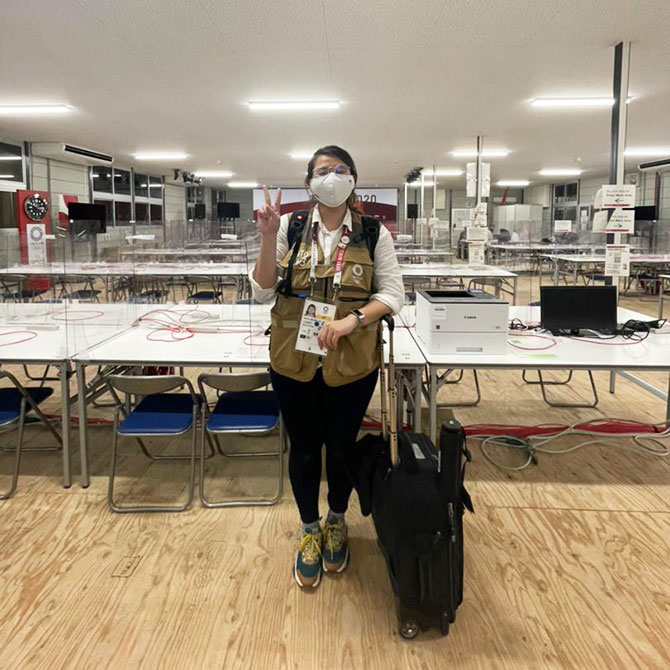 The bus reaches the MTM (Media Transportation Mall) and I make a transit to the MPC (Media Press Centre) to get through security, have lunch, get a locker, and loan a fisheye lens, a Canon EF 600mm f/4L IS USM Super Telephoto Lens and a EF 8-15mm f/4L Fisheye USM for the night of the Tokyo 2020 Opening ceremony.
3:45pm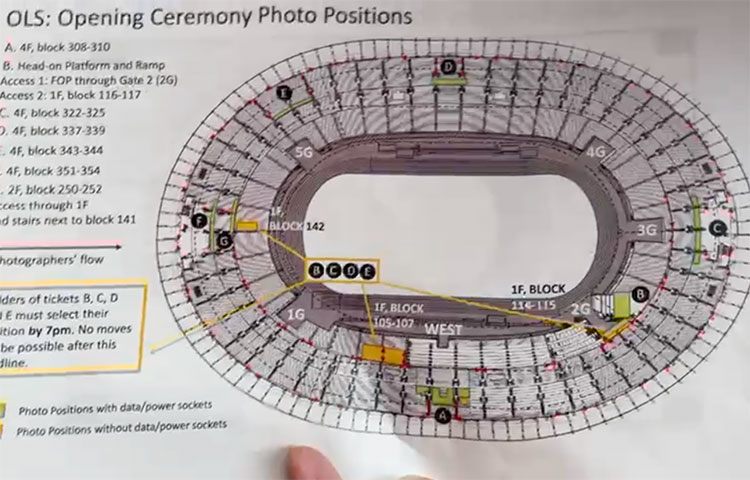 I speak to a client and fellow Malaysian photographers for logistic planning and assigning photo positions to cover all bases, especially the most important photo of the night: the Malaysian contingent/athletes march as it's a historical archive photo.
4:30pm
I didn't feel well, so I went to the toilet and realised it's the first day of my period (ugh!). Nevertheless, work goes on and I pack up and join my colleagues to take the shuttle bus back to MTM (Media Transportation Mall) to board a bus to the Olympic Stadium.
5:30pm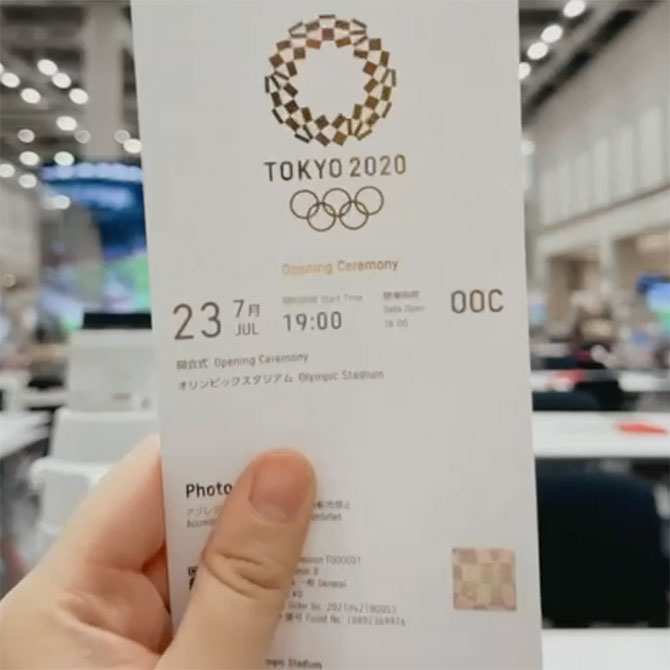 We reach the Olympic stadium and go through two layers of tight security to have our bags checked, drinks removed, and body scanned. The security also checks our high-demand event tickets given by the Media Help Desk before allowing us to enter. (Note: Not all accredited photographers get to cover the opening ceremony. Only selected photographers from their representative organisations or clients get to obtain the event tickets to cover the opening ceremony.)
6:15pm
After making it through security, I settle at position B and ask the group photo venue manager on how the flow is going to be like. I start feeling a little bit dizzy, so I put my load of 17 kg of photo gear down and lay them out, organise them with the settings accordingly, and sit at the bleachers for a quick onigiri snack/dinner.
7:15pm
I'm asked to change locations as Position B is on the right corner of the stadium and I'm instructed to move to the middle for a better vantage point. I start panicking as everything is already set at where I am, and now I have to keep everything again and move to the centre of the Olympic Stadium.
7:50pm
I finally settle down and the Opening Ceremony starts.
View this post on Instagram
8:55pm
An unsettling feeling washes over me and I only realise what's wrong when the first country (Greece) emerges on the other end of the stadium and the athletes are not facing the position I'm in. Hence, I have to pack all the essential gears (again) and run halfway across the venue to the right shooting position.
9:15pm
| | |
| --- | --- |
| SHARE THE STORY | |
| Explore More | |