If you scroll to the bottom of Riuh's official website, you'll find there's a line that goes: "Riuh is brought to you by Creative Cult Sdn. Bhd, a subsidiary of MyCreative Ventures Sdn. Bhd". Set up in 2012, the latter company is actually owned by Minister of Finance Inc. and had been tasked to help stimulate the local creative industry—including realising the need to "provide a dedicated creative platform called 'Riuh'".
"Riuh is set up to enhance the creative industry's ecosystem by providing a: consistent marketing and distribution channel to creative entrepreneurs; creative platform for artists and artisans to showcase their talent, skill and products; and creative and cultural destination for the community and tourists to discover homegrown brands, learn a creative skill and come together to embrace creativity and culture," said Melissa Low, Head of Riuh.
We speak to Melissa to learn more about how Riuh came about, how big it has become and the things no one else knew about the inspiring platform.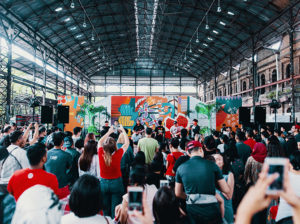 Tell us how the idea of Riuh came about.
Back in 2016, we studied the creative industry in Malaysia and discovered there was a gap in the creative ecosystem where there wasn't a consistent platform to showcase creative products, be it for creative entrepreneurs or artisans, artists and performers.
From this discovery, we researched further by studying the existence of creative fairs, markets, bazaars and events around the world as well as the local market by observing retail trends as well as having conversations with people within the creative industry, and people who are not in the creative industry.
After putting all our observations together alongside many, many brainstorming sessions—voila! We hosted the first-ever Riuh in August 2017.
How many people does it take to organise a Riuh weekend and how long is the planning process?
We have a lean internal team of seven very passionate and driven people. In addition to that, we have an external event operations team, videography and photography team. We try our best to plan several months ahead of a particular Riuh. However, due to our monthly do, the team focuses on a Riuh a month prior to the event dates.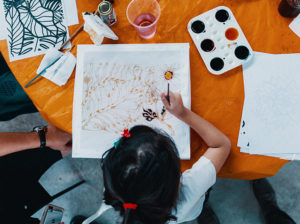 How big has Riuh become since its first inception?
We are very thankful that reception towards Riuh has been amazing, not only from Malaysians from all walks of life but it has attracted expatriates and tourists too! The visibility of Riuh as a brand has grown exponentially—not only through media and social media coverage but also in the number of followers we have and importantly, the number of visitors at each Riuh.
We get an average of 8,500 visitors on a monthly basis when it was held in APW Bangsar. In September 2018, when we had our Malaysia Day Weekend edition in Sentul Depot, we recorded over 18,000 visitors for that weekend alone.
Will Riuh be alternating venues between APW and Sentul Depot and is there a reason for this? 
We have always wanted Riuh to be a nomadic creative platform. We made APW our home for one year because it was such a strategic location for the community to come together to celebrate creativity. Being a printing factory for many years in the past, APW has a story to tell which makes it special for us.
And then, there was Sentul Depot where our special Malaysia Day Weekend edition was held. It was exciting for us to transform the over 100-year-old historic train depot into a curated creative platform. It was perfect to have hosted Malaysia Day there as it was also the first time ever that Sentul Depot opened its doors to the public at large. Like APW, Sentul Depot is not just an event venue, it has a story to tell.
For future Riuhs, we are keeping a lookout for event spaces that could accommodate what we do and our expected crowd. It definitely adds value if a venue has its own story and character like APW and Sentul Depot.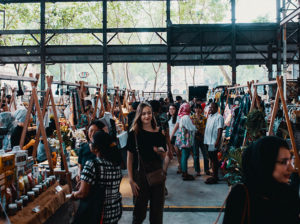 What can people expect from your upcoming Christmas-themed Riuh?
Christmas is always an exciting season. People are in high spirits due to the holidays season. We envision it to be a nice tropical Christmas market where people are able to come and shop for gifts as well as to just wind down towards the year-end.
We'll be collaborating with Buro Malaysia to activate a space and some activities in Riuh where a certain amount of proceeds from the sales will be channelled to charity—which we are very excited about as it is the season for giving, after all.
How has Riuh helped grow the current Malaysian arts scene?
Arts has many facets to it—visual arts, performing arts, music as well as crafts, culinary arts and the list goes on.
Riuh provides a platform for the arts to gain visibility and awareness among the public at large. An example is with F Talent's Jom Teater initiative where local performing art centres publicise and sell show tickets at Riuh itself. We collaborated with F Talent in this as we see the need to promote the local performing art sector. We want people to purchase a theatre ticket, go watch and support local theatre, plays, musical etc.
Another example is in our live acts—which mainly consists of music and cultural dances. When we invite a musician, band or dance troupe, we observed that the visitors are very curious to get to know these creative individuals/groups even more. They ask questions like, "What is the name of that band? They are good…" In addition to that, musicians have informed us that they've been booked for gigs and shows because someone saw them performed at Riuh.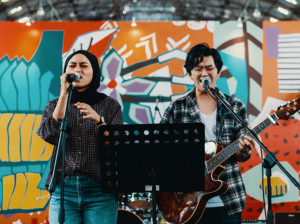 What are some things no one knows about Riuh?
We had a photo wall that did not make the cut at Riuh several months ago but we put it up anyway due to time constraint and guess what? People were flocking to take a photo with it. In fact, it had the longest queue among all of the other photo walls! We were shocked ourselves!
We have part-timers who will click the clicker to track the number of visitors that attend Riuh

.
We almost cancelled a Riuh

a day before the event several months ago. This was due to certain clearances that were beyond our control. The

Riuh

team was ready with a PR statement to cancel it and put up a thick face to deal with the business owners. But guess what? We managed to secure the clearances at the eleventh hour! (Thank God!) We were really glad that we did not prematurely cancel it because it turned out to be a really exciting

Riuh

weekend. 
Stay tuned on what to expect from our special #BuroLovesGiving space at the Christmas-edition of Riuh by checking out the event page here!
| | |
| --- | --- |
| SHARE THE STORY | |
| Explore More | |