Culture
Want to invest your money but don't want to deal with the stock market? Here are some great alternatives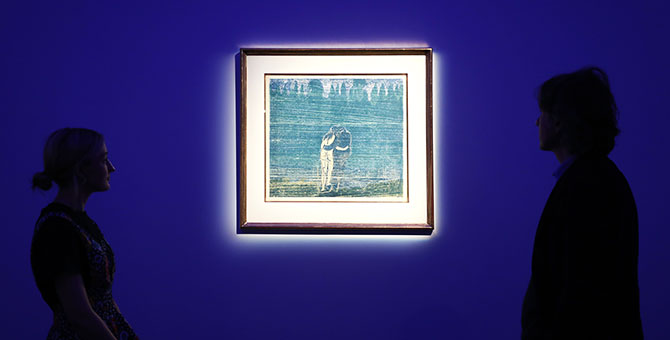 Looking for ways to invest your money? The stock market is a popular choice right now as people are taking advantage of its volatile state due to the pandemic, but for some of us, it's still less than ideal, especially if we haven't been doing it on the regular (or at all) before COVID-19 went worldwide.
The stock market can be an intimidating arena for rookies—and even seasoned investors alike—so why not consider alternative streams to invest your money instead? They are less well-known but the return can be surprisingly just as good (or even better) as the stock market business—if you can get it right. Below, we've rounded up a couple of great alternatives to investing in the stock market to help you get started!
Fine art
Art can be a relatively safe investment as the price fluctuations in the art market generally do not reflect the ups and downs of the stock market. The art world is no stranger to large investments and even larger returns—just last year, a rabbit sculpture by Jeff Koons was sold at a whopping US$91.1 million, making it the most expensive artwork ever sold by a living artist. However, investing in art comes with its own risks and is tricky to navigate without pre-existing knowledge.
In order to understand which artworks can guarantee big returns, thorough research and knowledge about art history and art movements are key. Most of the valuable paintings would come from deceased artists with finite pieces of art—to get your hands on these in the top art galleries, investors would have to start on an upward starting price of US$10,000. Although, you can also start from as low as US$500 to US$1,000 for up-and-coming or undiscovered artists. If you have a particularly good eye, you might be able to discover the next Picasso in the making. At the end of the day, the main reason that should trump all others when investing in fine arts is your own personal enjoyment of the piece. Even if the artwork does not appreciate as much as you'd like overtime, at least you can still enjoy the piece for yourself.
Wine
If you're an avid wine drinker, then it's possible (and easy) to turn your evening hobby into a possible investment strategy. The phrase "age like fine wine" didn't come out of nowhere—wine is not only a tangible asset, but it has proven to have one of the best performing major financial index over the last two decades. Fine wine returns become less volatile the longer one holds it for, reaching an average of 7.73 per cent returns after five years.
However, much like any other investment, research is absolutely key. Before putting money in the fancy liquids, you need to know which regions are particularly popular and sought after—for example, Bordeaux and Piedmont in France are in high demand. Buying a crate of fine wine will also generally yield better returns than a single bottle. And don't forget that proper storage of these wines is essential. To be a proper investor in fine wine, you will need a temperature-controlled room to keep all the wine cool, which will incur additional costs—wine connoisseurs are notoriously picky and will know if the wine has not been kept properly.
Song royalties
Did you know you could also invest in your favourite tunes? Imagine listening to a hit on the radio and knowing you also had a small right to it. Over the past decade, song royalties have been gaining popularity as a way for people to invest outside of traditional stocks. Companies such as The Hipgnosis Song Fund went public on the London Stock Exchange last year and offers investors pure-play exposure—in other words, investors get a drop of the dime every time the song is played on the airwaves which includes hits such as Justin Bieber's 'What Do You Mean' and The Chainsmokers ft. Halsey's 'Closer'.
Song royalties do seem to be an evergreen investment, providing passive income without doing much—after all, even if the economy is in recession, people will always be listening to music. Make sure you research on which artists can yield the most returns and will remain relevant for many years to come.
Lego
Bet you didn't know a kid's favourite toy could actually turn into an investment piece. Lego has become a fun alternative investment stream due to its collectability and rarity amongst buyers. While 36,000 bricks are being moulded every second in their factories in Denmark, Lego sets are actually only in production for one to two years before they go into 'retirement'. Therefore, anytime a Lego set goes off the shelves, the prices often skyrocket as it would be harder to get their hands on them in stores.
Licensed properties such as Lego Star Wars tend to do very well as with Lego-themed sets such as Lego City and Lego Architecture. In fact, the US$499.99 Millennium Falcon from 2007 now currently sells for around US$1,500, which is basically a 200 per cent return. So before you throw out that prickly brick because you've painfully stepped on one (yet again), consider if it would be worth keeping them (out of harm's way) as an investment.
Antique cars
It's well-known that luxury vintage cars can produce large investment returns. There's just something about the look and feel of a vintage car that has driven lived through the nostalgic yesteryears. Contrary to popular belief, investors of vintage cars do not leave their automobiles in garages to sit and collect dust. Unlike the bottle of whisky that loses its value the minute it's opened, a vintage car does not lose its collectible status even when it is being used—most collectors are enthusiastic car lovers who enjoy driving and working on them.
Ferraris tend to be popular choices for investors and collectors due to its consistent track record of winning races. According to Dietrich Hatlapa, founder of the Historic Automobile Group International, Ferrari accounted for "57 per cent of all cars sold at auction for over US$5 million (A$7.4 million)", with Porsche (10 per cent) and Mercedes-Benz (9 per cent) behind by an impressive margin. If you are thinking of investing in vintage cars, try attending classic car events or even join a classic car club for advice and helpful information.
| | |
| --- | --- |
| SHARE THE STORY | |
| Explore More | |