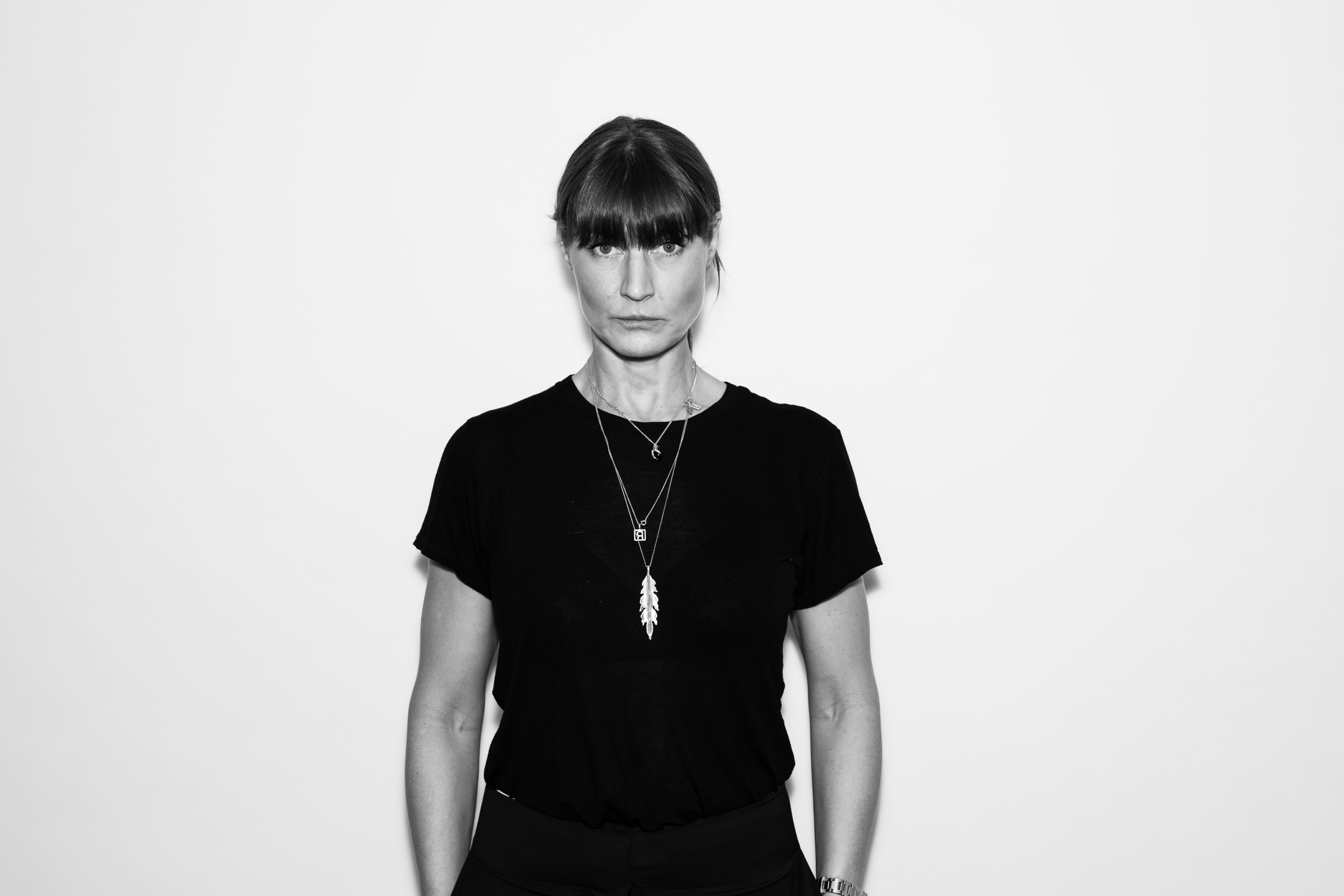 "I am VP of Design at adidas and creative director for women's Running, Training, Sportswear, Kids (boys and girls) and collaborations like adidas by Stella McCartney, Karlie Kloss and some more to come." —  Josephine Aberg
What was the inspiration behind the "Formotion: Watch Us Move" campaign?
"'Watch Us Move' is a long-term campaign that supports and celebrates all women, tackling barriers in females' sports participation through product innovations and initiatives. It encompasses the latest strides we are taking in our mission to ensure sports belongs to everyone, regardless of age, socio-economic and cultural background, or sporting ability.
"We gain these insights from our female community through extensive listening and research to understand some of those barriers they face when it comes to movement. We're kicking it off with the arrival of adidas' most supportive activewear yet—Formotion. So, to answer your question, the inspiration is really the woman and her needs."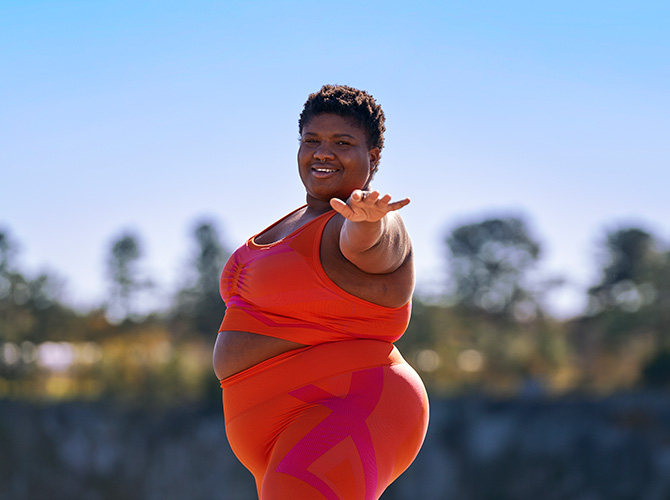 We love how the Formotion collection is made for women of all shapes and sizes, with a wider range in sizing, and the capacity for all sorts of performance (from Pilates to HIIT). However, different bodies require different levels of comfort, just like how different sports require different kinds of support. Walk us through the development of the new Formotion collection.
"Correct. We at adidas believe sport has the power to change lives and that sports belong to everyone, no matter the size and shape. That's why we wanted to develop performance wear that addresses barriers to sport participation; to help create a more inclusive space in sports for her.
"We took inspiration from shapewear technology and customised it for performance products for her. To give you an example of how it works for different sizes and fits, let's talk about the tights.
"Formotion uses graded compression—created after years of development—based on body mapping and motion studies to deliver precise support where it's needed most for her. The compression zones have different intensity levels and are strategically placed around the waist and hips to sculpt. The high-stretch knit fabric around the legs and calves offers added flexibility. This precise body mapping has been customised to the different sizes and allows freedom to move without restraint in any condition from high-impact to everyday wear."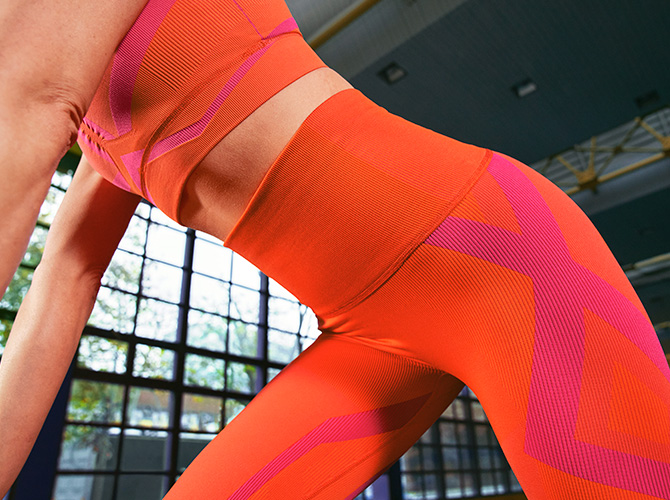 We read that the new Formotion collection is also sustainability-friendly. Tell us more about this.
"Yes, it is! I keep talking about sustainability as a hygiene factor in any new design that we do. It's not an 'if' and 'or'—it's a core ingredient in the design. Today, new designs are created with the planet in mind, and each piece in the Formotion collection is made using PrimeGreen, a series of high-performance recycled materials. PrimeGreen products use a minimum of 40 per cent recycled content and represent one of adidas' solutions in the fight of ending plastic waste."
*The collection also features adidas' soft and breathable AeroReady technology throughout to keep athletes feeling dry as they move)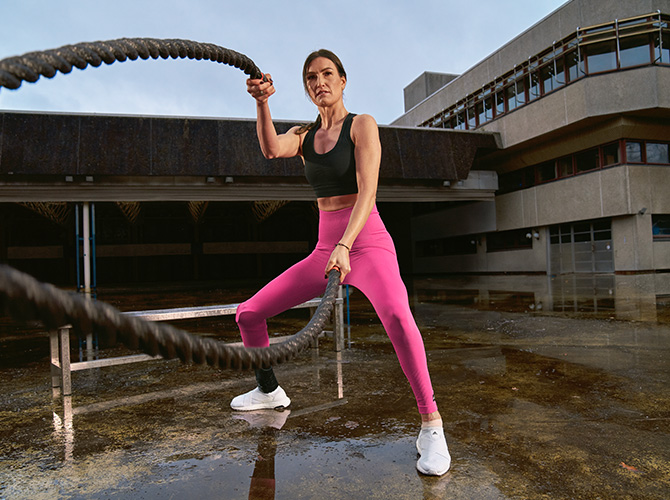 Formotion was released in line with International Women's Day, and the ongoing mission to celebrate women in sports—to attract them to sports—what do you reckon is the main challenge in encouraging women to do sports?
"IWD is a time to recognise and remember the struggle—and power—of all the women had through their achievements. It enables us to challenge the status quo within and outside of our company.
"In the time of IWD, our CHRO Amanda Rajkumar reminded us of the many incredible women that we, as a brand, have partnered with throughout the years and how we can take inspiration from them.
"Starting with Käthe Dassler, who from 1978 to 1984, was the first female CEO and amongst other things, responsible for the creation of the trefoil. Then, there's Steffi Graf who won the Tennis Golden Slam in 1988; Jessica Ennis-Hill, the Heptathlon Gold Medalist at the 2012 Olympic Games in London; Candace Parker, the WNBA Champion & Finals MVP 2016; Mary Keitany, who established a world record at the London Marathon in 2017. Mikaela Shiffrin—the youngest Olympic gold medalist in slalom in 2014—is still one of our top female partners.
"At adidas, we have supported these talented athletes by creating made-to-measure shoes for her since the beginnings in the 1970s, including the Lady Runner and the first women's shoes for football, training and tennis. And with our new strategy, you will see that product innovation "for her" is becoming only more important.
"This reminds me to keep listening to our women out there. I especially think of young women who are growing up and experiencing so many changes during their adolescent years—a time when, we know, many will decide to drop out of sports. You realise how many opportunities there are to support her by innovating and designing the right product for her. Because when she doesn't find the product she needs, it's easy to find a reason or excuse to not participate in a sport."
Going back to the Watch Us Move campaign, we hear there's more at-home fitness content catered to women. I'm personally a fan of the adidas training app. Can you share more about this at-home fitness content for women?
"Yes, adidas is additionally launching an all-new workout series on the adidas Women's YouTube channel. It's designed to put a new face on fitness and encourage all people from around the world to enjoy what the wellbeing movement offers.
"The Move with Us series kicked off on 25 February with fresh workout content from body-positive yoga expert Jessamyn Stanley and Paralympic medalist and motivational speaker, Denise Schindler. There is more content to come from inspirational athletes and grassroots fitness enthusiasts from around the world."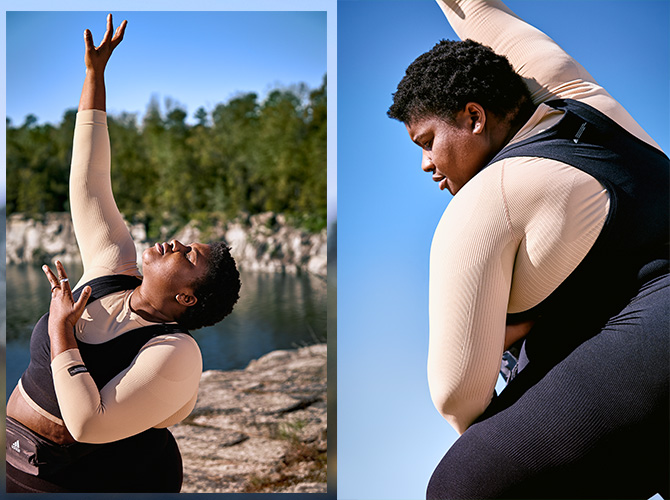 As a woman yourself, what inspires you and how do you hope to inspire other women?
"I am inspired by people who come from diverse backgrounds and belief systems. As a female leader, supporting and working on new projects and possibilities inspires me, and I hope I can be a role model to inspire others to work hard and be confident in a future of equality, diversity and humanity. I believe it is essential to continue celebrating the impact and successes of women in general."
The adidas Formotion collection is now available in Malaysia. Find it in-stores or online.
| | |
| --- | --- |
| SHARE THE STORY | |
| Explore More | |