If you were in the vicinity of Medan Pasar as of late, you would probably have caught sight of some structures in the works — art installations in the making for the upcoming Urbanscapes festival. One of them belongs to Nawwar Shukriah Ali a.k.a Bono Stellar, the multidisciplinary designer and artist behind Stellar Design and creative platform Make It Happen.
'Arus' on the way…
And when we say multidisciplinary, we mean it in every sense of the word. Known for her vivid, colourful style that oftentimes carry psychedelic nuances, Bono has poured her talents into a kaleidoscope of projects that range from visual merchandising and set design, to murals and art installations — her artful manipulation of acrylic and light in the latter is especially mesmerising.
Before you drop by to admire Arus, her latest brainchild at Urbanscapes (the festival kicks off this Saturday!), get to know Bono a little better as we quiz her in two ways — the first part in a regular Q&A manner, and a silent interview section where she answers us through sketches and doodles:
When and how did you begin your journey in art and design?
"I started at a very young age; I think since I was 3, I used to draw a lot of cartoons back then. My late mom was an art teacher. She exposed me to the arts from an early age, and she was always passionate and always supportive, so I would take part in art competitions and other things. She taught me a lot during my 17 years with her, then I took up architecture and I've learned more about design since then."
The element of shapes seems to be a constant in your work. Would you say your background in architecture has greatly influenced your design process?
"Yes — architecture influenced me with regards to the balance in composition, function, and understanding patterns and textures, etc. I think the art-architecture movement-history too inspired me in a lot of ways; in understanding every era, and its features, and then adapting it in current times, using materials and technology.
It shapes the way I see things, and the way I perceive and understand reasons in creation. Later, I think my designs evolved, and merged with my skill in arts. I've always thought architecture was a little too rigid for me, so I'm always trying to strike the balance between."
Tell us about Arus — what inspired it and how does it fall in line with Urbanscapes' theme of #ReImagineKL?
"Arus came to me during a time when I was finding a way to heal myself. I always feel like work is one of those things that keeps me sane, work grounds me; I enjoy every moment of creating, and channelling my feelings into my work, turning it into something positive.
It's always a healing process, and it's a beautiful process, problem solving and all. The beach is where I find myself reflecting on life, and letting it all go, to the middle of the sea — a cleanse of sorts, I believe. Maybe it has something to do with me growing up in Terengganu; the beach is always just a few minutes away, and Arus, literally translating to waves or currents, keeps hitting me like life, my ups and downs… and then I find myself on my feet again, moving forward, with a determination to fight for life, to live and embrace every moment of it. With Arus, I hope people will find hope in making the impossible, possible; you can always restart and be better in this city, you can imagine, you can dream, and make a change. It's within you."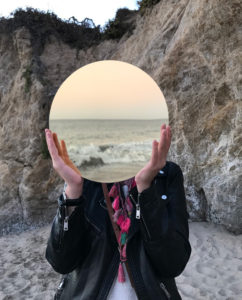 What were some of the factors/challenges you had to take into consideration when putting together Arus?
"Since Arus is going to be my first outdoor installation, I'd say having a background in architecture helped me think about the context of the site: to design for the wind and rain; in creating shadows by using natural sunlight; and creating the circulation for how I want people to move around it, through it, within it. The challenge is always the structure, to build a solid structure 15 meters wide in the middle of Medan Pasar."
Besides the installation, you'll also be involved in a series of talks via Make It Happen. Tell us more about that.
"I created Make It Happen two years ago in the hope that it can be a platform to help share and educate the creatives and masses on the importance of the creative process, on how to be a professional creative and making it happen. We've had four exhibitions so far, on creative processes involving 30 other creatives from illustration to photography, from music video directors to painters.
For Urbanscapes, we'll run our first conference with 12 other panels, discussing and talking about themes such as Creative Identity, Creative Business, how to showcase your work, and Inspiration vs. Imitation. I really hope people will come, and learn a thing or two from the sessions, and go back a better creative."
Being based in KL, how does the city inspire you as a designer and artist?
"KL is full of colourful characters, full of culture and unique minds; sometimes it's hard to prove to people my ideas, but I think that actually forces me to make it happen anyway.
I will always want to do something that I think KL needs, to look at things differently, to look for quality life besides chasing after material things or how pretty I look everyday. It's about embracing your individuality. Being a designer and artist in KL is not easy; though there's a lot of talent, we're always struggling, and if I'm not gonna do the things I want to do, who will?
I always travel solo and I take my own sweet time in unfamiliar environments with my thoughts, accepting the good in every place that I've been to, and I would question myself, what do I want and not want in life? When I'm back home, I try to eliminate negativity, start afresh, and I would try to apply all the good things that I've learnt in wanting to make KL as magical as the other cities in the world because it's my home. I learn to use my voice better, by expressing the necessary and avoiding the unnecessary. I think that's what everyone needs to learn, to help each other. It's amazing when I get to spend some me-time, and then later show the world what I'm up to with all the passion and love inside me."
Can you draw us a self-portrait?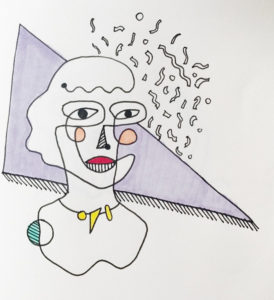 What makes you smile?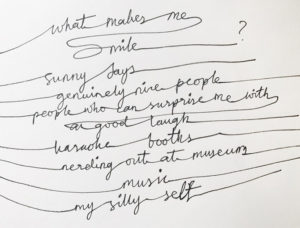 How do you wind down when you're not creating?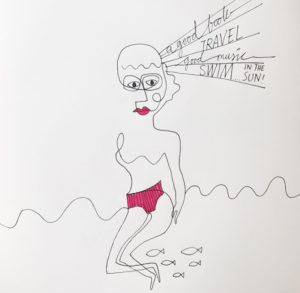 What is your secret talent?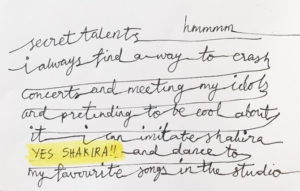 What are some of your passions outside of art and design?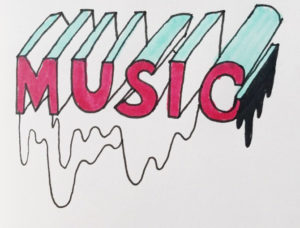 Catch 'Arus' as part of Urbanscapes 2018 from 3 to 18 November at Medan Pasar. Keep up with Bono Stellar's work at www.nawwarshukriahali.com and on Instagram at @nawwarshukriahali.
| | |
| --- | --- |
| SHARE THE STORY | |
| Explore More | |