In our new series of city guides, we'll be looking at different cities through a resident creative's eyes, starting with our beloved city of Kuala Lumpur. Taking us through some of her favourite places in KL this month is Liza Ho, director and co-founder of OUR ArtProjects, an art consultancy and project platform that also runs an art gallery of the same name.
Born and raised in Guatemala, Malaysia has been home for Liza since 2007. With a background in finance, she took her first steps into the local art industry by volunteering at the now-defunct Valentine Willie Fine Art. She then dove into art full-time when she joined the Kuala Lumpur gallery in 2009, coordinating artists and exhibitions in and around the region. 2013 saw the establishment of OUR ArtProjects, the brainchild of Liza with fellow industry veteran Snow Ng, which is nestled in the eclectic arts hub that is Zhongshan Building in Kampung Attap.
Here, Liza shares some of her go-to places in town.
Live music
"Music is not my biggest love, but if I do go out for a gig, then it would be at No Black Tie for the ambience, the acoustics and of course, you will always find a face you know!"
Art gallery
"I like going to Ilham Gallery, simply because they run amazing exhibitions."
A spot of inspiration
"Because of the work I do, I visit artists' studios and it is always inspiring because they are all different and unique. Each is a world on its own; so intimate, so sacred… a place filled with ideas."
Food and drinks
"I particularly love this tai-chow place in Chinatown, and with so many speakeasies and bar around there now, it has become a pretty convenient go-to place for me to get a drink nearby without having to drive."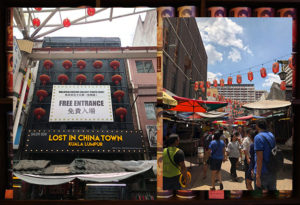 Neighbourhood
"Taman Desa. I find it to be quite a nice location with all the basic facilities and good food too!"
Coffee 
"Well, I get my coffee fix at Piu Piu Piu @ The Zhongshan Building EVERYDAY except Mondays! And they happen to use coffee beans from… Guatemala!"
To get away from it all
"For the fact that there, it has no Internet connection, it's close to nature, and not too far from KL—Sekeping Serendah. And no Internet means you could actually have a good conversation with your friends without being interrrupted by social media notifications!"
Find out more about OUR ArtProjects on its website.
| | |
| --- | --- |
| SHARE THE STORY | |
| Explore More | |