Irish food writer and presenter Donal Skehan is probably no stranger to food show enthusiasts, having helmed the likes of Junior Masterchef UK and more recently, Donal's Asian Baking Adventure. Some might even know him for his short stint in music way back when (Streetwize or Industry, anyone?). Armed with an affable charm and a smile that always reaches his eyes, it's easy to see why his shows are so popular. More importantly, his easy-to-follow approach to cooking meals makes it simple for anyone to pick up his recipes, whether it is from his food blog, cookbooks or YouTube channel. You'd love to replicate the recipes, but if only you had the time, you say? His latest book and TV show, Meals in Minutes, could just change that.
Ahead of Meals in Minutes' premiere on BBC Lifestyle, we had the pleasure of a quick chat with Skehan, speaking about his latest show and his passion for food:
Let's start by going all the way back—what got you interested in cooking?
"My background from cooking came from my mum and my grandmother. My grandmother was a fantastic home cook. She was never really formally trained or anything, but she would watch TV and read cookbooks and write down recipes as she goes and then recreates them at home. My mum comes from a very big family—she had six brothers and sisters so my grandmother was always under pressure to come up with some delicious meal for the evening. That's kind of where it started. I started cooking from a really young age because my mum was always encouraging me to go into the kitchen.
"I never really felt that it was going to be my career, but it was always a big passion of mine. I think I was about 18 when I started a food blog. I just came home from working at a restaurant in Sweden, and I was so inspired by the whole process. I knew I didn't really want to work in restaurants, but I really loved writing recipes and easy home-cooked meals for people—that's my passion. The food blog just took off from there, because a lot of people could relate to it, and the recipes were accessible and doable."
That is kind of what your new show Meals in Minutes is about too, isn't it?
"Yeah, in a way it has kind of come full circle. I've travelled the world and now I'm back at home, doing the meals I started with."
What do you hope people will take away from the show?
"I always find when I write books and make TV shows that they tend to be, well, purposeful in a way. This one in particular came off the back that we had just moved to Los Angeles. Before that, I had come from a kitchen that had every kitchen gadget you can imagine, but then we moved to a completely different country so we had to set up from scratch. For a while we were in lots of Airbnbs, which typically meant we had very little kitchen equipment. So then I was cooking simpler recipes that were quick and easy to make, requiring only a handful of ingredients and stuff you could pick up from most supermarkets. For years I had been writing more complicated recipes, and all of a sudden they did not fit the bill when it came to these Airbnbs. I was forced to kind of rethink how I was doing things a little bit, which in essence was a very good thing, because it reminds me of what most people do have back home and how people are cooking at home after a long day at work.
"In the midst of all that, we had a baby—the urgency of meals in minutes became even more clear (laughs), because now we had a crying child, a very hungry wife, and me with the need to come up with very quick meals to feed a lot of people. Meals in Minutes is also probably my best-selling cookbook. I think the reason it has done so well it's because it answers a need and it gives people a lot of options when it comes to dinner and it simplifies things."
Yeah, for sure. A lot of people hardly have time to cook these days, and that is also probably why meal prep is all the rage.
"Funny you should mention that, because we're filming our next TV series and meal prep is going to be a big part of it actually. We do it quite a lot at home, especially now that we have a baby, we have to have a bit of pre-planning ahead otherwise life becomes more complicated."
Since we're on the topic, do you have any tips for meal-prepping perhaps?
"I have to admit when I first started meal-prepping, I became a bit obsessive about it. I had all the shopping lists, all the plans, but I think my most successful version of meal-prepping is when I go into the kitchen on a Sunday—without having shopped for ingredients—and use up whatever was there. So if there are tins of chickpeas I'll turn it into a quick chickpea salad that will sit in a lunchbox before going into the fridge, or if there's chicken in the freezer I'll pull it out and whip up something, then I'll go and do my shopping around what I already have. I think a lot of people can become obsessed by this whole idea of meal-prepping and it becomes almost too military, so it's good to have a bit of freedom with it. It's also a good way to use up what you have, that way we can reduce the amount of leftovers as well.
"Another tip will be to make good use of your freezer. Most of my breakfasts tend to be smoothies these days. Having ingredients that can be kept in the freezer and pulled out anytime to make something snappy. That can make a difference too."
What's the most important thing you've learnt since having a baby and having to juggle that and your career?
"I've learnt that the first year of having a baby is absolute carnage (laughs). You have no control on what you think it's going to be and you realise that you have a small dictator living in your house—that was probably the biggest thing to get used to. But apart from that it's an amazing experience. It gives you perspective. From a lifestyle point of view, you let go of a lot of things you thought were important, focus on the things you can achieve and not bog yourself down with all the things you thought were important."
You're still very active on your Youtube channel as well, where you make all kinds of  different foods really. How do you approach cooking different cuisines? Do you put your own spin on them?
"Yeah, I think that has always been my inspiration. I take home a lot of recipes from my travels, but my take on them has always been the same as right back when I started my food blog, where I'm simplifying meals and making them accessible while bearing in mind  to keep to the authenticity of the original recipe as much as possible. For example, if I'm making pad thai in Ireland I'm not going to get tamarind paste too easily, so I'll replace that with lime juice for a little bit of acidity. I'm not going to get the truly authentic version but it comes close—that for me is a win and I know it's going to be a recipe that people can make. Sometimes you get criticism for not keeping to the authentic recipe, but I think once you understand and respect the value of what the recipe once was, that is when you can kind of successfully achieve something that is quite close to the original."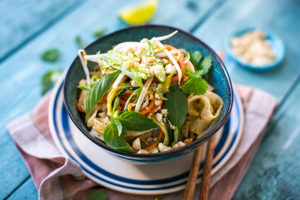 Donal's vegetable pad thai
What are five must-have ingredients in your kitchen?
"My go-to ingredients are lime juice—I think that having it freshly squeezed just adds this zest to a lot of things; garlic, for obvious reasons; chili—I am obsessed with spice and I have a hot sauce collection; pasta is always on my menu because it's great for a quick go-to meal; and there is nothing better in the world than Irish butter—I am very passionate about that and I use it in so many different things."
So you've lived in L.A. for awhile now—what has that been like, and how's the food scene different from back home?
"The food scene in L.A. is incredible. It is a real eye-opener. We moved there because we love sunshine and we had good career opportunities, but the biggest revelation when we landed was how it has this incredible food scene that is so diverse and vibrant. Every culture and cuisine you can imagine is there, and it is not this kind of American-diluted version of each particular cuisine, it's really authentic stuff. 15 minutes from my house is Koreatown, there is little Ethiopia… there are just thriving little pockets of different communities and they are making wonderful, wonderful expressions of their traditional food. From that perspective it was quite an eye-opener.
"When you look at that compared to Ireland, it's a very different type of food scene. L.A. is so diverse with different types of cuisines, while in Ireland what I find exciting is you have this really great passion for food that certainly didn't exist when I was growing up. There was a lot of French influence and this very old school style of cooking, whereas now we have this wonderful inspiration from abroad but using local ingredients, and I think the best thing that Ireland has to offer is its produce. So things like cheese and craft brews, and we have amazing cider producers as well—all those sorts of aspects that kind of shape the food voice of Ireland. They are very different food scenes, but both have really great sides to them."
You've been to Malaysia as well. Do you still remember what was your favourite food that you tried here?
"My overriding memory of Asia was my time with the lovely Chef Wan. He brought me to try some of the most amazing food and then fed me by hand (laughs), which was an experience in itself. We had some wonderful food in Malaysia and my favourite ingredient from the trip is gula melaka. I actually brought some home with me. I still have it in my kitchen, and anytime there is a need for some kind of rich toffee sweetness I'll add it in. I loved a lot of the kuih we tried there as well. We spent the whole day in this beautiful old bakery where there were about 25 women just making these by hand and it was just so fascinating to me. Of course Chef Wan was there as well, singing and dancing—he was so much fun and he actually made the trip such an experience, so I definitely hope to meet him when I'm there again."
Finally, what's next for you? What else is in the pipeline this year?
"We're filming the third series of Meals in Minutes and this one is going to be focussed on healthy meals, so we're calling it Superfood in Minutes. I've just finished writing the cookbook, so we're filming that in June/July and that's going to be out in September in the Ireland and U.K., and hopefully some point in Asia as well.
"We have a production company called Appetite Media that actually produces my show, but we've started producing shows for other new talents as well. We're making a TV show with this fantastic young Irish chef, it'll be in this sort of Mind of a Chef, Chef's Table style. It's nice to do something that is a little different and also give a voice to new talent—that's quite a passion project for me. So yeah, stay tuned!"
Meals in Minutes premieres tonight, 11 May at 7.45 pm. Catch it weekly on BBC Lifestyle (unifi channel 512) and on the BBC Player app.
| | |
| --- | --- |
| SHARE THE STORY | |
| Explore More | |