The claim – a product that can revitalises the skin in only five minutes? Why, I am intrigued!
For years, Kiehl's Calendula Herbal Extract Toner has been a cult favourite of many for its refreshing properties. Now in continuing to bank on the gentle and soothing benefits of Calendula flower, Kiehl's has introduced the Calendula & Aloe Soothing Hydration Masque.
The formulation
The gel masque is made with Calendula flowers that are cultivated without pesticides and manually harvested to preserve the delicacy of the flower. To keep each petal intact, the flowers are hand-sorted and sun-dried in the open air without the addition of extra processing or artificial heat. The petals are then slowly added to a transparent aloe vera base, where it infuses the formula with its golden colour. So what you have here is a soothing and refreshing product with all its natural goodness preserved for your benefit.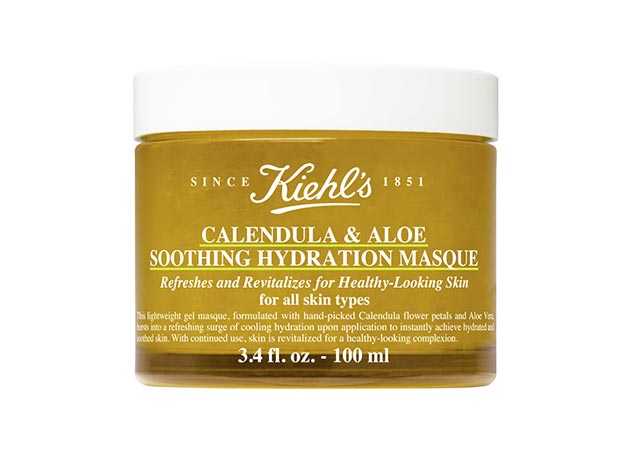 The experience
I had the opportunity to get acquainted with the Calendula & Aloe Soothing Hydration Masque recently during a work trip to Kiehl's birthplace. The harsh, cold New York weather was not the welcome I had imagined – I started showing signs of dry and flaky skin after just the first day of arrival. The long hours of travelling combined with the wintry condition added to my distress. My skin was crying out for mercy!
Though I was slapping on moisturiser and spraying mist on my skin often, not to mention religiously applying an overnight mask every evening, these were not enough to give my skin the hydration it needed. What I found to be my skin-saviour is the Kiehl's Calendula & Aloe Soothing Hydration Masque. I felt an immediate refreshing surge of cooling hydration upon application. My skin must have soaked up the mask like a sponge. The gel texture was lightweight and there was a comforting scent thanks to its chamomile and lemon essential oils.
I rinsed off with warm water after leaving it on for five minutes. Just as the name suggested, my skin felt instantly soothed, hydrated and revitalised. I continued with the same routine upon my arrival back home, where my skin was acting up again with the changing weather and long flight. The moisturising properties were heavenly on my tired skin. The Calendula & Aloe Soothing Hydration Masque was an instant pick-me-up. Needless to say, this has earned a place as a staple in my skincare routine. 
Kiehl's Calendula & Aloe Soothing Hydration Masque is priced at RM198 (100ml) and will be available from 26 April 2017 onwards.