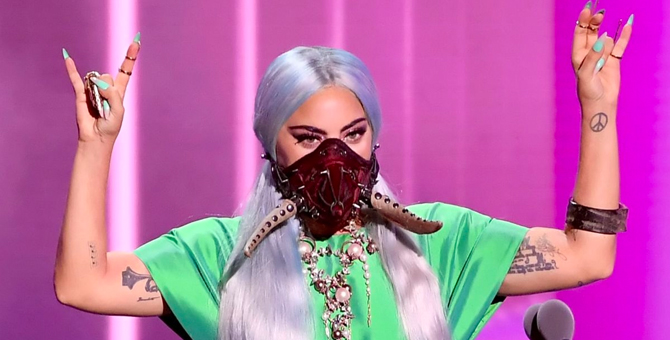 Repping a pink muzzle that complemented her two-toned nails and Iris Van Herpen look here
Looking fierce in a Lance Victor Moore face mask—made of red pony skin and horns
For her performance on stage, Lady Gaga wore a custom sound reactive mask by Diego Montoya Studio, made in collaboration with Smooth Technology (spot the custom laser cut lucite embellishments!)
The only time you can glean the superstar's full-face makeup look—as she's wearing this clear bubble-like helmet, courtesy of designer Conrad by Conrad.
The final look was nothing short of astounding. Lady Gaga's lewk comprised a silver "jellyfish" crown and a metallic mesh mask by Maison Met.
Going down the punk rock route with a classic MTV tee and a face mask embellished with spikes and chains at the end of the night.
MTV VMAs 2020: All of Lady Gaga' statement-worthy face masks
The superstar delivered a string of headline-worthy performances, coupled with the most epic face masks at the MTV VMAs 2020.