Sothys re-launches its famous nO2ctuelle Night Range to help you revive your skin at every bedtime.
Beauty sleep is becoming scarce these days with studies finding that we've lost two hours of sleep in two generations. Yikes! Sleep is important for the body and skin to regenerate after enduring a day's worth of damage. According to a study by the University of Cleveland, people who get more than seven hours of sleep per night are more likely to look four and five years younger than those who sleep for five hours.
"Our skin looks best when we get enough rest. This is because night time is when our skin regenerate the best and becomes more receptive to what we 'feed' it," says Cinthia Montoro, Sothys International Trainer from France. 
There is no denying the impact of sleep on beauty but we get it, adequate rest is sometimes a luxury that we're not able to achieve. Hence, we could all use with a little external help to support the skin's cellular renewal activity.
This is where Sothys nO2ctuelle Night Range steps in.
"The new Sothys nO2ctuelle Night Range can help you in three ways – it is formulated to help skin perform its night-time regenerative functions by reviving cell activity, re-sychronising the cells within the circadian clock, de-stressing and detoxifying them. Ultimately, to help you wake up with skin that glows with health," explains Montoro.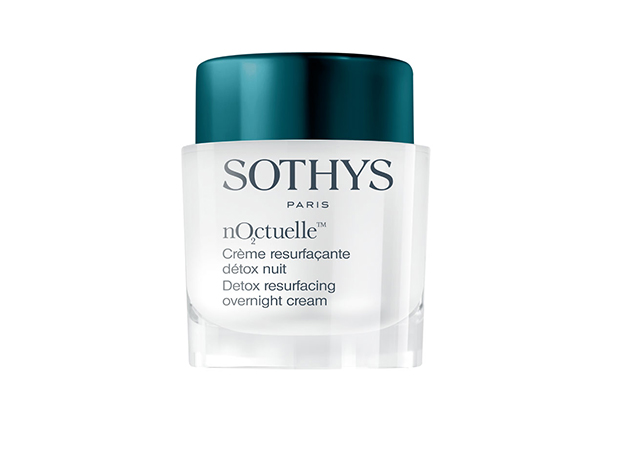 First launched in 1994, Sothys nO2ctuelle range has a firm standing on many beauty shelves for its revitalising benefits. This year, the brand's night time essentials get renewed with a new name, elegant packaging and colour scheme. But it remains dedicated to reviving the skin, now with the added boost of 5-times more Vitamin C than before. This active ingredient works in harmony with other botanical extracts, detoxifying complex and hydra-smoothing complex.
"The reason why Sothys nO2ctuelle Night Range has remained one of our most popular collection is because of its efficacy. For example, with the Detox Resurfacing Overnight Cream you will notice the difference from your first application," says Montoro. "It has stabilised Vitamin C to stimulate cellular activity and reduce signs of ageing, and an extract of nasturtium – which gives skin a 'boost' of oxygen, and also a detoxifying complex that protects skin from harmful pollutants."
Think of this cream as the equivalent of 8 hours of sleep for the face, so you can wake up looking radiant and skin feels hydrated and smooth. 
To further ensure the well-being of skin, apply the Chrono-Destressing Sleeping Mask once or twice a week. It is designed to strengthen cellular activity and visibly replenish skin's youthfulness.
"Try this with the Sothys application method. It will work wonders to revive the skin. Start with flattened palms on the relaxing pressure points from the centre of your face – from middle forehead, corners of the nose, and middle of the chin – slowly moving towards the temple; and then from chin to neck. Repeat three times. Alternatively, you can visit any of our boutique salons to learn more from our trained therapists," advocates Montoro. 
Sothys nO2ctuelle Detox Resurfacing Overnight Cream is priced at RM499 (50ml) and Sothys nO2ctuelle Chrono-Destressing Sleeping Mask is priced at RM299 (for 8 sachets of 4ml).