The Weeknd has done something odd to his face, Bella Hadid channels Chuckie from Rugrats and more celebrity beauty news from this week
Happy new year! The stars have gone wild in 2021: It's only been just over a week and the celebs are already rife with beauty inspo, launches, and blunders galore.
Ahead, catch up on the latest headlines from this week.
This week in brand launches
---
Halsey launches About Face Beauty
Apparently, the barrage of celebrity beauty brand launches is showing no signs of stopping in 2021. Halsey is the latest of the stars to launch her own makeup line, About Face Beauty. 
The brand released a statement on their Instagram page to accompany this vibrant launch post, which reads: "Hi, we're about-face, a new, multidimensional makeup brand for everyone, everywhere created by @iamHalsey. We've spent the last 2 years working hard to bring you the highest-quality, 100% vegan, cruelty-free makeup products that are fun, and easy to use - think of us as your ultimate tool for self-expression. We're so excited to be on this journey with you - and it's only the beginning!"
So far, we've counted ten exciting products in the making, including various shades of highlight fluid, matte liquid lipstick, eye paint, and more. The line is available for pre-order now from their website.
This week in hair
---
Drake's new haircut has ruined 2021
In a now-deleted post, the rapper sported a 'do that has fondly been described as the worst possible compromise between a bowl cut and a buzzcut. Tinted a mousey brown, the Bieber-esque look features prominent side-swept bangs and a delicate heart pattern etched into the front. 
If you ask us, he's feeling himself and we respect it. However, that hasn't stopped fans and haters alike from sharing their brutal roasts:
Bella Hadid channels Chuckie from Rugrats with her latest look
The supermodel took to the 'gram to share one excellent photo of her latest hairdo. The flaming-orange face framers paired with the unruly, spindly curls point to one icon and one icon only: Chuckie Finster.
We're not the only ones who see the resemblance, either—Hadid added a shot of the '90s cartoon character onto the second slide to really drive her point home.
Kate Hudson sports a fresh pink 'do to kick off the new year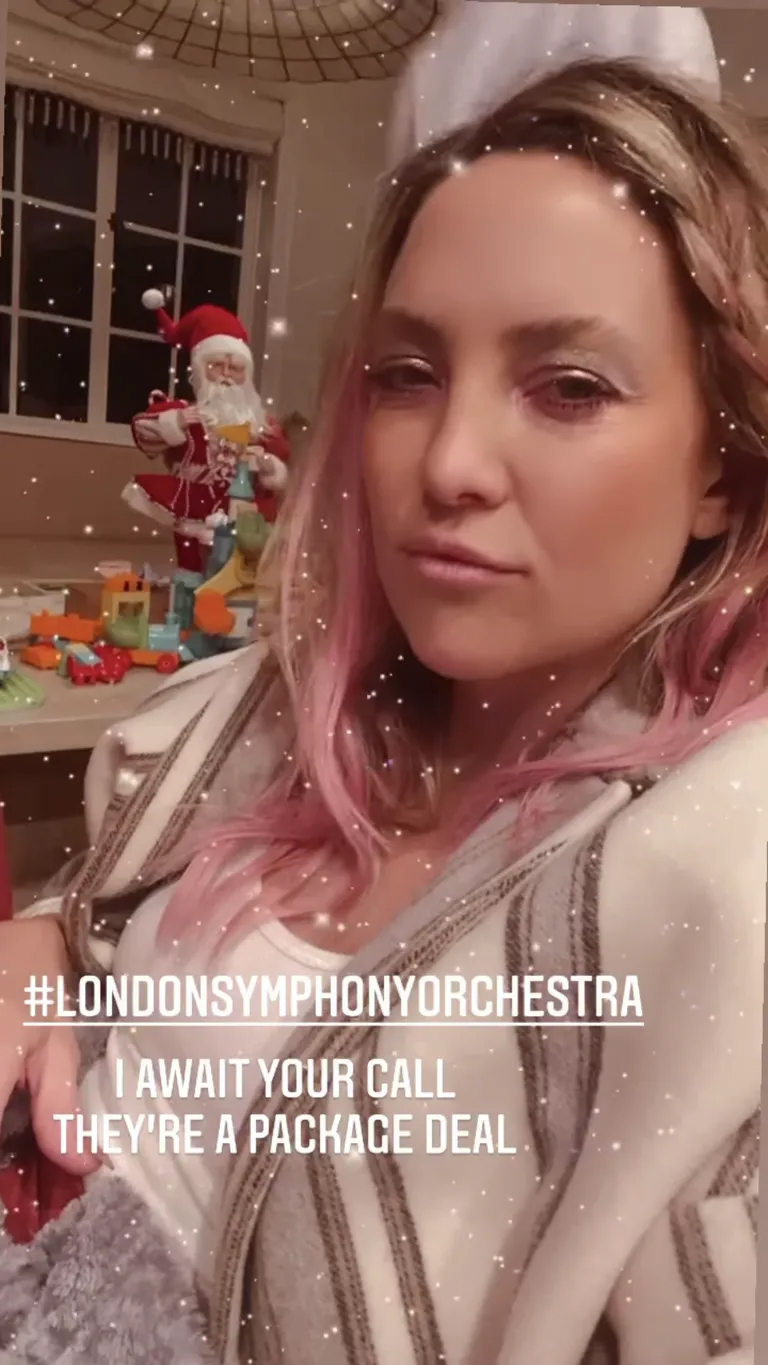 If you were a fan of Hudson's rose-gold mop back in 2014, you'll be pleased to learn that the pink is back. This blonde-to-pastel-pink ombre is a sweet take on the colour trend and is a fun way for Hudson to experiment with her look without too much commitment (pink fades from blonde hair very easily).
Keke Palmer proves that the mullet trend is not going anywhere in 2021
Two words: We're obsessed.
The singer shared a clip of her new shag to Instagram earlier this week, and we aren't the only ones digging the 'do. The comments section of the post is absolutely flooded with heart-eyed emojis and adoration (bar the occasional "What song is this?" comment), and it's clear why. Between the harsh microbangs and the soft, wavy layers, Palmer's new look perfectly toes the line between softness and severity. All in all, 2021's in-progress mullet collection is off to a great start.
READ: Shag-tastic: All the best celebrity mullets from this year
This week in nails
---
Iris Law's French mani with a twist is going right onto our Pinterest boards
Law shared a collection of photos to her Instagram earlier this week, and one pretty detail caught our eye: Her sherbet manicure (swipe through her little gallery and you can see it clearly). The bubblegum-toned blue and pink ombre tips are a fun way to put a twist on the classic nail trend without getting gimmicky. 
Plus, the diffused design of the manicure is the perfect way to lengthen stubby nails without acrylics!
READ: The most flattering (and lengthening!) nail art for short, stubby nails
This week in... whatever The Weeknd is up to now
---
The Weeknd gives him self a Ken-doll makeover
So, at this point, it's probably safe to say that a big makeover from The Weeknd (AKA Abel Tesfaye) was expected. The singer has been sporting some truly questionable looks in promotion of his latest album, and it looks like he is just continuing on that trajectory.
READ: American Music Awards 2020: What happened to The Weeknd's face?
We've seen him bloodied and bruised; covered in bandages and splints galore. However, his latest beauty endeavour is the biggest shock to the system yet (and would be for anyone, really). The plastic-fantastic look is the work of strategic prosthetics, and it's totally Botched-worthy. We've got dramatic cheekbones, sharp jaws, and plumped lips galore.
In other words: He's the ideal Instagram man. What do you think of Tesfaye's big makeover?
Find more beauty news here.