Inspired by neuroscience, the new skincare range from Shiseido is all about a sense-stirring experience.
You've probably heard about how our skincare routine can get a little too familiar, or you're on auto-pilot even, after a while. And you might have noticed that some beloved favourites don't work as well as before. These observations are not unfounded. Our skin can get desensitised over time and loses its ability to respond to what may have been effective before.
Unfortunately, these slackenings become more obvious as you age. As you go into your 30s, you may find your skin's senses begin to slow down; in your 40s you may feel that despite your best efforts, your skin can't seem to maintain good moisture balance; and it all seems to go downhill as you hit 50s, your skin is impervious to your skincare routine and loses the ability to absorb nutrients or bounce back.
It may seem bleak, but don't despair. Science is always at the forefront to improve our lives, or in this case, save our face.
The energy within
Inspired by the study of neuroscience, Shiseido introduces us to the Essential Energy skincare range that is supported by ReNeura Technology—a system to help boost the skin's sensors and support its responsive power so your skin can react, detect and adapt to visible changes. This includes typical skin issues such as signs of ageing, dullness, roughness and dryness.
ReNeura Technology is key in this range as it is utilised in the active response powder ingredient that will help your skin to optimise all the benefits of your skincare routine at every stage of your life. The powder is in the form of small spheres with the texture and feel of a gummy candy. It has the ability to spark your skin to react when you're applying the Essential Energy products and awaken the senses to respond.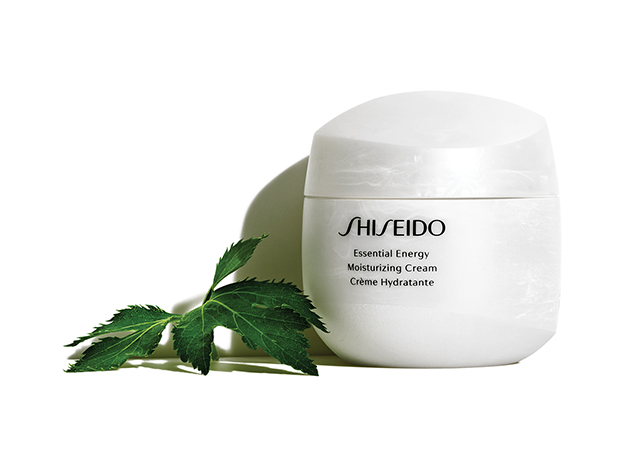 The discovery
With the ReNeura Technology, Shiseido also scouted for the best ingredients to complement its Essential Energy range that consists of a moisturising gel cream, a moisturising cream and a day emulsion.
From the Hachijo-jima Island, Shiseido discovered a plant named Ashitaba, which is known locally as "tomorrow's leaf". This particular plant is traditionally used by healers for its energising benefits. It is full of vitamins and minerals. The Ashitaba extract provides a protective effect against damage.
It also has assam tea extract to help with skin's translucency, and pearl extract to help with uneven or dull skin tone. While the bio-hyaluronic acid gives skin proper hydration and the citrus unshiu peel extract lends a refreshing scent to soothe the mind and calm the skin.
Tapping into the sensorial journey is the packaging that takes inspiration from the Japanese tea ceremony. Each of the 64 unique shapes featured for the cream and gel cream are evocative of handcrafted Japanese tea bowls—these are designed to fit naturally in your hands. Thus, what you get is a visual and tactile experience.
Shiseido Essential Energy
The moisturisers are available in two different textures – cream and gel cream – to help you address issues like dullness, dryness, visible pores and fine lines. The creams work to "charge" the skin with energy and boost its own defence against environmental stress. While the day emulsion supports the skin's quality and helps enhance its suppleness and smoothness. 
Together, the Essential Energy collection helps promote constant skin renewal and encourages skin's responsive power so that your individual beauty comes forth from within. 
Shiseido Essential Energy is available from April 2018 onwards.