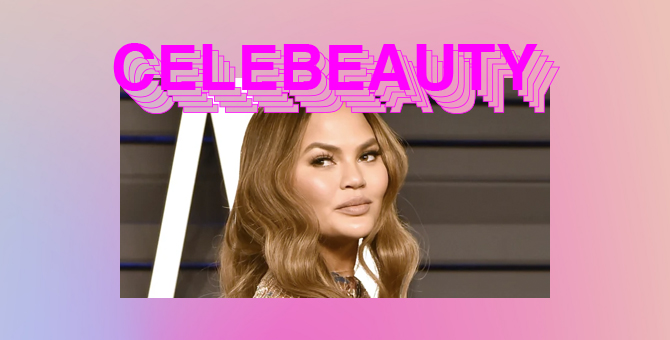 Chrissy Teigen gets Botox to aid her pregnancy migraines
Before you say it—yes, it's safe and yes, it really does help! Teigen didn't go to an aesthetic doctor for her procedures; she consulted a neurologist who liases with her OB/GYN to ensure the health of her baby.
Maisie Williams gets a mullet
She's not the first celebrity to don a mullet, and we hope she won't be the last! The '70s-chic shag looks great on her, and we're happy so see her experimenting with her look again. Speaking of which, that seems to be a common theme for lots of celebs this week...
Carly Rae Jepsen sports a candy floss bob
This may be our favourite shade of pink, like, ever. The muted pastel makes the singer look ethereal, and we are so here for it. She's not the only celeb to try the colour on for size this week, though...
Ariel Winter makes a case for transitional summer hair
This rose-gold dye job is the perfect transitional summer-to-autumn shade—a much more wearable tone than Carly Rae Jepsen's candy floss locks!
January Jones sport a more lived-in pink 'do
As the final celeb to go pink this week, January Jones' rooty powder pink is giving us major faerie vibes. We love the effortless look; here's to hoping she keeps it!
Lady Gaga debuts Haus Labs' newest drop on herself
The singer-cum-actress-cum-beauty entrepeneur actually nailed it in her last selfie—debuting two brand-new shades of the Glam Attack liquid to shimmer powder. Love!
FKA Twigs bares her bleached brows in her latest selfie
The Magdalene singer dropped this masterpiece of a self-portrait on her Instagram the other day, and all we want to know is: What's her lip care routine?!
Justin Bieber's new neck tattoo is massive
The Yummy singer took to Instagram to share his new ink; a black-and-white rose that spans the height of his neck. We're surprisingly fond of it—it's certainly not the first neck tattoo he's gotten and we're pretty certain it won't be his last.
Celebeauty: Chrissy Teigen's pregnancy Botox cures migraines and other celebrity news
Surprise!