Here are some hair and makeup takeaways we've learned from the recent Milan Fashion Week AW18
1) A little shine goes a long way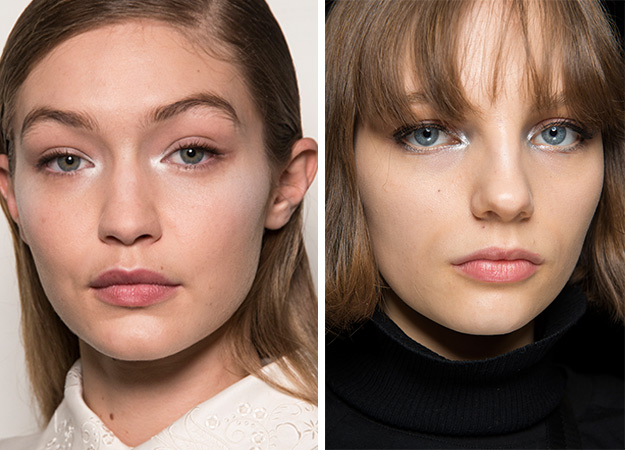 This season's easiest way to perk your peepers is via a metallic swipe of colour along the inner corners of the eyes. While it isn't the newest trick in the book, makeup artists have reinterpreted this tip with silvery/gold-flecked eyeshadow instead of the usual, white/shimmery colours. This is a nifty trick on days that you don't have the luxury of time for a full-on eye makeup look — remember to keep the shine solely within the inner corners of the eyes instead of extended outside or below your eye areas.
2) The exaggerated wing is this season's new cat eye
There's plenty to love about this season's updated cat eye: Bold in flicks and awashed with colour, this dramatic look is all about making a head-turning statement. Instead of the evening-appropriate, all-black feline eyes we saw last season, take your chance with colour with a dual-toned cat eye spotted at Antonio Marras (starting with a brighter shade from the inner to middle areas of the eyelids). For added pizzazz, deck your eyes with Swarovski crystals as seen at Prada (more details here.) 
3) Bad hair days call for OTT hair accessories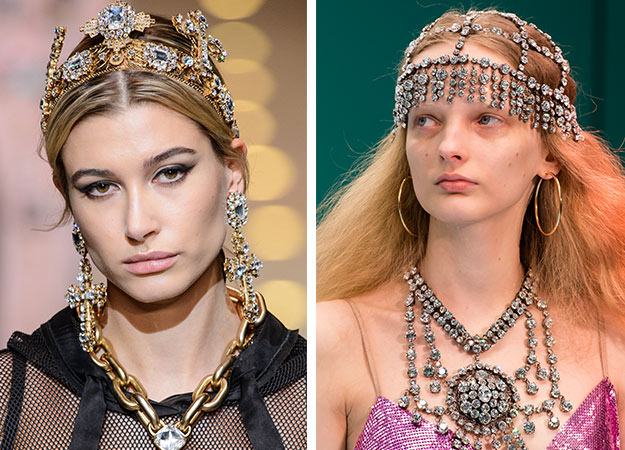 This is your go-to for 1) days that your hair isn't willing to cooperate, and 2) if you have less than 30 minutes to prep yourself for a party. Crystal-adorned hair accessories might very well be the next floral crowns — but with 10 times the drama (think of all the lights you'll be reflecting in the club). Dolce & Gabbana's gilded crowns had religious undertones, while Gucci went with retro-inspired headgear that had a matching (and equally as chunky) necklace/bodychain.
4) Lining in reverse is now a thing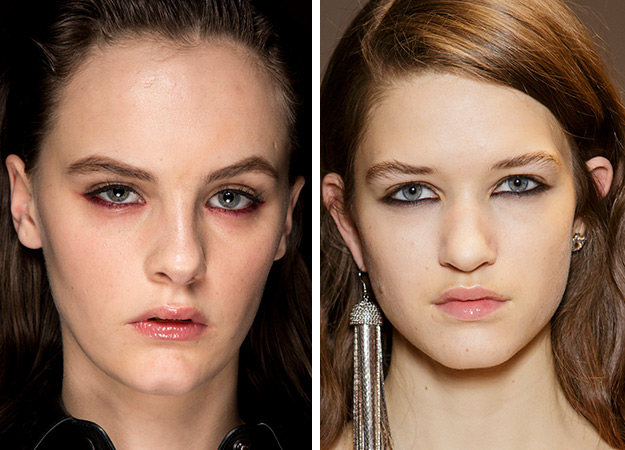 If you're not a fan or a pro when it comes to mastering the cat eye flick, try the reverse liner that promises a bold effect with less the hassle. Rim your lower lash lines to add definition to your eyes, but don't forget to prime your eyelids (and undereye area) for a budge-proof look. Risk takers can go with a pop of red (seen at Roberto Cavalli) or smoked-out black for good measure.
5) The return of the centre part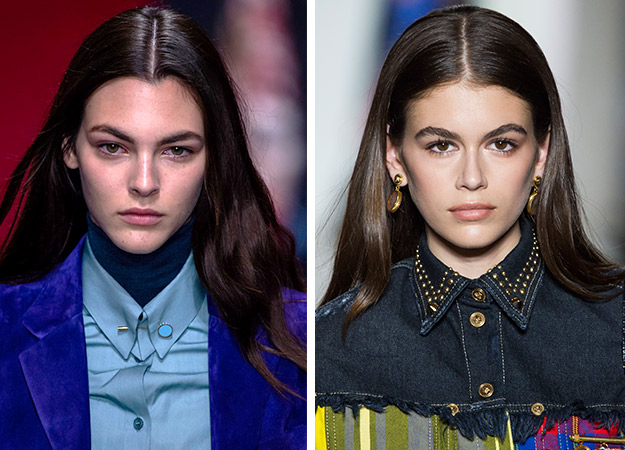 There's nothing as polished as sleek locks that are parted right down to the middle. This face-framing hairdo is chic and fuss-free — two words we love to hear when it comes to any hair routine — and can be pulled off easily, whether naturally straight or lightly tousled for a bedhead effect.