Laneige steps up its Perfect Renew game just in time to tick off those New Year skin resolutions
Good news is, the K-beauty fascination is going nowhere, and along with it, comes even more interesting beauty buzzwords for 2016, like the 'Baby Triangle' - you heard it here first.
The concept is simple: think baby skin versus aged skin. Baby skin - as perfect as we know it - is made up of tiny, microscopic 'baby triangles' invisble to the naked eye. Needless to say, the tinier the 'triangle' shape and structure, the better the skin condition. This structure, of course, changes and enlarges over time when age (and life) happens, which is when our skin is put under copious amounts of stress over the years whilst still expected to fight against some of the harshest environmental aggressors resulting in precisely - the loss of these finely-structured 'baby triangles' as our skin starts to age. 
While the good folks at Laneige did not invent the concept of 'Baby Triangle', they certainly are the first in the world to develop an effective formula, which targets this very clinical discovery by getting to the root of ageing in our skin. Cue the newly improved Perfect Renew Line, which works to restore these 'Baby Triangles' we speak of. And while no promises are made for newborn skin overnight, but the high chances of regaining that same skin perfection we've so taken for granted during our 20's is certainly a New Year treat.
Things you'll love about the upgraded Perfect Renew range
1. Skin-changing results - inside and out
Credit goes to the discovery of the PYCR1 gene, which is the key to intervene with the ageing process of our skin cells. In short, Laneige has successfully developed an exclusive Skin Rebirth technology featuring Galangin (a flavonoid from a type of Ginger).
What this means for you: Internally, skin regeneration is enhanced tremendously and although you can't see it happening, results over time will prove it. On the surface, vacuum-tight skin protection against fine dust, UV rays, pollution, stress, you name it - it stays out. That's smoother, softer, younger-looking and healthier skin quicker than you can say, "Come back good skin, I'm not done with you!"
2. Never suffer from dehydrated skin again. Ever. 
Fact: ceramide is the key ingredient in keeping the skin firm and moisturised. Think of it as the one super-protective friend in every group who lovingly holds everyone (here, being our skin cells) together. 
What this means for you: The upgraded Advanced Ceramide Water Technology in this formula means your skin stays completely moisturised (even more so than before), and moisture is retained between even the littlest gaps between the skin cells. Goodbye dry and dull skin, we'll miss you - never.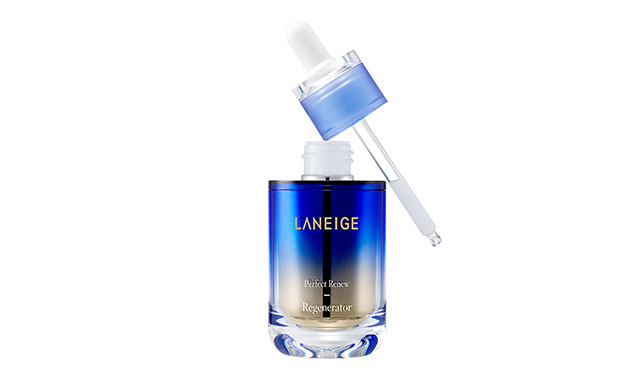 Strapped for time? No worries there because application is easy:
Step 1: The Perfect Renew Skin Refiner acts as a toner and is your first step after cleansing. The gel-like formula is infused with anti-oxidants to strengthen the skin from the get-go.
Step 2: Our pick is the star of the range - all eyes on the Perfect Renew Regenerator - a highly concentrated serum, featuring the Skin Rebirth Technology for suppler, tighter skin. Absorbs quickly without any icky finish.
Step 3: Next up, the Perfect Renew Emulsion, which basically ups your skin's protection barrier while soothing the skin.
Step 4: A day-to-night cream, the Perfect Renew Cream keeps the skin firm and moisturised throughout work, play and rest. Fuss-free and no cream-swapping required.
Step 5: Complete your regime with the Perfect Renew Eye Cream - remember your eye area is the most delicate area on the face, and this targets skin damage around the eyes plus reverses sings of ageing - a crucial start if you don't want the eyes to be an age giveaway!
So, you read it here first - The full Perfect Renew range will be available at all Laneige counters nationwide from January 2016 onwards - Happy New Year indeed!