Makeup
#AsSeenOnTikTok: Hot glue guns are the coolest way to update your graphic liner
Easy upgrade
Image: @theystella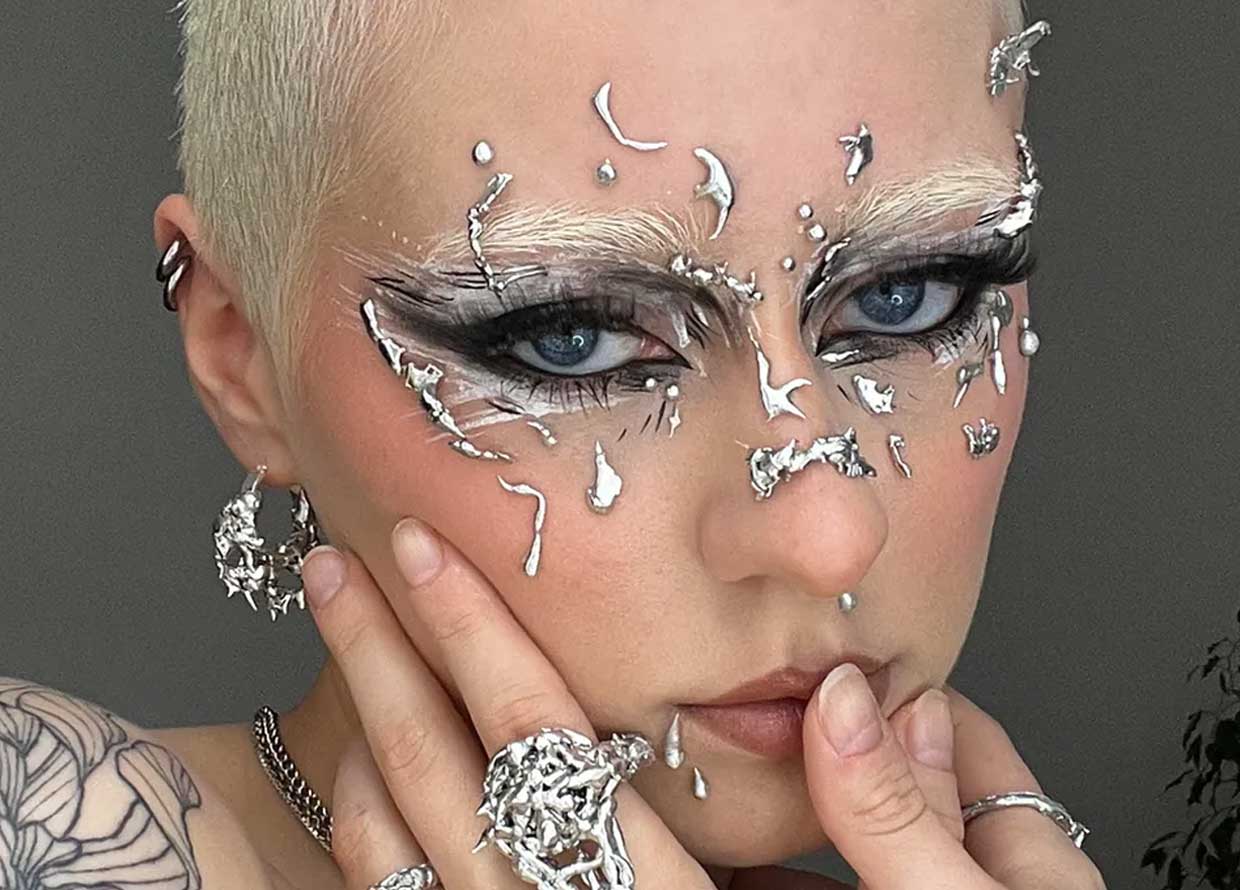 The puffy trend is everywhere—your bags, shoes, jackets, and now… your eyes? You heard that right, social media's latest beauty trend is puffy hot glue liner, and it's absolutely ingenious. Gone are the days of bog-standard coloured liners and Euphoria-inspired bedazzling and in comes the era of iridescent, three-dimensional designs that will have heads turning.
So, what is puffy hot glue liner? It's pretty much exactly as it sounds—it's DIY eyeliner decals created with hot glue and a lot of patience. These decals are then adhered to the lids with a little lash glue to create the most ethereal makeup looks.
The trend was popularised by Salvadorian TikTok content creator Vanessa Funes, also known as @cutcreaser on the app. Now, she did not create the technique behind the trend, but she did being the trend into the mainstream. To find out a little more about the people who did pioneer the hot glue technique (and for a quickfire history of it), Funes sums up her inspirations very clearly below:
How to recreate the look:
The good news is that the trend is really easy to replicate. All you'll need is a hot glue gun (and hot glue, of course), a piece of baking paper to draw your decals on, chrome eyeshadows to decorate your decals with, some lash glue, and a little patience.
Here's the step-by-step:
Heat up your hot glue gun
Trace out a few designs onto baking paper (or whatever smooth, shiny surface you're working with)
Trace out your designs with the hot glue
Wait for the glue to cool completely
Decorate your new decals with chrome eyeshadows (or whatever eye-safe product captures your fancy)
Peel your decals off the surface
Apply lash glue to the back of your decals and wait for them to get tacky
Adhere the decals to your lids as desired
It's really that simple! Obviously, there are a few safety concerns to keep in mind, such as:
Do not use the hot glue gun directly on your skin. This should be obvious, but we're not taking any chances.
Do apply your DIY decal to an inconspicuous part of your skin before placing it around your eye area. You never know what your skin might be sensitive to, and the last thing you want is a bout of contact dermatitis.
Keen on giving it a go but need some inspo? We've got you covered.
BURO's favourite takes on the microtrend:
Find more beauty trend reports like this here.
| | |
| --- | --- |
| SHARE THE STORY | |
| Explore More | |