According to Smashbox's Will Malherbe, there are three major beauty lessons to learn before attempting the perfect selfie
For Smashbox's Director of International Education & Artistry Will Malherbe, creating an impeccable, camera-ready look in no time is a deft skill he can demonstrate without batting an eyelid. With over 20 years of globe-traversing experience in makeup artistry, Malherbe's list of accomplishments include his work that has appeared on multiple magazines, along with his participation at many fashion and beauty shows at major capitals around the world. Recently, we had a chance to soak up important beauty lessons from the makeup guru during his trip to Kuala Lumpur, including the most pertinent question from today's selfie-driven generation—that is, what does it take to look flawless for the camera?
What do you love most about your job?
I'm in touch with everybody. The people I meet are consumers, social media influencers, and I get to know their perception of beauty. Also, to notice the different skin tones and features—being South African I grew up with diversity and people from different backgrounds, so to see all that really inspires me. Some people look for the common denominator in most people, but I look for the exception—I look to see what is different.
What do you think has contributed to Smashbox's success?
We've always been a makeup brand born out of the makeup studio and nothing is more relevant than photo-friendly photos right now. Cameras are so accessible now, you can use it on your phone and it's always there. I had one photo of my dad when I was young!
Being camera ready is very important now as everybody wants to look good in selfies and wefies. We saw a major trend with the super natural makeup look at the beginning where everything's all about filters and Photoshop, but now everyone wants to keep it real with Instastories and Snapchat. People want to see reality and because of that, you'd want a foundation that looks good in every lighting scenario, or something that blurs your pores without relying on Photoshop or various apps.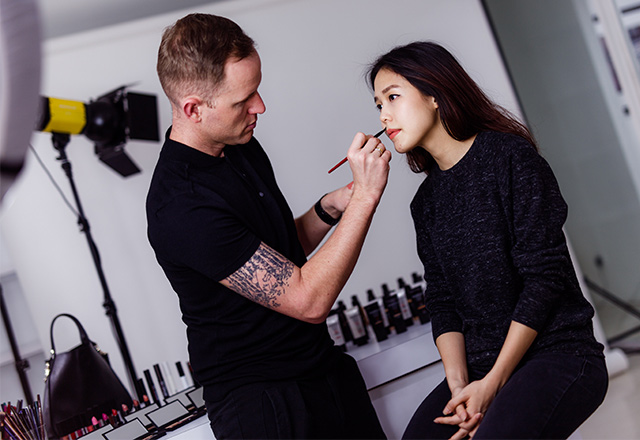 So what do you think makes a photo-ready look?
First of all, pay attention to where your skin is at today. Your skin changes with your age, lifestyle, the weather, environment, and more. For me, my skin gets really oily when I'm tired. But when I'm on the plane for work, my skin gets dehydrated. I always prepare skin with primer, because then everything else will look better and stay longer on your face.
The biggest makeup mistake I've seen is when people don't use the right primer on the right areas on the face. You wanna make sure you strobe and highlight on the right places because otherwise it will look like you have oily skin. If the light is hitting your face from the front, the areas are going to reflect the most amount of light are the tip of your nose and under your eyebrows. But this also means that you should not apply shimmer all the way down the bridge of your nose, and all under your eyebrows while neglecting your eyelids.
You'd want to focus on the features. Make sure the areas you are not strobing are slightly more natural or matte, so you can see the beautiful texture of the skin. If you've got shiny skin, shiny eyes, shiny lips, you're just going to look like oil slick. Be specific with the texture placement on the face. Also, pay attention to the lighting—you need to know where it is coming from and position yourself for the camera accordingly.
What is your go-to Smashbox must-have?
I always start with primer. For the eye area, we have the 24 Hour Photo Finish Shadow Primer, and it'll ensure your eyeshadow is waterproof whether you're going swimming or to a sauna. We also have different primers for the face for specific reasons, whether to blur pores or to hydrate skin. Also, the Always On Matte Liquid Lipstick are new must-have in my bag. What I like about it is that you don't have to apply a few layers for pigment. We added primer oil into these lipsticks, so you'd get both comfort and longwear at the same time. Bold colours are in trend now, whether colorblocking lips and outfit together or statement making lips. My favourite is a grey one (Chill Zone)—it's a great statement colour if you don't feel like going for red. It works on any skin tone too.
A favourite celebrity or muse?
There are too many to choose from when it comes to who I look for inspiration. Working with Shay Mitchell for Smashbox was amazing—she's such a sweet person and really professional as well. I love somebody who's laidback chic, like Kendall Jenner. She keeps it real, for someone who comes from the family she's from (who are all about getting seen and being controversial.) That makes her beauty stand out more because she's so herself, and she wants to walk the catwalk but not to steal the limelight. I love Cara Delevingne too for her quirkiness and full eyebrows. Also, my all time favourite icon would be Audrey Hepburn—my dog was named Audrey!
What are you most excited for Smashbox next?
We're making skincare a lot easier. We've got some amazing technology that I'm excited about. I love skin in general, so you can expect anything that will make you look more radiant in an easier way. We're launching new application tools for makeup that are pushing boundaries and more hybrid in function. And we're exploring metallic lips as well, which will be happening this fall. It's an exciting change what with the whole matte lip trend right now. The [metallic lip's] texture is fascinating, it isn't a gloss or lacquer, it's a cross between all of it, and it gives you metallic looking lips.
What are you always inspired by?
I'm always inspired by people and their characteristics, and what makes them smile or incite happiness in them. It's really anything that I see on a daily basis. I saw a frangipani in the garden the other day, and the ombré middle inspired me for a lip look. I don't always know when inspiration will hit, sometimes it's a person's eye colour, or even leaves of different textures. But I appreciate the unexpected moments that I get inspired by. 
Related stories:
7 Minutes with Andrew Fitzsimons, Alterna's new ambassador
Tattoo or makeup? Kat Von D tells it all