The makeup pro shares her tips on getting a flawless visage and why you should swap your bronzer for blush to contour
Just when you thought that the radiant skin trend couldn't get any bigger than it already is right now, Nars delivers one more must-have in your complexion kit to ace the no-makeup makeup look. The brand's latest drop is the Super Radiant Booster—a skin illuminator with lightweight, layerable texture and a pearlescent glow. But instead of your regular highlighters, the Super Radiant Booster can be worn on its own or combined with other makeup/skincare for a customisable glow.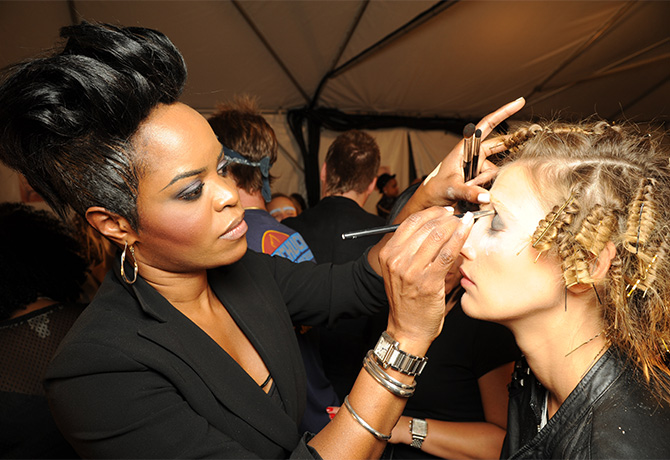 Just last week, we sat down with Nars Global Artistry Director Uzo to discuss all things beauty—from the best ways to use the Super Radiant Booster to the top five beauty bag essentials every woman should have: 
Tell us more about the new Nars Super Radiant Booster.
Out of all the highlighters we have, the Super Radiant Booster is the most subtle. What I love about this is that it was designed to literally enhance the radiance in our regular complexion products, which are our concealers and foundations. What's unique about it is the rose gold shade—a little bit goes a long way and the rose gold shade looks great on all skin tones, from the fairest to the deepest.
You could feel the creamy-gel texture, almost drying down to a nice soft finish. It's perfect for this weather where illuminators can get a little greasy, but the Super Radiant Booster allows your skin to look fresh all day. The most natural way to wear it is to mix it with foundation to give an overall luminous glow to the skin. If you want a more pronounced gleam, place it directly on top of the foundation on your cheekbones, bridge of your nose, Cupid's bow. You can mix this with your moisturiser to give it a nice sheen to the skin.
Is it absolutely necessary to use foundation for flawless-looking skin?
Not necessarily. For those who aren't used to wearing foundation, you'd still need a little concealer to even out skin tone. The Radiant Creamy Concealer does just the trick. What's amazing is how versatile it is. You can use it as a substitute foundation all over your face, or to contour and highlight, depending on the shades as well. It can even out your skin tone beautifully. 
What is your #1 makeup must-have?
I never skip primer. It not only helps makeup stay longer and combat humidity, but it also gives a smoother result. No matter what your makeup style is, you want your application process to be easy, and the products to blend easy too. Primers really do help foundations look more smooth so it's absolutely everything.
If you're wearing makeup and you don't want it to slip, slide or fade, wear a primer. Especially with eye makeup, because everybody likes to make their eyes bigger. We have a great smudge-proof eye makeup base and a mascara that doesn't flake. It is very hot and humid here (laugh), but I also think it's technique that matters. Don't wear so much foundation, or perhaps wear a powder [foundation] instead of liquid if you have oily skin. I always recommend clients to come to the Nars boutique to get expert advice on what will work for your skin.
What would be another four beauty products that every woman should have in their bag?
Good skincare, particularly a serum. I like serums that brighten and perform underneath my skin e.g. Nars Optimal Brightening Concentrates. Secondly, a really good concealer like the Nars Radiant Creamy Concealer is a must-have. A blush is important also—it alone helps to brightens the complexion and makes it pretty. Lastly, a great lipstick.
What do you think is the biggest makeup mistake that women make?
When women get stuck in a rut—it's when they always do the same look and wear the same lip every year. Our biggest mantra at Nars is to experiment with makeup and have fun! Let us choose colours for you that you think you'd never wear.
Should women change the way they apply makeup as they age?
Yes, absolutely. Even for me, I'm getting older and I realise that every decade, you do need to see an expert to give you an idea on how to wear makeup that's flattering for that stage in your life. It's all about how you're wearing it, how it works for your lifestyle and how it works for your skin tone.
Every year, you should touch base with an expert on new techniques, products, etc. When you get stuck in the same makeup routine, you're not aware of newer products that are better than what you are currently using.
You've been with Nars for more than 20 years now; what do you love about your job?
I travel a lot, having been with Nars for so long. If I wasn't working for Nars I wouldn't be sitting here, going to different countries, seeing all these cultures and how makeup is worn and approached all over the world. It's amazing and it really is a global community because we all want the same thing—to look beautiful.
What was your first experience with Nars like?
This was in the '90s, I was working for another brand and I met Naomi Campbell at a fashion show. She, by far, looked the most unique out of all the models there. She is very close to François and she looked modern, audacious, and iconic.
During that time when the natural, clean look was in, here came Naomi who started the highlighter trend even before it was a trend! I'm not sure who did her makeup that day, but someone wanted to touch her up and she said she already had her makeup done by a Nars artist.
I just worked with her recently for pre-Oscars, and her style is timeless and beautiful. She really does focus on her skin and how to enhance it to look radiant. Doing her makeup is almost a reminder of why I love working for Nars so much. François' philosophy is truly that—beautiful makeup begins with beautiful skin.
Who is your dream celebrity appointment?
Gemma Chan. She looked amazing at the Oscars—from her pink dress to her confidence. This is proof that women should try to embrace who they are and what looks great on them versus following all the trends. Everyone tends to wear skin-tight dresses but she wore this long pink smock and she looked absolutely confident. Her makeup look was clean and she just looked memorable.
What is the best makeup advice you've received?
Don't be so serious about makeup. Before I was at Nars, I would only wear a bold lip. Working for Nars has encouraged me to try different colours and techniques that I never thought I'd pull off. I'm very dark-skinned and I come from an era where women with my complexion were told to only wear a certain colour.
But I found that I can wear anything here, and I found that I like wearing eyeshadow colours that a blue-eyed, blonde girl would wear. Nars is such a global brand and it's all about opening your mind up and trying new things.
A beauty trend that you are obsessed with now?
The gleaming, radiant skin—anything that enhances the complexion. We've done that for years!
A beauty trend that you are done with?
Contouring has been around for a while but I think it's been abused to a point that its purpose has been completely lost. Yes, contouring helps to slim the face in certain angles but I think blush is so much prettier.
You can use blush to contour instead of a bronzer shade that is too dark. Bronzer is meant to warm the skin tone instead of to contour. This time I think we can let contouring take a backseat.
What do you never travel without?
I am the worse travel person. When I travel I carry so much with me because I don't want to live anything behind. I don't do travel sizes! (laughs)