On our wishlist: The Olympia's Wonderland minaudière clutch-book face palette and L'Absolu Rouge Le Bisou Olympia 1980 lipstick
Parisian designer of snazzy minaudières Olympia Le-Tan is the next creative to collaborate with French beauty brand Lancôme, with a one-of-a-kind lineup that's all about making three strong statements (with the eyes, lips and complexion.) Known for her inimitable style that references pin-up girls from the '40s, Le-Tan has reinvented one of the iconic motifs from Lancôme's archives for the collection—the Chérubin that is now a female angel with vivid pink hair, red lips and heart-shaped glasses.
The Olympia's Wonderland collection is a celebration of colour, sexiness and a dash of Parisian chic. Evidently, a minaudière clutch-book inspired palette is likely something we can expect from the lineup, and Le-Tan didn't disappoint. The Olympia's Wonderland Palette mirrors the designer's bestsellers, emblazoned with cotton embroideries akin to a cover of an antique book, while inside houses a range of hues for the cheek, eyes and lips. Fun fact: Each shade is a reworked and updated variation of a colour that Le-Tan chose from Lancôme's archives.
Below, the accessory designer shares a tidbit or two about her aesthetic, creative journey, and what to expect from the Olympia's Wonderland collection:
Did you draw on all those classic Hollywood images for your take on femininity?
OLT: Yes, I love that look. The red lipstick and the waved hair... that Fifties aesthetic that veers towards the pin-up. But I also really like the whole erotic mood of the Fifties and Sixties that you see in John Willie's drawings and then later, in Allen Jones's work. And the 1980s also really appeal to me because, again, they were channelling that Fifties thing, but with a sexier undertone.
What women appealed to you when you were little?
OLT: I really liked Veronica Lake, Bettie Page, Marilyn Monroe, and Lauren Bacall. These women I came across in films and books. I think I grew up in a household where there was this sense of nostalgia...
Your work is a lot to do with words...
OLT: Yes, I give each collection and garment a name. For instance I called an art-based collection of mine 'Framed', with every piece named after an artist. I also designed a collection on a nautical theme, where I gave the clothes the names of boats. I like wordplay. Besides, it's the classics of literature that really gave me my big break.
Tell us how you got the idea for your book minaudière-clutches?
OLT: I just really liked the graphic covers of American novels from the Forties and Fifties... My dad had loads of them, and I thought they'd look great in embroidery. To begin with, when I was making everything myself, I embroidered a small square bag with two handles, it wasn't very elaborate. Then when I decided to set up the brand, I designed something more sophisticated, a real clutch bag shaped like a book. And that was it!
Let's talk about the word 'minaudière'. It's taken from a French word that means to put on simpering airs – do you like that idea, does it chime with your brand's flirty, cheeky side?
OLT: What I especially like is that it's a quaint and outdated word. In English those bags are called 'clutches', which isn't very pretty. And in French it's either a minaudière or a 'pochette'. But for me, a pochette means a bag. Whereas a minaudière is first and foremost a little box. I liked the idea that it could be an object you'd put on a shelf. I thought perhaps even a book collector might want one, why not? So I preferred to use a word that doesn't necessarily signify 'a woman's bag'.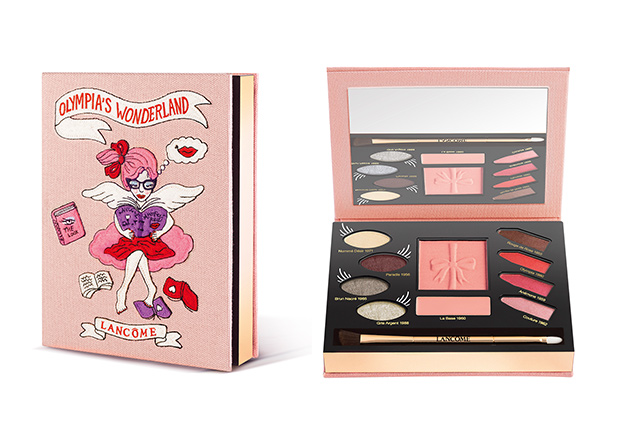 You often use women who aren't models in your shows. Is that an activist gesture?
OLT: Yes, in the sense that I prefer to have 'real women' with personality and character, rather than conventional models. But I'm not making a point about body shape or size. It's just that the women who capture my interest have bodies that suit who they are, that's all.
You wanted to build afresh on the Lancôme heritage when you designed this collection...
OLT: Yes, because there are always interesting things in the archives of any Maison. And since the Lancôme brand has such a long history, I couldn't resist delving into it. The idea behind my brand is – among other things – to reinterpret the design styles of the past and add my own personal touch. I like to build on something rather than start from nothing. That gives me more layers of storytelling to work with. In this case, there was this little cherub that I wanted to reinterpret – by making it more feminine, for a start.
One of the things you have in common with Lancôme is your work on colour. How do you approach that?
OLT: Usually when I choose a theme, I straightaway start thinking about what colours would fit with that and it doesn't take me long to put together a palette. In fact when I worked with Gilles Dufour, I was the one in charge of colours. I have zillions of coloured sheets of felt in my office. I cut bits off the all the ones that make me think of the theme. Then I put them together, I see which combinations work and which don't... For this collection I did the same thing, I brought together bits of felt in colours I liked and wanted to see translated into make-up.
What are you proudest of in this collection?
OLT: Of how beautifully the make-up palette is made. I didn't think we'd manage to create such a pretty piece made of embroidered fabric... In all the collaborations I've done so far, this is the first time we've managed to produce an embroidery. It really does look just like one of my minaudières. And I'm happy to be able to use everything that's inside.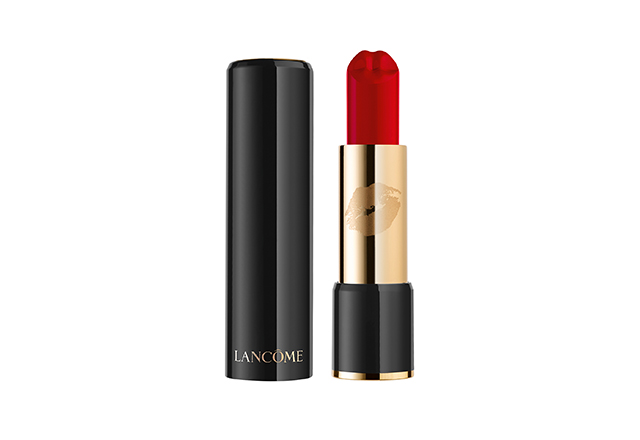 What's your favourite product?
OLT: The L'Absolu Rouge Le Bisou Olympia 1980 lipstick, of course! I love the little lips at the top of the lipstick...
Can you tell us a bit about the little drawings you made for the collection?
OLT: They're mainly of the angel's accessories – her rose, her glasses, a little book... There is also a lipstick, hearts, and a mouth. And a ribbon with Olympia written on it, of course!
Olympia's Wonderland by Lancôme will be available at all Lancôme stores and counters nationwide this 16 August.
Related stories:
The secret ingredient in Lancôme's upgraded cushion you need to know about
Lancôme's beautiful rose-inspired collection will have you tickled pink this Spring