The lowdown on every beauty product Abigail Kan used while soaking up Napa's golden rays
Daily routine
"In the morning, I use Eve Lom's Morning Time Cleanser and occasionally, Avène Cleansing Foam. In the evening, I always triple cleanse—first with Bioderma Micellar Water to remove my makeup, then with Lancôme's Galatée Confort milk cleanser. After gently blotting off with tissue, I'll cleanse with a foam cleanser.
A couple of months ago, I had fungal acne situation and my skin has been sensitive since, so I've been using Avène as it's pretty gentle on the skin.
A spritz of Avène Thermal Spring Water helps calm my skin after cleansing, followed by Jurlique's Rosewater Balancing Mist—it has been my go-to for the longest time.
I typically use a pre-serum such as La Prairie's Skin Caviar Essence-in-Lotion to ensure all the products I apply will absorb better into my skin.
I've been using a hyaluronic serum by Dr. Sebagh and I really like how it feels on my skin. After that, I'll pat on Dermique's Defense Emulsion as an additional layer to improve my skin barrier.
I'm not big on cream moisturisers as those are too rich for my skin, so I tend to gravitate towards lightweight gels and water-based products. Not forgetting SPF—I'm using One Doc Medical's Sunscreen SPF50. Slap it on and I'm ready to go."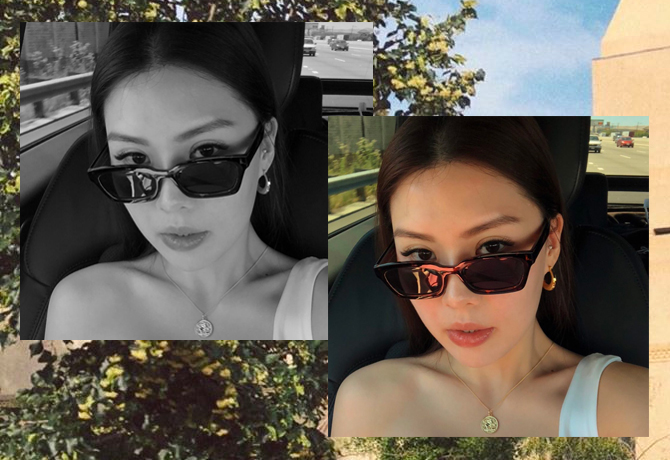 Masking
"I don't use physical exfoliators much as I find it harsh on my skin. My pre-masking routine consists of Aesop's Purifying Facial Exfoliant, then Dr.Jart+ Cicapair Calming Gel Cream for added hydration.
Currently crushing hard on the Moon Mask from Glossier as it really gives my skin a glow the next day. Sisley's Express Flower Gel Mask is a must-have whenever I travel to colder climates—I actually use it as a moisturiser after SPF. I introduced it to a friend recently and she absolutely loves it. I used to use it very religiously as it gave my skin a really healthy glow.
When it comes to sheet masks, Dermique's Intensive Calming Masque is great for my skin. Each sheet mask is super packed with essence, and what I like to do is wipe the remaining essence all over my body after my face is done with soaking it up (don't waste the essence!)"
Makeup
"Since my brush with fungal acne, I like to keep my skin makeup-free as much as possible. (I use Oxy10 to spot treat my zits.)
Makeup wise, I only use the very basics: eyebrow pencil by Shu Uemura, lash extensions (of course), Aesop lip balm or Clarins' Hydra-Essentiel Moisture Replenishing Lip Balm—it really conditions my lips. I don't really use blusher as I have rosacea so my skin always looks flushed (although, more splotchy and not in a "pretty" way).
If and when I have to go out, I use Hourglass' Ambient Lighting Palette for my entire face—I use the contour powder as an eyeshadow for slight shadowing on my eyelids."
Holiday
"The weather in California was amazing when I was there, so that definitely helped my skin. The sunlight at Napa Valley was perfect for pictures of any sort.
This is going to sound cliché but I drink a minimum of three litres of water a day. I've been hydrating a lot recently and I found that my skin has cleared up since. And of course, abiding by the usual dietary tips always helps: pack on the greens (personally love spinach and broccoli) and stay away from greasy food. I'm also trying to work out regularly now as it really helps with detoxing my skin.
I'm not as afraid of the sun as I used to be—I need my vitamin D! But I made sure to always wear a visor or hat whenever I went out in California as I'm very prone to freckles."
Body care
"I swap between L'Occitane's Almond Shower Oil and Aesop's A Rose by Any Other Name Body Cleanser. The weather in Napa can get cool and dry at night, so I used Avène's Cold Cream Body Lotion to hydrate my skin.
My absolute favourite fragrance is the first-ever iteration of Miss Dior Cherie. Occasionally, I like to spritz on my husband's woodier scents. Also, a fragrance I like as of late is Maison Christian Dior's' Sakura—love the very nuanced rosy notes that aren't too overwhelming."