Hair
Beauty Chats: Everything you need to know about getting hair extensions, according to the duo behind Hair Architect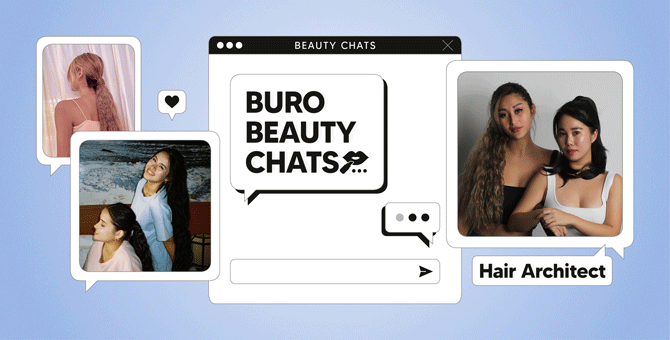 From taking care of your extensions to the biggest misconceptions to look out for, the minds behind Hair Architect are answering all your burning FAQs
We can't speak for all, but there's something to be said about the sheer confidence a good hair day can instil in a person. Unfortunately, not everyone is blessed with a full set of luscious, long locks. That said, there is a silver lining: Good hair is easy to fake—with the right tools. Namely, all you need is a good, high-quality set of extensions to take your pony from zero to hero.
There's just one catch: In this neck of the world, hair extensions are still considered taboo. Whether it comes down to misconceptions or cultural differences, there is a derisive sentiment surrounding anything deemed 'unnatural', especially in the beauty space.
One particular local brand is acutely aware of this, and they're hoping to make great hair days more accessible to all. Enter stage left: Hair Architect.
Founded by Carmen Chin and Katryn Haw, the brand is focused on crushing the stigma of wearing hair extensions while filling the gap in the market. With ambitions to become Asia's leading trusted brand for hair extensions, Chin and Haw are championing the empowerment of their clientele one ponytail at a time.
We spoke with the duo to learn more about this novel industry and address some common misconceptions. Ahead, find out what you need to know about getting hair extensions:
1. There are different types of extensions, but 'natural' doesn't always mean better.
The two types are human (or 'natural') hair extensions and synthetic hair extensions. Obviously, human hair extensions are on the pricier side, costing anywhere from hundreds to thousands of dollars. On the other hand, synthetic hair can be more affordable, but also has an extreme variation in quality.
Don't take this as a cue to write off synthetic hair, though—human hair isn't always the best option. Hair Architect uses high-quality synthetic fibres for their extensions as they fare better in our local climate: "All our current ponytails are made from high-end synthetic fibres which are the closest thing on the market that resembles natural hair. They are silky smooth, lightweight and can be heat styled up to 140 degrees Celsius. We chose synthetic fibres for their incredible ability to hold a heat style for a longer period of time, even in extreme humidity, unlike human hair extensions which act as natural hair would."
2. At-home extensions are more convenient, but they may not look as convincing as professionally-installed extensions.
If you're looking to temporarily switch up your look, at-home extensions are perfect for you. These can be installed and removed at any time, and don't require any monthly touch-ups.
In fact, Hair Architect is working on branching out their at-home selection: "We are currently working on launching a new range of halo hair extensions which is a method of at-home hair extensions that is by far the most comfortable and easiest method of application on the market—it requires no glue or clips that damage your natural hair."
That said, while at-home extensions are fun for a day, they may not look very realistic (unless you are very meticulous with application). So, if you are looking for a more permanent and professional-looking solution, it's worth considering getting your extensions installed at the salon. However, just be aware that they can be high-maintenance—you'll need to see your stylist on a monthly basis to keep them looking fresh.
3. You'll need to give your extensions some TLC once in a while.
"Hair extensions do require some TLC once in a while—even for the ones you don't wear daily," says the duo. "If you are thinking of having professionally installed extensions, be prepared to up your hair maintenance game by a lot.
"Synthetic clip-ins are heaps more manageable as they aren't as delicate as human hair and you won't need to worry about over washing them or wondering what products you can use. A general rule of thumb is that you don't need to use any styling or oil products on synthetic hair because the fibres won't be able to absorb them."
<
4. Do your research beforehand to figure out which extensions will suit your needs.
"We would always advise people looking into getting extensions to first understand what is available in the market," says Chin and Haw. "There are always new methods of extensions arising and choosing the right hair extensions comes down to your own personal hair goals. Whether it be wanting thicker or longer hair, something that you can wake up with and not have to trifle with to look presentable or just something that you can put in for a day or a night out and remove right after you get back home!"
5. Hair extensions don't have to cause damage to your natural hair.
According to the duo, this is a common misconception: "It is important to always do your research before committing to a method of hair extensions. Any risk of damage can only be caused by poor application and lack of upkeep of the extensions. Here at Hair Architect, we're always readily available to help our clients find the most comfortable and effective way to wear your clip-on ponytail that suits your needs. For clients who aren't used to having extra hair, we advise you to try a low ponytail—by doing so, you won't be able to feel the tension of the ponytail tugging on your hairline."
How to take care of your extensions, according to Hair Architect:
"Caring for your hair extensions can seem daunting, especially if you spent a bomb and half on them. Caring for synthetic hair extensions is generally straightforward. Because they come pre-styled, washing them can be tricky as you'd naturally want to rub, twist or wring them. All you would need to do is create a bath of water with a mild shampoo, soak it for a few minutes, rinse it out and hang it up to air dry.
"Human hair extensions are a lot more complicated to maintain. You don't want to over-wash them because they don't receive the same nutrients as the hair on your head, so you can risk drying them out. Also, in contrast to synthetic hair, if you have professionally installed hair extensions, you should never sleep with wet hair as this will cause tangling and matting, and could weaken the bonds that hold the extensions to your natural hair."
"The best method to store your hair extensions is to make sure they are completely dry before storing them in a bag in a cool, dry place. If your extensions aren't completely dry, you risk having mould or bacteria grow in them."
| | |
| --- | --- |
| SHARE THE STORY | |
| Explore More | |