When Shiseido Perfect UV Protector SPF50+ PA+++ first launched, it was a game-changer in the sunscreen category (and in our lives, if we may add). Honestly one of the better sun care options available, it was everything we ever wanted in a sun-safe product: beautiful texture, incredible absorption sans embarrassing white patches and smart enough to dial up the protection as your skin comes into contact with water or when you start working up a sweat so all you really have to worry about is having the best time in the sun possible.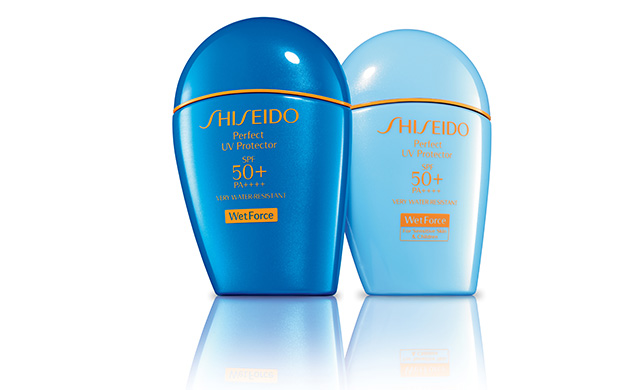 Even better news this month, is the all-new Shiseido Perfect UV Protector S because let's be honest, who doesn't like having options? Here's a snapshot of why it could very well be the next best thing in sun care…
Extra safe formulation
As far as products go, if it's formulated with children or delicate skin in mind, you'll know it's S-A-F-E. And the new Shiseido Perfect UV Protector S's message is clear: why should kids, or those with sensitive skin miss out on the fun?
Stress-free protection
The new Perfect UV Protector S also boasts the same intelligent WetForce technology, which reacts to minerals in the water (and sweat) to amp its sun care defenses, while working only with the mildest and most effective ingredients, which are sensitive skin-approved to give you the most stress-free experience under the sun.
What this means is, unlike typical sunscreens where the layer of protection is compromised upon contact with water, the new Perfect UV Protector S's Ionic Mineral Sensor detects this and quickly builds up a water-repellent layer on the skin, strengthening protection against UV rays and environmental aggressors.
One step ahead, always
Thanks to the Super Veil-UV 360 technology in this, even tiny bumps and depressions on the skin are detected and protected against unintended burning from uneven application – can't say they didn't think of everything. Now, just add summer holiday.
Look out for the all-new Shiseido Perfect UV Protector S SPF50+ PA+++, RM159, which comes in a matching compact packaging to the existing Perfect UV Protector, RM148.40, all dressed in a snazzy new powder blue outfit that'll stir envy in your beauty kit. Now available at all Shiseido counters nationwide.
| | |
| --- | --- |
| SHARE THE STORY | |
| Explore More | |