Here is some food for thought: Less than a fifth of all plastic is recycled globally. From that number, 40 percent of plastic produced is packaging, usually used just once and then discarded. It is estimated that about 10 million tonnes of plastic ends up in the ocean. Those statistics are quite alarming, aren't they? Just take your own beauty routine into consideration—how many empties did you discard in the past year?
That is why brands like Lush pose such an important voice in this age of mass consumption, a voice that champions sustainability and charitable giving along with the initiatives to back them up. Just last month, fresh from the opening of its first store here in Pavilion KL, the beauty brand organised a beach clean-up at Avillion Port Dickson in partnership with the hotel and Green Ocean Movement. Within only two hours, we managed to collect a whopping 180kg of trash, comprising of plastic bottles, plastic bags, sweet wrappers and cigarette butts—that is the reality our oceans are dealing with.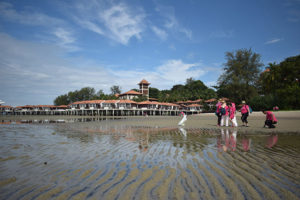 Lush Malaysia's beach clean-up in session at Avilion Port Dickson last December
Actively leading the clean-up that morning was Rowena Bird, one of the driving forces behind Lush, who took it upon herself to personally sweep the area after the session for any remaining trash we may have missed. Here's a woman who clearly embraces all that she does with passion, walking the talk, and steadfastly committed to making a difference.
Tell us about your role at Lush and how it plays into the brand's long-term vision?
"I began the business with five friends back in 1995, and each of us play a different role in the company. Mine has always revolved around strategy as well as the customer service element. When we first started, I said that if we were going to expand abroad, I'd like to be the one that does that. It worked out nicely because I'm the one that likes to travel, while the others prefer to stay home.
"Now, I look after several teams, including the partner support team. My team makes sure that the vendors across the countries are doing well, and if they face any problems, we'll sort it out. Let's see, what else… I sit on the board, where I take part in strategising for the brand as well, and I invent products, so there's never a spare moment!"
Besides beach clean-ups like the one you held in Port Dickson recently, what are some other ongoing efforts of the brand in terms of sustainability?
"We have Re:Fund, which is a regeneration fund. That means that whatever we spend on buying raw materials, we take 2% of that and put it into the fund, and we use that money to support regeneration and permaculture programs.We believe that it is not just about growing things, it's about regeneration. For instance, we've helped buy land in Sumatra. We made orang utan-shaped soaps and we sold them, and all the money we raise from that goes to the Sumatran Orangutan Society (SOS). The land they bought was originally rainforest, which was then deforested to make way for palm oil plantations, and now they've bought it back, taken the palms out so the rainforest can come back in. The people who lived there can also have their homes back, and the orang utans get their homes back.
"We have the 'bag monsters' initiative, where we collect used plastic bags and a person walks around wearing all these plastic bags looking like a 'bag monster', highlighting the fact that plastic bags aren't great. We see ourselves as educators. We're not standing there wagging our finger and going "you're all bad and we're good", we're putting up an opinion in the window and saying "come in and find out more about it", because sometimes the only opinions you have are the headlines from newspapers, and if you haven't read through them, you may not get the full story. We try to give a balanced view of things so people can make the judgement themselves on whether they think that it is their problem that the ocean is polluted, or the fact that plastic bag usage is too high. These are just a few of many initiatives our brand is really passionate about."
It's great hearing about the company's sustainability efforts, because everyone knows Lush for your beautiful bath bombs and that unmistakable scent that wafts out from your shops, but perhaps not everyone knows about the lengths that the company goes to when it comes to going green.
"People probably won't know unless they come in to the shop and talk to somebody. Sometimes there's no way of finding out, and that's a shame because you've missed out on part of the story. I always think that we're like an iceberg. With an iceberg, you just see the tip and then everything else is underneath. So you just see the shops, but you might not realise that we campaign charitable giving and regenerating, we have the Lush Prize, we have the Spring Prize, we're funding sustainable projects across the world, and in the last 10 years, we have given 20 million pounds to charity."
And you have the Charity Pot as well.
"Yes, which is a great little product because when someone buys it, they get a lovely lotion, and all proceeds from the sale (apart from the sales tax) goes to grassroots charities working on animal protection, human rights and environmental issues around the world. I love that, I think that's the most exciting way of making a product."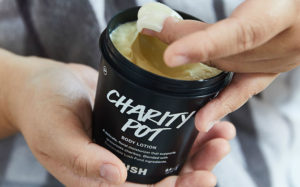 Is there a possibility of Lush going completely packaging free?
"Definitely. We now have three shops—one in Berlin, one in Milan, and the latest one just opened in Manchester—that are completely naked. We don't use packaging there at all, and they are doing really, really well, which shows that people are increasingly conscious of their purchases. We do believe that the future is potentially completely naked for us."
You mentioned that you were involved in product creation as well. Has there been any exciting new ingredients you've been working with lately?
"There are two. I really love moringa. One of my friends built a school in Africa with funds from charitable giving, and they've planted moringa trees on a piece of land there. The oil that they make from the trees are then sold back to us, and that gives them the money to keep the school running so there's a closed loop there. I love the ingredient. It has so many beneficial properties and the Africans believe it as something that cures everything.
"With the makeup coming out in 2019, we've come across this amazing nut. It's really hard and it is known as a vegetable ivory—they used to make buttons out of it in place of ivory before plastic came along. We're going to use that nut to make packaging for the makeup. That one I'm particularly pleased with because it is a beautiful ingredient; it will make a great package, and hopefully people can bring it back to us when they are finished with the product so we can upcycle it. But if they can't, it's organic so they can just put it into their compost or bury it in the garden."
What are your beauty holy grails from Lush?
"I love Ultrabland, which is an amazing cleanser. It's quite thick, but it really thoroughly removes makeup and grime very gently. And our Fresh Face Masks are just the best, because they haven't got any preservatives in them. They've got fresh fruit and vege, beautiful clays and oils, and they are really effective on the skin."
What is the most interesting thing that you've picked up from your recent travels?
"That people do care about the beaches, and are proactively picking up litter. It's really nice to see that awareness is catching up around the world, and it shows that change can happen."
Tips for greener living?
"It's all in the little things. Carry a reusable bag with you at all times; bring your own metal straws, coffee cups and water tumblers—that's saying no to a bunch of disposables already; when you're not in the room, don't leave the air-con on; always go for package-free goods when you can. It's as simple as that really, and being conscious of your actions.
"There's a great book called No. More. Plastics. by Martin Dorey, and it gives you a whole load of different things you can do to live a plastic-free life."
Lush is located at Lot 4.23, Level 4 in Pavilion Kuala Lumpur. 
| | |
| --- | --- |
| SHARE THE STORY | |
| Explore More | |