Mark the date: Mother's Day is on 9 May, the second Sunday of this month. Regardless of how you'll be celebrating this year, remember it's truly the thought that counts. Setting aside time to be together and being present, even if it's over Zoom, is an affirmation of love.
That said, a gift is always welcomed—and so is a giveaway! We're sharing the love by giving out five curated Mother's Day gift sets, containing an assortment of beauty prizes and flowers, worth up to RM2,450.
Scroll down to see what's up for grabs and how you can win them for mum!
Kiehl's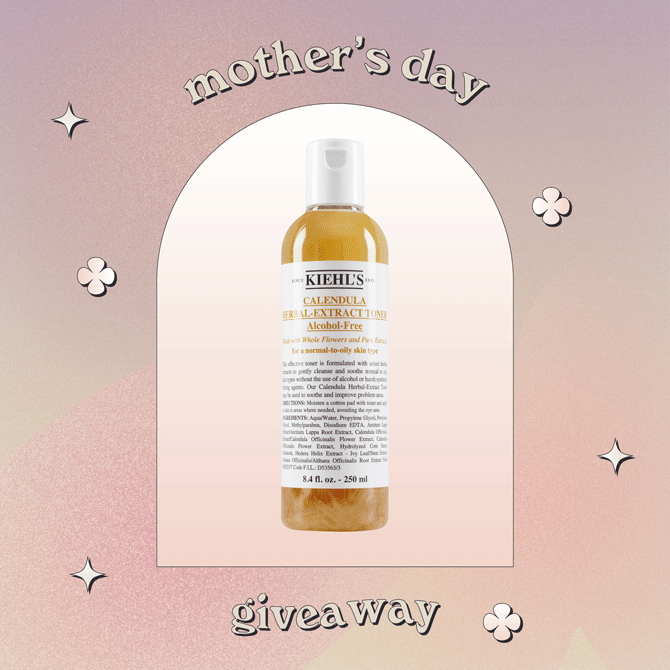 There's more than one way to present mum with flowers. Harness the benefits of calendula for skin soothing and hydration with two cult classics from Kiehl's. First up is the Calendula Herbal-Extract Toner Alcohol-Free (RM162), which contains five skin-soothing compounds known to help relieve signs of distressed skin. It can help with reducing visible redness and controlling excess oil, as the gentle formula is ideal for balancing normal-to-oily skin, including sensitive skin types.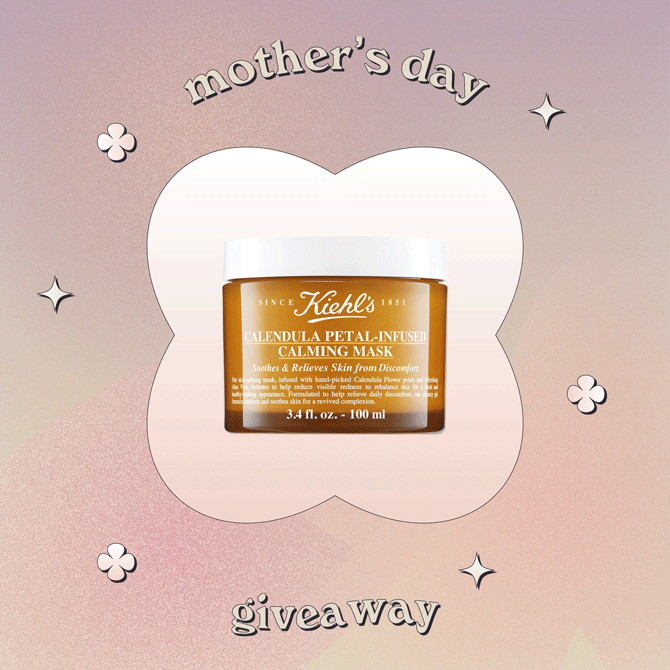 Skin health is part of overall well-being. Give skin a treat so it feels soothed and replenished with the Calendula Petal-Infused Calming Mask (RM199). It's formulated with hand-picked calendula flower petals and aloe vera, giving skin a refreshing burst of cooling hydration from the moment it's applied. Thereafter, 15 minutes is all it needs to help calm and relieve skin discomfort. After just one use, skin is left feeling softer, replenished and rebalanced.
Discover more about Kiehl's and shop the complete line on their website or check out their Instagram.
Happy Bunch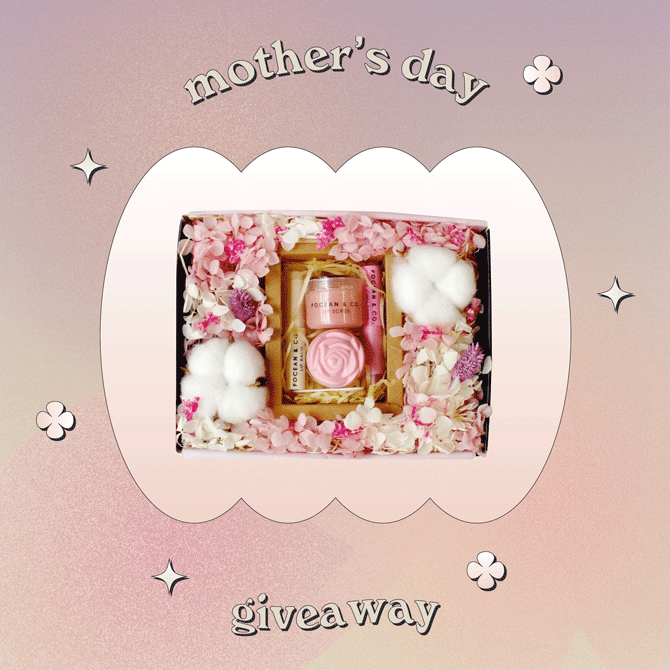 Petal-soft and rosy lips are within reach. The Mother's Day Radiance Box (RM129) from Happy Bunch contains an exclusive Pocean & Co Lip Care Set. It's arranged aesthetically amidst a whimsical medley of preserved hydrangeas, dream flowers, cotton and gomphrenas. These real flowers have been preserved to maintain their natural beauty and freshness forever—making them an aptly symbolic gift to mum.
This box is part of Happy Bunch's limited-time Mother's Day Collection. There are two other boxes available, filled with a thoughtful array of local and artisanal goodies. If you'd like to send mum a bouquet of blooms, their floral artisans have designed two special arrangements for you to say "Thank you and I love you" with flowers.
Discover more about Happy Bunch and shop the complete Mother's Day Collection on their website or check out their Instagram.
Win all the products above!
Five lucky winners will each receive a curated Mother's Day gift set comprising:
1 x Kiehl's Calendula Herbal-Extract Toner Alcohol-Free
1 x Kiehl's Calendula Petal-Infused Calming Mask
1 x Happy Bunch Radiance Box
The giveaway is now closed. Congratulations to the following winners!
1. Tee Mei Xian
2. Bonnie Yew
3. Su Gideon
4. Wong Puei Kuan
5. Wong Jin Yeng
The Mother's Day Giveaway runs from Friday, 30 April 2021 till Sunday, 9 May 2021. Winners will be announced on Wednesday, 12 May 2021 via social media, and on this page. Other terms and conditions apply*.
1. Employees of BURO Malaysia and its related corporations ("Indochine Media Ventures") or BURO Malaysia partners and/or sponsors for the giveaway (if applicable), and their immediate family members (including spouses, children, parents, brothers and sisters) are not eligible to participate in the giveaway.
2. The winners of this giveaway are chosen at random.
3. This giveaway is organised by BURO Malaysia (hereinafter referred to as the 'Organiser').
4. The prizes for this giveaway are neither exchangeable for cash nor transferable.
5. All persons ('Participants') taking part in this giveaway agree that these rules shall be binding on them, and that the entries in this giveaway, including their name and likeness, may be used without restriction in any future publicity material by the Organiser.
6. The Organiser reserves the right to amend these rules or terminate the giveaway at any time at its sole and absolute discretion. All decisions made by the Organiser under these rules shall be final and no discussion or correspondence will be entertained. The Organiser may, but is not required to, justify any decisions relating to this giveaway.
7. The Participant acknowledges that the interest and good reputation of the Organiser are of paramount importance. The Organiser reserves the right to disqualify a Participant from the giveaway, or to withdraw the prize if it is believed the Participant is in breach of its obligations under the rules. The Participants shall not by act or omission, directly or indirectly bring the Organiser into disrepute.
8. All entries are sent at the risk of the Participants and in the event that there are technical difficulties experienced arising out of the internet or from any associated equipment or internet security is compromised, the Organiser may at its sole and absolute discretion disqualify the entire entry and shall not accept any liability doing so.
9. Giveaway entries may only be submitted via the stated medium of communication.
10. This giveaway is open to anyone above 18 years old and within Klang Valley only.
11. Each entry must be completed in full. The Organiser reserves the right to disqualify any incomplete entries in its sole and absolute discretion.
12. Incomplete entries will be deemed void.
13. Winners will be notified via social media, and on this page.
14. Uses of 'aliases' shall be considered a form of deception and are prohibited.
15. The winner must produce their original IC / passport with legible IC / passport number in order to claim the prize. The winner may also be required to produce additional original proof of identity at the discretion of the Organiser.
16. All Prizes are accepted entirely at the risk of the winner, and the Organiser excludes all warranties in connection with the prize to the extent permitted by law.
17. All Participants release from, and indemnify the Organiser, its agencies, sponsors and representatives against, all liability, cost, loss or expense arising out of acceptance of any prize or participation in the giveaway including (but not limited to) personal injury and damage to property and whether direct or consequential, foreseeable, due to some negligent act or omission or otherwise.
18. All personal particulars furnished are meant for identification purposes and will not be sold or given to any third parties. In the case of giveaways, our partners may wish to offer you services which require your personal particulars. These specific requests will be expressly stated within relevant giveaways, with a choice to opt out.
19. Inability to contact the Lucky Winners by Friday, 14 May 2021 will result in disqualification and selection of an alternate winner.
20. Prizes are final; no cash equivalent or alternative prize will be given. Prizes are non-transferable, non-exchangeable and strictly not for resale. If the winner is found to be selling the prize(s), the Organiser reserves the right to demand the return of the prize.
Find more Mother's Day ideas and resources here.
| | |
| --- | --- |
| SHARE THE STORY | |
| Explore More | |