Buro Loves
Giveaway: Celebrate the Month Of Love with us and stand a chance to win up to RM7,485 worth of beauty and jewellery prizes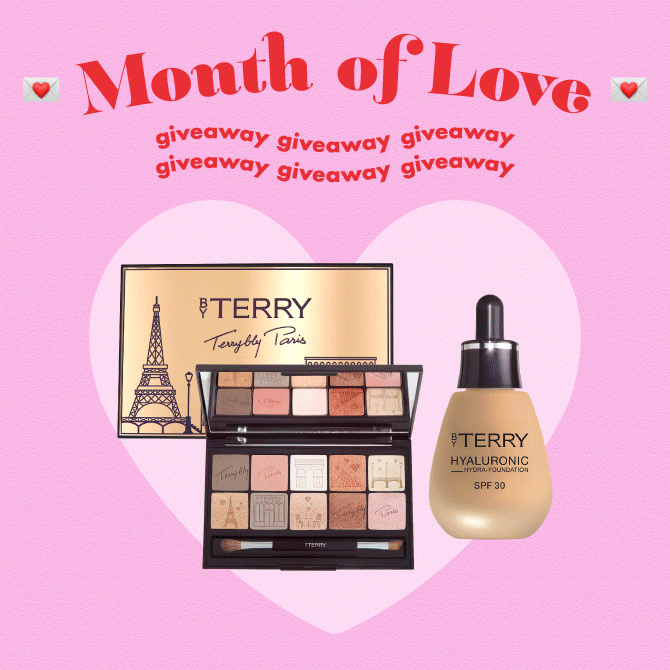 You know what they say: February is the Month of Love. With Valentine's Day around the corner and everyone scrambling around to find gifts for the special honey (or hubby) in their life, we think it's only fitting that we spread the love with a little giveaway!
This time around, we're giving away an array of beauty and jewellery prizes worth up to RM7,485 from three brands. Better yet, three lucky winners will walk away with not just one, but one of each of the items up for grabs! That's right—play your cards right (read: enter the giveaway) and you could walk away with the loot!
Ahead, find out what exactly is available and how you can get your mitts on 'em!
By Terry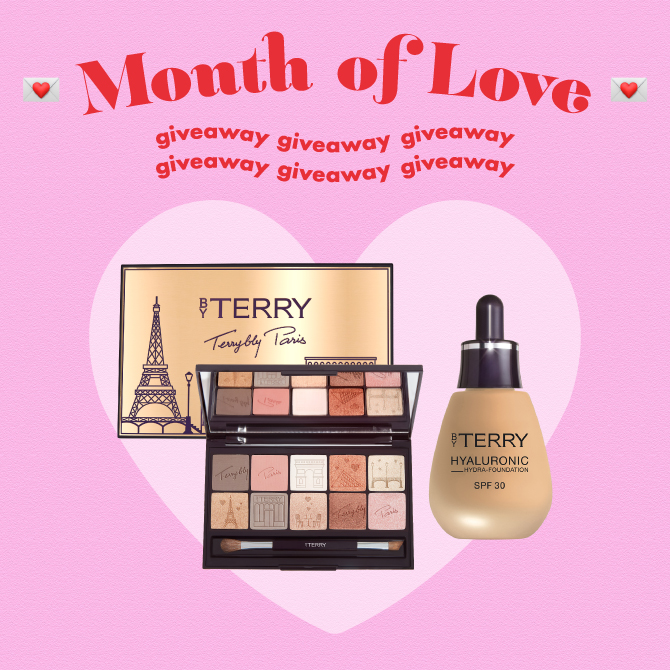 Prizes available: Hyaluronic Hydra-Foundation SPF30 (worth RM315) and V.I.P Expert Paris by Night Eyeshadow Palette (worth RM285)
First up on the roster we have By Terry's game-changing Hyaluronic Hydra-Foundation. Suitable for all skin types (but particularly beneficial for dry skin types), the skincare-makeup hybrid harnesses the power of humectant hyaluronic acid to trap moisture into the skin while offering beautiful, buildable coverage.
It's time to say goodbye to fine lines and wrinkles, and say hello to plump, mattified skin that glows from within; all it takes it two to six drops, depending on your personal preferences for coverage. Further, the vegan formulation is also protective against harmful, photoaging UV rays thanks to its built-in SPF30 factor, making the foundation the perfect companion for any daily beauty routine.
Next up, we have the By Terry Matte & Metallic Eye Palette. This gold-packaged, 10-pan palette features creamy, long-wearing shadows in ten vibrant, highly-pigmented shades. With a mix of matte and metallic finishes to choose from, you'll be spoilt for choice with the gorgeous greys, blues, and golds before you.
The palette comes complete with a double-ended brush for ease of application, so you can create exactly the look you're going for.
TIP: The palette's metallic shades can be used both wet or dry, depending on your desired intensity.
Find out more about By Terry and shop their complete line on their website or check out their Instagram.
Diamond & Platinum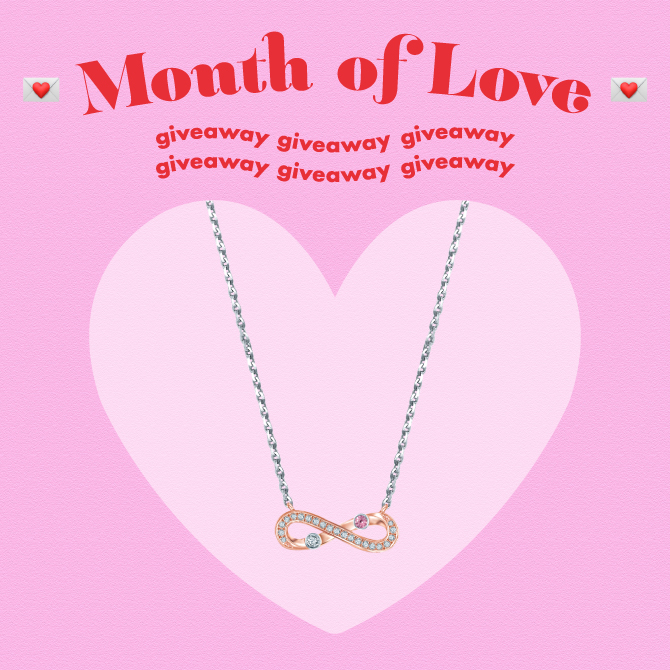 Prize available: Infinite Diamond Necklace (worth RM1,088)
Just in case you missed the launch of Diamond & Platinum's new Valentine's Day collection, The Beat In Sync, let us catch you up. The new normal has sparked a revolution in communication—despite both global and local quarantining (AKA MCO 2.0) keeping us shuttered in, people have never been more in touch. In this time of difficulty and isolation, the digital era has kept us all connected, sparking a poignant appreciation for the relationships in our lives. From romances to friendships to family, this collection celebrates that togetherness.
With that in mind, we're excited to announce that we have three breathtaking diamond necklaces to give away from this collection! The Infinite Diamond Necklace from Diamond & Platinum is intricately designed in 10k rose gold and features an infinity symbol pendant encrusted with 23 diamonds connected by pink sapphire. Crafted to symbolise an infinite connection between two people, the piece is sure to be a welcome addition in any jewellery collection.
Find out more about Diamond & Platinum and shop their complete line on their website or check out their Instagram.
Burberry Beauty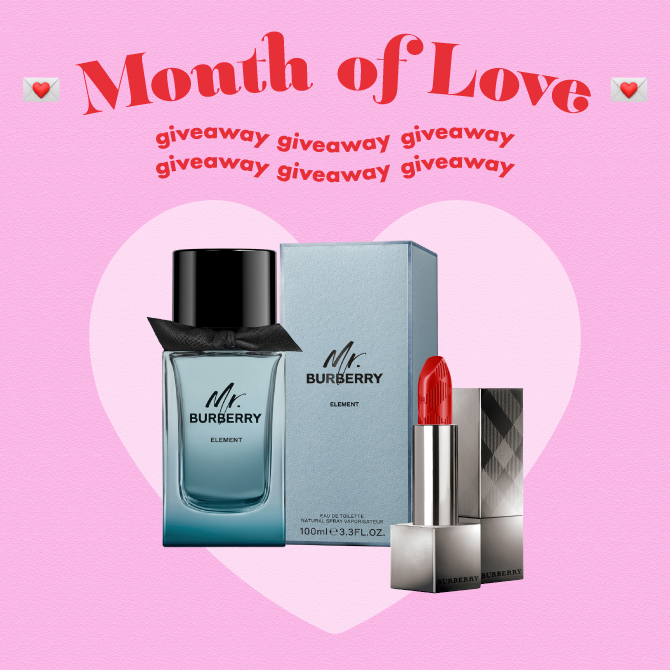 Prizes available: Burberry Valentine's Day Gift Set (worth RM807)
Good news! Burberry Beauty has something for everyone in their Valentine's Day Gift Set. The set comes complete with four shades of the luxury beauty house's Burberry Kisses Lip Colour for her and a bottle of Mr Burberry Element for him.
The Burberry Kisses Lip Colours feature a delightful satin-finish, buildable colour for customisable makeup results, and long-wearing hydration for comfortable, kissable lips all-day-long. There are four shades up for grabs: No. 93 Russet, No 97. Oxblood, No. 109 Military Red, and No. 113 Union Red.
Mr Burberry Element, on the other hand, is a fresh fragrance from the beauty house's Mr Burberry fragrance line. Launched just last year, Mr Burberry Element draws its inspiration from the wonders of British nature, perfectly toeing the line between modernity and masculinity. At its heart is the spicy juniper essence, which is deepened by the powerful base notes of woody, mineral oakmoss and lifted by the sensual top notes of green almond.
Find out more about Burberry Beauty and shop their complete line on their website or follow them on Instagram.
Like what you see? All this could be yours…
We're giving away three (3) 'BURO Month of Love' gifts! All you have to do is:
1) Follow BURO Malaysia's Facebook & Instagram
2) Like our Instagram post
3) Comment on the above Instagram post by answering: "The most romantic date I have ever been on was …"
4) Tag two (2) of your friends after completing the steps above!
5) Share this post to your IG story for a bonus entry! (Make sure the post is public!)
The giveaway is now closed. Congratulations to the following winners!
1. Chester Lee
2. Aisyah Nasir
3. Callena Khoo
The Month of Love Giveaway runs from Monday, 8 February 2021 till Sunday, 21 February 2021. Winners will be announced on Wednesday, 24 February 2021 via social media, and on this page. Other terms and conditions apply*.
1. Employees of BURO Malaysia and its related corporations ("Indochine Media Ventures") or BURO Malaysia partners and/or sponsors for the giveaway (if applicable), and their immediate family members (including spouses, children, parents, brothers and sisters) are not eligible to participate in the giveaway.
2. The winners of this giveaway are chosen at random.
3. This giveaway is organised by BURO Malaysia (hereinafter referred to as the 'Organiser').
4. The prizes for this giveaway are neither exchangeable for cash nor transferable.
5. All persons ('Participants') taking part in this giveaway agree that these rules shall be binding on them, and that the entries in this giveaway, including their name and likeness, may be used without restriction in any future publicity material by the Organiser.
6. The Organiser reserves the right to amend these rules or terminate the giveaway at any time at its sole and absolute discretion. All decisions made by the Organiser under these rules shall be final and no discussion or correspondence will be entertained. The Organiser may, but is not required to, justify any decisions relating to this giveaway.
7. The Participant acknowledges that the interest and good reputation of the Organiser are of paramount importance. The Organiser reserves the right to disqualify a Participant from the giveaway, or to withdraw the prize if it is believed the Participant is in breach of its obligations under the rules. The Participants shall not by act or omission, directly or indirectly bring the Organiser into disrepute.
8. All entries are sent at the risk of the Participants and in the event that there are technical difficulties experienced arising out of the internet or from any associated equipment or internet security is compromised, the Organiser may at its sole and absolute discretion disqualify the entire entry and shall not accept any liability doing so.
9. Giveaway entries may only be submitted via the stated medium of communication.
10. This giveaway is open to anyone above 18 years old and within Klang Valley only.
11. Each entry must be completed in full. The Organiser reserves the right to disqualify any incomplete entries in its sole and absolute discretion.
12. Incomplete entries will be deemed void.
13. Winners will be notified via social media, and on this page.
14. Uses of 'aliases' shall be considered a form of deception and are prohibited.
15. The winner must produce their original IC / passport with legible IC / passport number in order to claim the prize. The winner may also be required to produce additional original proof of identity at the discretion of the Organiser.
16. All Prizes are accepted entirely at the risk of the winner, and the Organiser excludes all warranties in connection with the prize to the extent permitted by law.
17. All Participants release from, and indemnify the Organiser, its agencies, sponsors and representatives against, all liability, cost, loss or expense arising out of acceptance of any prize or participation in the giveaway including (but not limited to) personal injury and damage to property and whether direct or consequential, foreseeable, due to some negligent act or omission or otherwise.
18. All personal particulars furnished are meant for identification purposes and will not be sold or given to any third parties. In the case of giveaways, our partners may wish to offer you services which require your personal particulars. These specific requests will be expressly stated within relevant giveaways, with a choice to opt out.
19. Inability to contact the Lucky Winners by Saturday, 27 February 2021 will result in disqualification and selection of an alternate winner.
20. Prizes are final; no cash equivalent or alternative prize will be given. Prizes are non-transferable, non-exchangeable and strictly not for resale. If the winner is found to be selling the prize(s), the Organiser reserves the right to demand the return of the prize.
Find more beauty stories like this here.
| | |
| --- | --- |
| SHARE THE STORY | |
| Explore More | |