Put your best face forward this holiday season with these vanity shelf superstars
Got your eyes on Team Buro's favourite holiday picks? You're in luck, because here's your chance to win a selection of beauty goodies that will help you get your glow on—just in time for all the parties. From skincare bestsellers to berry-licious makeup essentials, find out what you need in your beauty kit for a flawless face this festive season:  
Laneige Dream and Glow Basic Duo Set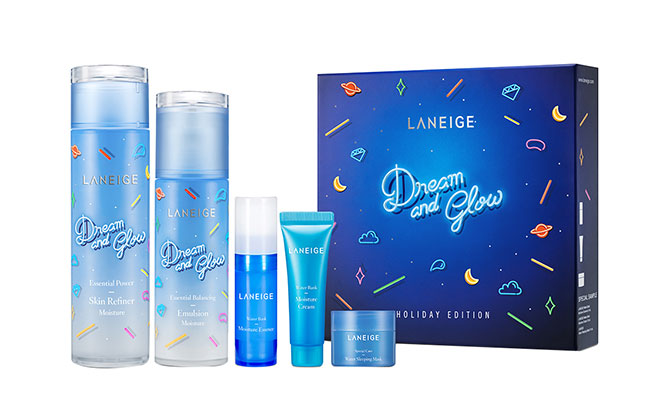 First, ace your base. The foundation to a beautiful complexion lies in healthy, hydrated skin—Laneige's Dream and Glow Basic Duo Set will help you there. Allow your skin to repair and recharge from the year's hustle with the Essential Power Skin Refiner and Emulsion Moisture, a power duo that will restore the skin's moisture balance with gentle yet effective nourishment. The set comes with three mini-sized essentials so you can upkeep your beauty ritual as you travel too.  
Decorté Liposome Perfect Renew Kit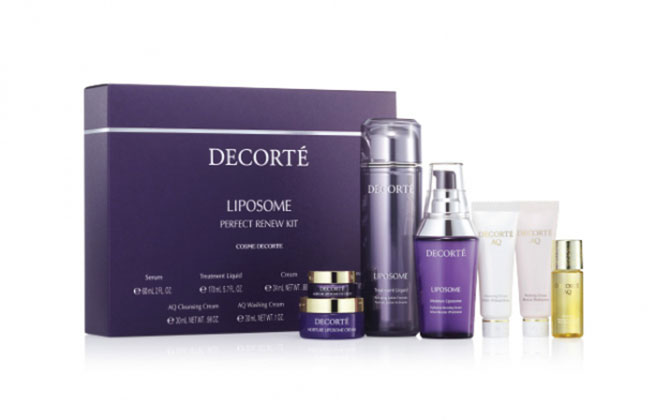 A girl can never have too much skincare, especially if it provides the key to unlocking radiant beauty. Bolster your beauty bank with the Decorté Liposome Perfect Renew Kit. An all-encompassing luxurious treat for the skin, it is built around the brand's iconic Moisture Liposome—a pre-serum booster that moisturises and enhances the skin's protective barrier, paving the way for your other skincare products to work more effectively. Your path to a glow from within will be complete with the rest of the kit, which includes the Liposome Treatment Liquid, Moisture Liposome Cream, Moisture Liposome Eye Cream, AQ Cleansing Cream, AQ Washing Cream and AQ Oil Infusion. 
Urban Decay Naked Cherry Eyeshadow Palette, All Nighter Setting Spray and 24/7 Glide-On Eye Pencils
Now, it's time to turn the glam factor all the way up. Let your eyes do the talking with the Urban Decay Naked Cherry Eyeshadow Palette. The latest must-have in your makeup kit boasts 12 matte and metallic cherry-hued shades, from warm peach and ivory matte to shimmery rose gold, so you can go from daytime to chic to party-ready in no time at all. Add drama to your peepers with the 24/7 Glide-On Eye Pencil, which comes in the alluring shades of Black Market (black satin) and Love Drug (metallic wine). Finally, set your makeup with the All Nighter Makeup Setting Spray and indulge in the delicious cherry scent that comes with it. 
Shu Uemura Ganache & Praliné Eye Palette and Rouge Unlimited Supreme Matte Lipstick
You know what they say—there's always room for dessert, and the Shu Uemura x La Maison du Chocolate creations sits high up in our list of makeup cravings for good reason. Housing sweet berry hues of matte and metallic, the Ganache & Praliné Eye Palette in Framboise Berry doesn't just look delicious (gotta love the chocolate bar-inspired packaging), it smells delectable too. Put a berry-licious finishing touch to your look by dipping your lips in the Rouge Unlimited Supreme Matte lippie in Deep Cranberry. Mmm. 
Ready to get your holiday glow on? You can be one of three winners to walk away with all of the above—all you have to do is provide us with your contact details in the form below and answer a simple question:
The giveaway runs from today till 21 December 2018. Winners will be announced on 26 December 2018 on this page. By joining this giveaway, you will be automatically subscribed to our Buro 24/7 Malaysia e-newsletter. Other terms and conditions apply*. 
1. Employees of Buro 24/7 Malaysia and its related corporations ("Indochine Media Ventures") or Buro 24/7 Malaysia partners and/or sponsors for the giveaway (if applicable), and their immediate family members (including spouses, children, parents, brothers and sisters) are not eligible to participate in the giveaway.
2. Winners of this giveaway are chosen at random.
3. This giveaway is organised by Buro 24/7 Malaysia (hereinafter referred to as the 'Organiser'). 
4. The prizes for this giveaway are neither exchangeable for cash nor transferable.
5. All persons ('Participants') taking part in this giveaway agree that these rules shall be binding on them, and that the entries in this giveaway, including their name and likeness, may be used without restriction in any future publicity material by the Organiser.
6. The Organiser reserves the right to amend these rules or terminate the giveaway at any time at its sole and absolute discretion. All decisions made by the Organiser under these rules shall be final and no discussion or correspondence will be entertained. The Organiser may, but is not required to, justify any decisions relating to this giveaway.
7. The Participant acknowledges that the interest and good reputation of the Organiser are of paramount importance. The Organiser reserves the right to disqualify a Participant from the giveaway, or to withdraw the prize if it is believed the Participant is in breach of its obligations under the rules. The Participants shall not by act or omission, directly or indirectly bring the Organiser into disrepute.
8. All entries are sent at the risk of the Participants and in the event that there are technical difficulties experienced arising out of the internet or from any associated equipment or internet security is compromised, the Organiser may at its sole and absolute discretion disqualify the entire entry and shall not accept any liability doing so.
9. Giveaway entries may only be submitted via the stated medium of communication.
10. This giveaway is open to anyone above 18 years old.
11. Each entry must be completed in full. The Organiser reserves the right to disqualify any incomplete entries in its sole and absolute discretion.
12. Participants shall only submit one entry and multiple entries of the same shall be treated as 'spam' and shall be ignored.
13. Incomplete entries will be deemed void.
14. Winners will be notified by email.
15. Uses of 'aliases' shall be considered a form of deception and are prohibited.
16. The winner must produce their original IC / passport with legible IC / passport number in order to claim the prize. The winner may also be required to produce additional original proof of identity at the discretion of the Organiser.
17. All Prizes are accepted entirely at the risk of the winner, and the Organiser excludes all warranties in connection with the prize to the extent permitted by law.
18. All Participants release from, and indemnify the Organiser, its agencies, sponsors and representatives against, all liability, cost, loss or expense arising out of acceptance of any prize or participation in the giveaway including (but not limited to) personal injury and damage to property and whether direct or consequential, foreseeable, due to some negligent act or omission or otherwise. 
19. All personal particulars furnished are meant for identification purposes and will not be sold or given to any third parties. In the case of giveaways, our partners may wish to offer you services which require your personal particulars. These specific requests will be expressly stated within relevant giveaways, with a choice to opt out.
20. Inability to contact the winner by 2 January 2019 will result in disqualification and selection of an alternate winner.
21. Winners must collect their gifts from our office in Mont Kiara within 1 month of notification.
22. Prizes are final; no cash equivalent or alternative prize will be given. Prizes are non-transferable, non-exchangeable and strictly not for resale. If the winner is found to be selling the prize(s), the Organiser reserves the right to demand the return of the prize.