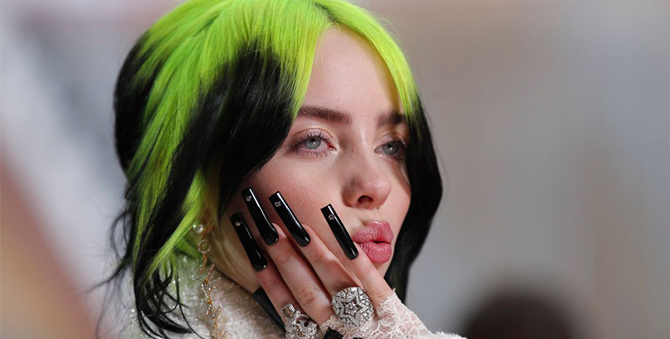 This Chanel-inspired black manicure
We love everything about this manicure—from the minimalist bedazzling action to Eilish's trademark dramatic length.
This classic Burberry set from the 2020 AMAs
Nothing screams 'Billie Eilish' louder than the audacity to sport a British fashion house at the American Music Awards.
This awesome matchy-matchy Gucci set
Eilish has somewhat made Gucci synonymous with her personal brand—this isn't the only Gucci-inspired manicure she has sported this year.
This fiery Gucci manicure
See? This vivid red set is the other Gucci-themed manicure in question, and it's the acrylic set of our dreams!
This scandalously nude mani
Eilish proves that a great mani doesn't necessarily have to be loud—with his nude set, the thickness and length of the nail does all the talking.
This 'Not Ur Friend' calligraphy mani
This particular set was designed with her latest single, 'Therefore I Am', in mind. We love the marbled base and the bold, black lettering.
This acid green classic
You know she had to do it to 'em: This perfectly coordinated slime-green set is a simple showstopper.
Beauty crush: All of Billie Eilish's best manicures to date
In honour of her 19th birthday, we're rounding up the five-time Grammy winner's best manicures to date. Swipe to see them all!