With Raya just around the corner, it's time to get some last-minute pampering in before the celebrations come into full swing
If you're hoping to address the dry hair, dull skin, and possible halitosis that may have resulted from a month of fasting, you're in luck. In fact, ahead of Eid, there's no better time to pencil in a full crown-to-chin makeover.
To help you look your best for the festive season, we're here to help you get primed and pampered with our pre-Raya beauty guide. Ahead, find four must-have treatments to treat yourself with, from hair care to dental care and beyond:
Revitalise your skin with Neal's Yard Remedies' Oxylift Carat Facial
READ: More game-changing facials to treat your skin with before Raya
"It's been a little over a year since I had my last facial, which pre-covid me would be horrified about as I used to frequent face spas at least once in two months. But with the high chance of catching the coronavirus anywhere, anytime these days, one can never be too careful. With Raya coming really soon though, I decided to go ahead and get expert help at organic beauty brand Neal's Yard Remedies, with some of the skin concerns I had been experiencing recently: dull, patchy and dehydrated skin.
"That turned out to be a great idea because my therapist, Anny Wong, from The Gardens Mall outlet pointed out how dry my skin was when we consulted and showed me that my foundation was patchy on certain parts of my face due to the uneven skin texture. Thus, the Oxylift Carat Facial was recommended. It's a rejuvenating facial that focuses on firming, improving blood circulation and refreshing the overall complexion with two key highlights that set it apart: one is the usage of an oxygen jet device for better product penetration and two, a face and upper body lymphatic massage using a ReFa Carat beauty roller.
"The treatment started with makeup removal using one of my favourites from the brand, the Wild Rose Beauty Balm. This amazing treat removes makeup instantly and feels luxurious when massaged into your skin. This step was followed by a deep cleanse using the Rejuvenating Frankincense Face Wash and later, an exfoliation using the Rehydrating Rose Facial Polish to slough off dead skin cells that have accumulated on my skin. Next, as I settle more and more into the comfortable spa bed, Anny takes out a cold mist humidifier and turns it on for three minutes to hydrate and soothe my skin, and prep it for the extraction process that followed.
"Thankfully, the pore-declogging process wasn't as painful as I thought. Then, came time for the high-pressure oxygen jet—this is a refreshing part of the treatment as the Rejuvenating Frankincense Toner is sprayed directly onto the skin. Fair warning: it is a cold sensation that suddenly wakes you up from the deep state of relaxation you're in at that point, but nothing too uncomfortable.
"The pièce de résistance of the entire facial came during the last 30 minutes of the treatment where Anny used the aforementioned beauty tool to massage my chest and shoulders to get rid of knots, and then my face to stimulate better circulation, reduce water retention and define its shape. It was really hard for me to stay awake at that point. The treatment then ended with the application of a mask, toner, essence, moisturiser and sunblock. I saw a noticeable improvement in my skin post-facial—less puffiness, glowing skin, and overall, I felt very relaxed. I definitely recommend you make time to visit right before Raya!" — Sarah Hani Jamil, Editor
Book your 105 minute appointment at The Gardens Mall or Bangsar Village outlets here, RM428.
Get a fresh cut and colour at Mont Kiara's Walking on Sunshine salon-café
"With Raya just a few sleeps away, now is the time to get your hair done if you haven't. I highly recommend booking a day of pampering at Walking on Sunshine in 163 Retail Park, Mont Kiara. Start by refreshing your hairstyle (or getting a more drastic makeover if you're feeling bold); dine leisurely at the in-house café if you're not fasting; and then flaunt your new look and get a pre-Raya preview of how you'll look during the festive season at Photopia, a self-photo studio that's also within the same area.
"Stepping into this garden-themed beauty and dining lounge, the biggest of its kind in Malaysia, really did feel like I'd entered a lush and welcoming refuge for a break from reality. The owners also helm KL's renowned Leekaja beauty salon, so I knew I was in good hands. My stylist, Tesmen, is an amazing colourist who has won multiple competitions in recent years. Not only did he take the time to thoroughly examine my hair's condition, his friendly and instantly likeable personality meant that any questions he asked—to find out about my preferences—didn't feel intrusive.
"His skill was evident in the cut and subtle gradient colour effect he gave my hair. It looked stylish and flattered my skin tone, yet didn't dry out my tresses any further (thanks as well to a quick treatment) or irritate my scalp. Tesmen also noticed that my curls, from a previous salon session, still looked good and took this into consideration with his suggestions. This attention to detail is everywhere in Walking on Sunshine: Soft, soothing music play from Bose speakers while the hair dryers are from Dyson. There is a seperate area too, available upon request, for Muslim women and anyone in need of privacy.
"I also loved being able to order a drink from the cafe's extensive menu and have it delivered to me, with options ranging from floral teas to ginseng beverages to juices. It goes without saying that the list includes coffee, with everything from an Americano to a pumpkin latte. For food, I recommend the Seafood Pancake, Bulgogi Fettucine, Butter Garlic Prawn Pizza, and my favourite which is also Luke's Favourite, a wholesomely satisfying bowl of pan-seared salmon and poached eggs atop a bed of greens. Should your session coincide with iftar, stay on to buka puasa and skip the traffic jam." — Adelina Tan, Deputy Editor
Address: 1F-01, 163 Retail Park, 8, Jalan Kiara, Mont Kiara, 50480 Kuala Lumpur
Hours: Opens daily, 10am to 8pm
Call: 018-669 2000
Rehydrate your hair with the Davines OI Hair Treatment at CocoDry
"If you're like me and have not had time to get your hair treated and coloured for Raya, here is where you should go. Italian haircare brand Davines has launched its OI Liquid Lustre recently, and this lightweight rinse-off treatment works to give your tresses extra softness, silkiness and shine. Part of the OI family, this product contains roucou oil—which comes from an antioxidant-rich plant—that reduces hair damage and nourishes each strand from deep within, thanks to the essential vitamins it contains.
"The one and a half-hour session at CocoDry starts with a brief yet relaxing hand massage using the OI Charcoal Body Scrub, which has deep-cleansing and detoxifying properties and leaves the skin feeling very smooth. Once that's done, the hairdresser proceeds to brush the scalp with a wooden brush to exfoliate its surface a stimulate circulation. This is followed by a much-needed head massage and shampooing session using the OI Shampoo to make my hair clean, soft and voluminous. The Liquid Lustre is then used before the conditioner to instantly give my locks better manageability, followed by a hair-masking session and finally, a quick blow-dry.
"I could definitely feel and see the difference in my hair texture post-treatment. Where it was dry and frizzy before, it now felt smooth and silky, and looked really healthy. CocoDry also offers a hair-styling service where you can choose any style from their lookbook—from updos to braids to buns—and have it done for you before you leave. This is a great option if you want to look Raya-ready. For a lasting style throughout the festivities, it's best to make your appointment just one or two days prior Eid." — Sarah Hani Jamil, Editor
Book your 90 minute appointment at the CocoDry Publika or Bangsar outlets here,
Refresh your smile with the ZenyumFresh Bundle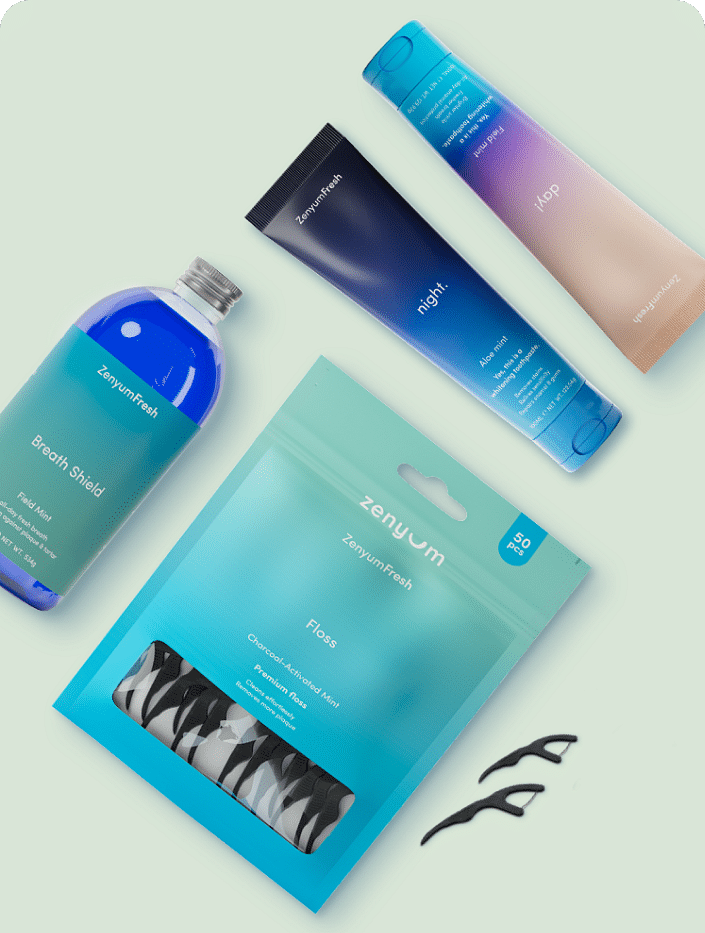 "There will be plenty to smile about and people to greet this Raya, so don't forget to add oral care to your grooming checklist. Brushing my teeth is such a no-brainer, it's something I've long taken for granted as just one more thing to do before starting or ending the day. Sure it's important, but it's also far from exciting. At least that's what I thought before trying out the ZenyumFresh Bundle consisting of day and night toothpastes (more on this later), a mouthwash, and a pack of floss. Check out the beautiful colours on the packaging and tell me it doesn't spark joy and excitement!
"Both the ZenyumFresh Day! and Night. Toothpastes are SLS-free, using coconut instead as an all-natural foaming agent. As to why there's a need for two toothpastes, the ZenyumFresh Day! Toothpaste contains papain to brighten the teeth and provide enamel protection. It also has the gold-standard Japanese hydroxyapatite and sodium fluoride for all-day protection, as well as peppermint oil to get rid of morning breath.
"The ZenyumFresh Night. Toothpaste, on the other hand, cleans away stains that have accumulated during the day using ultra-fine-grade activated charcoal. In addition to this and aloe vera (to soothe the gums), it contains extra sodium fluoride too, giving it the ability to remineralise, repair, and prevent cavities.
"Flossing after a meal ensures bits of food aren't lodged between my teeth, which the ZenyumFresh Floss takes care of with a combination of activated charcoal and sturdy nylon thread. In a small plus for the environment, it's 100 per cent vegan and 60 per cent made from cornstarch. I really enjoy pairing it with the ZenyumFresh Breath Shield for a more thorough cleanse between brushing.
"I'm not a fan of traditional mouthwashes as I dread the unpelasant taste and sensation I've come to associate with this part of oral care, but the blend of essential oils in the Breath Shield is super-refreshing and easy on the senses. Other ingredients in it are xylitol and zinc citrate, to prevent the formation of plaque and tartar." — Adelina Tan, Deputy Editor
Find more Raya 2022 stories like this here.