Who says you can only indulge in a luxurious spa experience in a proper spa retreat? With The Body Shop's Spa of the World Luxurious Body Collection, you can have as many, fancy do-it-yourself spa sessions as you want to in the comfort of your own dwellings.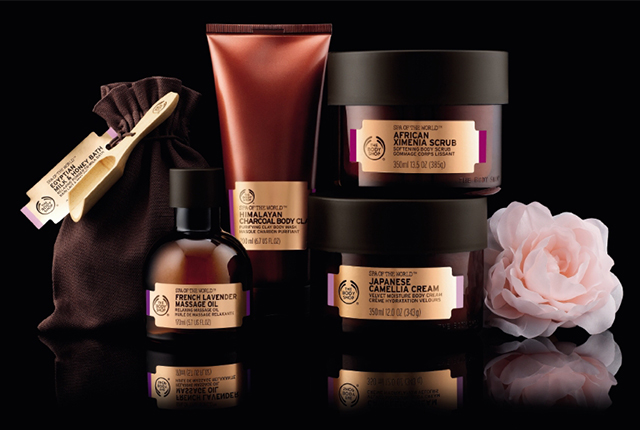 This festive set includes these five products:
1) A Thai Wooden Massager inspired by the shape of traditional Thai herb bundles, this is the perfect massaging tool to destress your muscles and relief tension.
2) The Egyptian Milk & Honey Bath is a concoction of three oil extracts and milk from Egypt (inspired by the similar indulgent milk and honey bath of Cleopatra) that will leave your skin skin feeling luxuriously smooth.
3) Add the African Ximenia Scrub that's made from the rich oil extracted from ximenia fruit seed to your exfoliation routine, one that will result in silky smooth skin.
4) A jar of velvety Japanese Camellia Cream that will impart a lovely scent upon your skin. Used by Japanese women since the 8th century, camellia oil helps soften and moisturise skin while giving way for a relaxing ritual.
5) And what other than French Lavender Massage Oil to soothe your senses and promote your well-being?
The Body Shop 'Spa of the World' Luxurious Body Collection is available at all stores nationwide.
Related stories:
Beauty Advent Calendar: L'Oreal Professionnel Sensi Balance
Beauty Advent Calendar: Aesop Perseus Gift Kit