One of the more popular rules in the beauty handbook is to always have a set of well-groomed brows — it works wonders in framing your face while making you look younger (or older, depending on how you style your pair). Like every other step in any makeup routine, brow dexterity comes with years of practice. But for makeup beginners out there, fret not! You don't need fancy brow tools or decades of experience to score yourself a pair of enviable brows. All you need is a handful of products (brow powder, clear gel and a spoolie) and five minutes to spare to look brow-ready on a daily basis. Watch our tutorial below:
For brow beginners, here are some nifty tricks you'll need before filling in your brows:
1. If you don't have an eyebrow powder palette at hand, try using a bronzer palette instead. Opt for the brown/dark brown shades that you can build your eyebrow look with.
2. The new trend this year is minimally-defined brows. Instead of strong, defined/arched brow, the It-look now involves a softer outline that isn't obviously shaped.
3. Fill in the sparse areas of your brows, not over the entire brow. Those who have very little brow hair can draw the illusion of hair with small, gentle strokes in the empty areas. Alternatively, use brow powder to achieve that effect. Don't forget to set your brows with clear gel.
4. A spoolie is a must-have in your beauty kit to blend and soften your brow look — use it brush brow hair upwards and away from the nose.
5. A general rule of thumb to gauge where your brows begin is to follow the same line where the corner of your nostrils are. Use an eyebrow pencil to measure a straight line for reference.
6. Do not use a shade that is too harsh or dark on your brows, even if you have black hair — you don't want to look like you've got hairy caterpillars for brows. Go for a brow colour that is one or two shades lighter than your hair colour.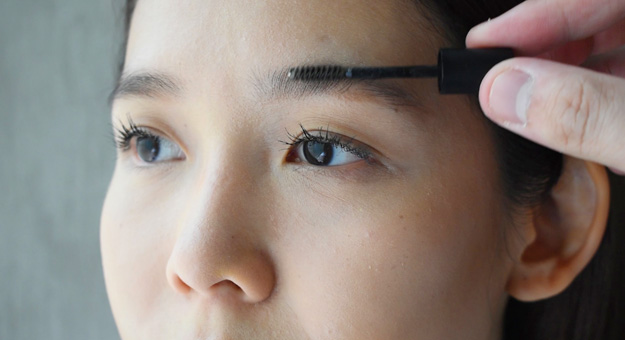 Credits:
Videography: Chong Yi Suen
Makeup: Shiyo Jo
Styling: Loh Wei Yeen
| | |
| --- | --- |
| SHARE THE STORY | |
| Explore More | |