Did you know that every additional year of primary school encourages girls to marry later and have fewer children, not to mention leaving them less vulnerable to violence? While education might seem like a basic right for most of us, young girls in poverty-stricken nations might view education a luxury that they have no access to.
During our recent trip to Tokyo for Clé de Peau Beauté's inaugural Power of Radiance program launch, we learned the importance of advocating for education for girls from Muzoon Almellehan, the Power of Radiance award recipient and UNICEF Goodwill Ambassador, and Felicity Jones, English actress and global brand ambassador of Clé de Peau Beauté, alongside contributors Cindi Leive, Belinda Lee and Naomi Kawase.
Below, Jones shares her thoughts on Clé de Peau Beauté's Power of Radiance initiative, her first impression of Almellehan, and why we should all embrace our imperfections:
What value do you think the Power of Radiance program can deliver in creating a better tomorrow?
It's about women coming together to share their stories, learning from one another in order to feel more empowered. We're encouraging a feeling of strength and community and having that can effect great change in the world.
What is your role as the global brand ambassador for Clé De Peau Beauté?
My role is very much to meet Muzoon Almellehan, getting to know her and understanding her story and context, and bringing attention to what she went through. It's also a way to meet other people and bring recognition and shining a light to their stories.
How did your relationship with Clé De Peau Beauté begin and what was the first product you fell in love with?
Early on when I was younger, I fell in love with the concealer. It was in every single makeup artist's makeup bag. It's been a harmonious collaboration. We're both concerned with excellence, taking care, high standard and doing something that was philanthropic really appealed to me early on.
I wanted to do something that didn't just focus on beauty on the outside, but also what's on the inside. I think that's what radiance is about—an inner strength and core, and part of developing that is through education, understanding the world in a broader context.
How did your first meeting with Muzoon Almellehan go?
We hit it off and connected straightaway. We met in London where I was interviewing her about her experiences. I was very obviously nervous and she said to me, "Don't very nervous, it'll be fine!" And she's only 21! (laugh) I was struck by her confidence and openness and that inner strength she has in abundance.
What do you feel is the most important part of this program?
I think we all have had an education and we take it for granted. Education is not a right for everyone in the world and this program brings attention to that, especially for Muzoon who has had real experience with that. Education particularly for girls wasn't made a priority. She didn't know how long the conflict in Syria would go on for, and she just knew that we can't not have an education for that period. Because for that generation, [the lack of education] is going to bring them back centuries. Often female education is not as prioritised as it is for young boys.
What is something that people don't know about you?
I love dancing! I'm not trained in it or anything but I love going out with my friends and getting completely lost on the dance floor. I used to love going to drum and bass raves when I was in my 20s.
How has education impacted your life?
It's been everything. It gave me enormous confidence. It gives you an opportunity to understand yourself better. I also got to meet great people and made great friendships as well. Being an actor, if I got straight into that when I was 16 I would have lost out. Having that spectrum of knowledge is important, and the key is curiosity. If you could stay curious in your life and take on new ideas, learn new things, then you wouldn't get old and grumpy.
What do you think are some of the challenges that women face at this day and age and how do we combat it?
There's a lot of pressure to feel perfect in every front. I think it's important not to feel that. I've been reading about wabisabi recently and it was relaxing—the very idea of embracing imperfection is great.
I think you have to like yourself, with all the things that you would criticise yourself for, it's the voices in your head and what you tell yourself. We have to make sure as a society that those voices are positive, accepting, and that it's okay not to be perfect because that's who I am. I think that's where I get hope from, especially in the public eye where you feel an enormous amount of pressure from having to be a certain way.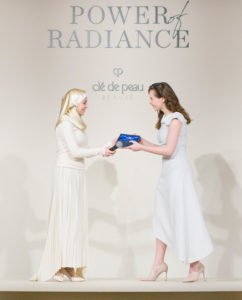 Felicity Jones presenting the Power of Radiance award to Muzoon Almellehan in Tokyo
Why do you think it is important for a woman to have a career?
I did a radio program when I was 15-16 and I bought an Alanis Morissette CD with my first paycheque, and I remember feeling that I didn't have to ask anyone about this decision. I just could go out and have this power in the world and that's so important to have. I've always been encouraged by my mother very early on to have my own income, have a career, and so I feel that gives you freedom, ultimately.
What empowers you?
Women coming together and sharing stories, not feeling isolated, definitely friendships. Being at home. I love storytelling in every aspect and I always feel it's a great antidote to feeling depressed—watch a film or read a magazine.
What are your go-to tips for radiant skin all-day long?
Don't drink too much coffee! That will help. Also having a very good skincare routine and taking makeup off at the end of the day. I think skincare is a daily upkeep—I actually really enjoy the process of taking care of my skin. I do like to take time to properly cleanse, moisturise, lie down in the bath with a mask on and don't feel guilty about it.
What makes you feel dressed up?
Eye makeup. I love the ritual of applying makeup. The process of choosing a blusher colour and a lipstick colour depending on your outfit.
What advice would you give younger actresses who are starting out?
It can be disheartening when you're going from audition to audition and having other people decide if you're good enough. If you can write your own material, get together with friends to make your own short films. Be involve in every aspect of storytelling. Your acting gets better because of that, ultimately. And so you're not waiting on other people to tell if you're good enough. I admire people who have that versatility—to write, direct and act, like Phoebe Waller-Bridge.
| | |
| --- | --- |
| SHARE THE STORY | |
| Explore More | |