Royal Banyan (150 mins)Banyan Tree Kuala Lumpur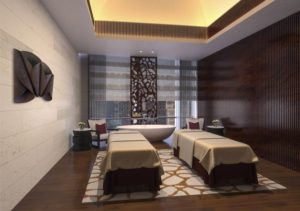 I've heard a lot about the Banyan Tree and its luxurious spa over the years. Its reputation as a sanctuary for the senses is not without merits. Naturally, I was excited for the opportunity to disrobe and partake in one of its signature treatments—the Royal Banyan. On a sunny afternoon, I made my way up to the spa located on the 53rd floor of the newly minted hotel in the heart of town. I was taken in by the vast view of the city and the hurried life passing by below as I sip my welcome drink of roselle water. There was an immediate sense of awe as I set myself up for what would be an unforgettable afternoon in this quiet respite in the middle of the city.
The Royal Banyan combines the best of Eastern and Western massage techniques that are specially curated to improve blood circulation and ease muscle aches. My therapist hails from the Land of Smiles and she took care to explain what my 150-minute treatment entails. It started off with a foot ritual in one of the suites that gave me yet another unobstructed view of the Kuala Lumpur skyline. I could get used to this quiet time away.
After the foot ritual, I was led to the adjacent room for the full body scrub using natural ingredients like coriander and cucumber. The blend of herbal ingredients felt a little tingly on my skin as I lay back to enjoy a good scrub down. Following a quick shower, I got back on the spa bed for my next, and favourite, part of the treatment—the Royal Banyan Herbal Pouch Massage.
The therapist worked on my knots and aches using the herbal pouch that she then alternates with her own hands/palms. With each pressure and the hot compress she administered, I could feel myself loosening up and drifting off to pure relaxation. Her strokes were rhythmic and firm, and hit the right spots with special attention paid to my neck and shoulders.
Just as I was lulled to an unconscious state, the therapist started the Jade Face Massage that included a facial that incorporated natural ingredients. The jade massage was especially interesting as this have been known to help encourage lymphatic drainage and boost circulation. The jade's cold surface felt calming on the face—I believe it helps to relieve tension too!
My Royal Banyan treatment then ended with a therapeutic herbal bath. The water in the tub was a tad too hot for me to soak in the atmosphere as dusk began to set in the horizon, so I only managed a good seven-minutes in the tub. Safe to say that my body was completely rested and I felt bliss revelling in my afterglow. The evening traffic didn't have anything on me. – Gwen Ong, Deputy Editor
Tun Teja Treatment (3 hours, RM1,750 nett)Spa Village, The Ritz-Carlton, Kuala Lumpur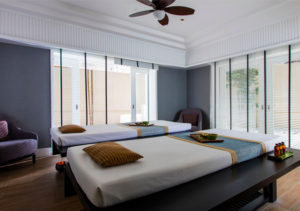 If you're looking to be truly, and thoroughly, pampered, this is it. After all, the treatment is inspired by the much-loved princess, Tun Teja. Three hours might seem too long for those with a busy schedule but this is exactly why it's worth the time. I fall into this category and rarely find the time to even go to a salon to get a hair treatment. The Tun Teja spa experience covers everything but your nails. It starts off with a Traditional Princess Massage and my therapist fit all three of my needs for a masseur: Attentiveness, strength and the ability to knead the right spots. I instantly fell asleep!
Next was a Scalp and Hair Conditioning Treatment, which I have to say was super effective. Post-spa, I had "soft, luscious locks" that I had often only read about on the back of conditioner bottles. While the very natural hair product was left in my hair, she proceeded to work on my face with a Traditional Malay Facial and Body Scrub. As there were no attempted extractions, my soul was at peace except for the rather strong herbal scent from the facial concoction. With any possible gunk scrubbed off, it was off for a quick shower before soaking in the Royal Herbal Bath – essentially a milk-based bath with jasmine, rose petals and kaffir lime. During the soak, I was then served with black seed paste wrapped in a betel leaf, which is supposedly good for health. I just know it was extremely bitter for my heart.
The bathtub is outside the spa room where despite the Zen-like backyard, one can't fully relax with the all-too-familiar noise that is KL traffic. Even so, the bath did wonders. My skin felt soft, and my muscles, relaxed. The final bit was sitting in a steam chair which only reaches to my neck area – great for someone like me who often feels suffocated in steam rooms. And just like that, it was over. At least, I felt like a princess for three hours with smooth skin to prove it. – Rachel Au, Lifestyle Editor
Tenang Tenang (110 minutes)Mandarin Oriental, Kuala Lumpur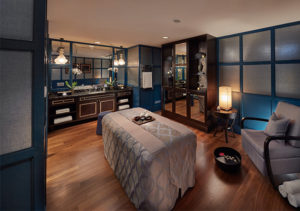 While it sits in the heart of KL's golden triangle, the calm, relaxing ambience of the urban sanctuary that is the Mandarin Oriental spa prompts one to let go of any worries and stress that might be on your mind the moment you step in. I was here for the Tenang Tenang treatment, one of the unique spa experiences where locally sourced ingredients are used for a distinctively Malaysian touch. After a soothing cup of roselle tea in the waiting room, Diana, my therapist of the day, then came to escort me to the treatment room.
The session began with the spa's signature foot ritual, prepping the body for the pampering that lies ahead. Next came my favourite part of the treatment, the herbal body scrub, where a warm, comforting blend of Borneo pine and sandalwood is used to gently scrub away all the grime and dead skin cells on my body – it was so comfortable I almost drifted to sleep, coming to senses only when it was time to wash it all off with a Pandan leave (mmm) infused shower ritual in the adjoining bathroom.
Then it was time for the Tungku Herbal massage. There were three different massage oils from Tanamera (a local brand that uses tropical ingredients) to choose from, and I opted for the ginger blend massage oil, which imparts a light, soothing scent and helps relieve muscle tensions. It was perfect for the full body massage that followed, as Diana worked on deep muscle tension release movements (read: muscle knots begone!) coupled with traditional elements of the Tungku, where she used a compressed herbal poultice of kaffir lime leaf and lemongrass – it felt almost like a hot stone massage. While several points did feel a little sore after – I opted for stronger pressure after all – but my body also felt somewhat 'lighter' and more at ease, with the pesky muscle knots loosened up. After the treatment, I was taken to a cosy lounge to just sit back, relax and sip on a warm cup of tea, ending the rejuvenating, tranquil afternoon on the right note. – Tan Su Fen, Senior Writer
Malaya Golden Chersonese (150 minutes, RM875)The Majestic Hotel, Kuala Lumpur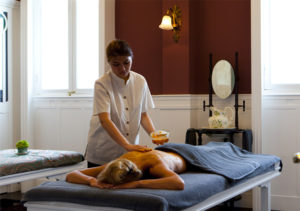 Located strategically in the hustle and bustle of the city, The Majestic Spa offers a calming respite for those looking for some down-time in the form of a luxurious spa treatment. The space is subtly decorated in a muted colour palette with local touches—from the restored furnishings to the ornamental pieces on display. I was treated to the Malaya Golden Chersonese treatment, a 150-minute long experience inspired by the journey of English explorer Isabella Lucy Bird and her adventures in British Malaya circa the 19th century. To wit, the treatment incorporated tropical-inspired ingredients such as papaya, bunga rampai and coconut that made for a uniquely traditional experience.
I was treated to a relaxing lavender foot soak steeped with thyme and lavender seeds to start off the treatment. A scrub down with rice husk powder and a quick rinse later, I was ushered into another room with a bathtub and en suite bathroom to take on my hair and body treatment. My therapist layered on a generous amount of banana honey hair masque onto my locks, and believe me when I say that it smelled good enough to eat—the masque was actually edible as it is entirely made of organic and natural ingredients. While my hair soaked up the goodness of the masque, my limbs were exfoliated with another good-enough-to-eat product in the form of a papaya and coconut scrub.
20 minutes later, I rinsed off the masque and exfoliant in the shower (to find that I now had baby-smooth skin and hair) and then proceeded to the bathtub. A lime blossom bath was already prepared as I got out of the shower—a soak in balmy waters infused with the indulgent scent of keffir lime is what I need to unwind after a busy week. Another 20 minutes passed and it was now time for the body massage. My therapist used bunga rampai, a naturally fragrant plant that you might know as potpourri, for the treatment. Her kneads and strokes were on point as I was lulled to a gentle repose, also thanks to the ataractic scent from the massage oil.
Who would have thought that 150 minutes could pass by so quickly? After the treatment ended, a cup of hot ginger tea revived my senses and pulled me back to reality. Now this is the kind of head-to-toe pampering that I can get used to. – Loh Wei Yeen, Senior Fashion & Beauty Writer
| | |
| --- | --- |
| SHARE THE STORY | |
| Explore More | |