Salt. It's a staple in any kitchen, for sure, but the versatile compound has also made a name for itself within our vanities. Introducing: Salt scrubs. They are currently all the rage—just as they have been for literal centuries—and the hype is totally warranted.
From silky smooth legs to a radiant, all-over glow, here are five reasons why you should invest in a salt body scrub (and how you can get the best results with a winner of the BURO Beauty Empties):
The five benefits of salt scrubs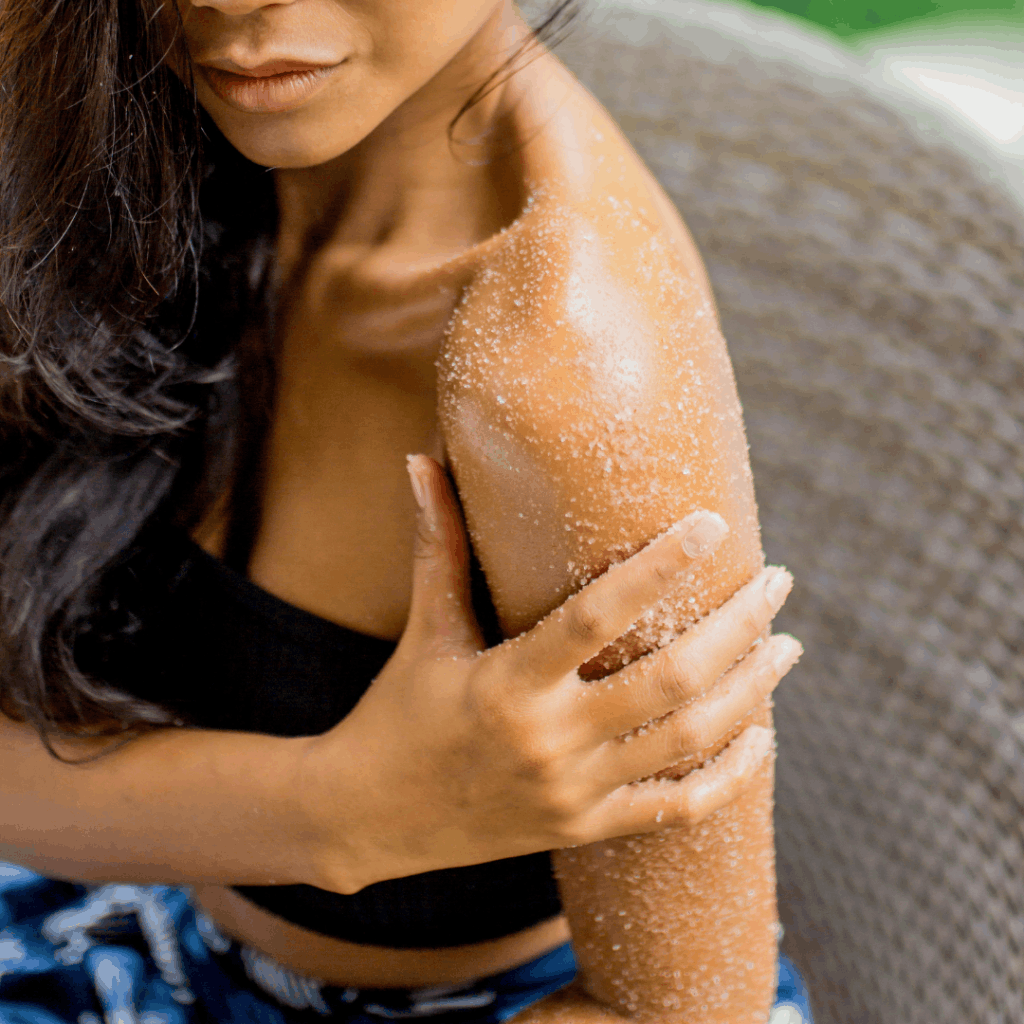 1. Salt scrubs exfoliate your dead skin cells
This is kind of a no-brainer, but a salt scrub is an excellent mechanical exfoliant. As we all hopefully know by now, both mechanical and chemical exfoliation stimulates skin cell turnover, which can improve the tone and radiance of your overall complexion.
This process becomes increasingly important in the long run—as we age, our natural skin cell turnover rate slows down. Essentially, old skin cells build up on your skin's surface, leaving your complexion looking dull and dry. This can accentuate the signs of premature ageing such as wrinkles and hyperpigmentation. Exfoliating regularly encourages faster turnover which can, in turn, help to combat photoaging and thus maintain your youthful glow for longer.
2. Salt scrubs can clear your body acne
In addition to smoother, brighter skin, exfoliation can help to prevent body acne. How? Dead skin cells are likely to be one of the main causes of your body's breakouts as they clog your pores. So, sloughing them off regularly with the help of a salt scrub can really help to clear your body acne.
3. Salt scrubs can make your body care more effective
If your crusty elbows, knees, and/or ankles seem resistant to any and all body care, we may have a solution for you. Fun fact: Unclogging your pores and getting rid of the dead cells on your skin's surface via exfoliation allows your body care products to penetrate better.
Put simply, it's not that your lotion is ineffective—it's just that your skin is underexfoliated. During your next self-care session, try using a salt scrub to give your skin a buff prior to moisturising. We guarantee that you'll be able to feel the difference.
4. Salt scrubs can treat and prevent ingrown hairs
If there's one thing that we can all agree on, it's that ingrown hairs are the worst. Like the estimated 93 per cent of women who regularly shave their bodies, you're probably well-acquainted with them.
Aesthetics aside, ingrown hairs can be painful and itchy to deal with. Fortunately, there is an easy way to prevent and treat them. You guessed it—using a salt scrub on a regular basis will do wonders in treating your ingrown hairs. Further, exfoliating prior to shaving provides a smooth canvas for your blade to glide across. This gives you a smoother shave with less irritation, which helps to prevent ingrowns from occurring in the first place.
5. Salt scrubs can replenish your skin from within
Overexfoliation can strip your skin of too much moisture or leave you with a compromised skin barrier. It is thus important to ensure that you're using the right products for your specific needs.
On their own, salts contain minerals that are thought to offer many benefits to the skin. Not all salts are created equal, however—for example, sea salt is touted for its supposed antibacterial properties while Himalayan rock salt is better known for its purported anti-inflammatory properties. All in all, the salt you use depends entirely on the results you're hoping to see.
That's not all, though—salt scrubs don't just contain salt. Rather, they are combined with nourishing oils and extracts to maximise the skincare benefits. It is, therefore, important to look for a product that has been formulated to nourish your skin post-scrub. For example, our BURO Beauty Empties "Best Home Spa" winner is Tanamera's Himalayan Rock Salt Scrub. The locally-made body scrub mixes Himalayan crystal salt with grapeseed, sunflower, jojoba, wheat germ, and coconut oils to condition and replenish the skin post-exfoliation. It also contains aromatherapeutic oils like lavender, lemongrass, and ginger to invigorate the senses and give your body a total olfactory reset.
If you'd like to hop on the trend, find out where to shop our pick for the best salt scrub ahead:
Tanamera Himalayan Rock Salt Scrub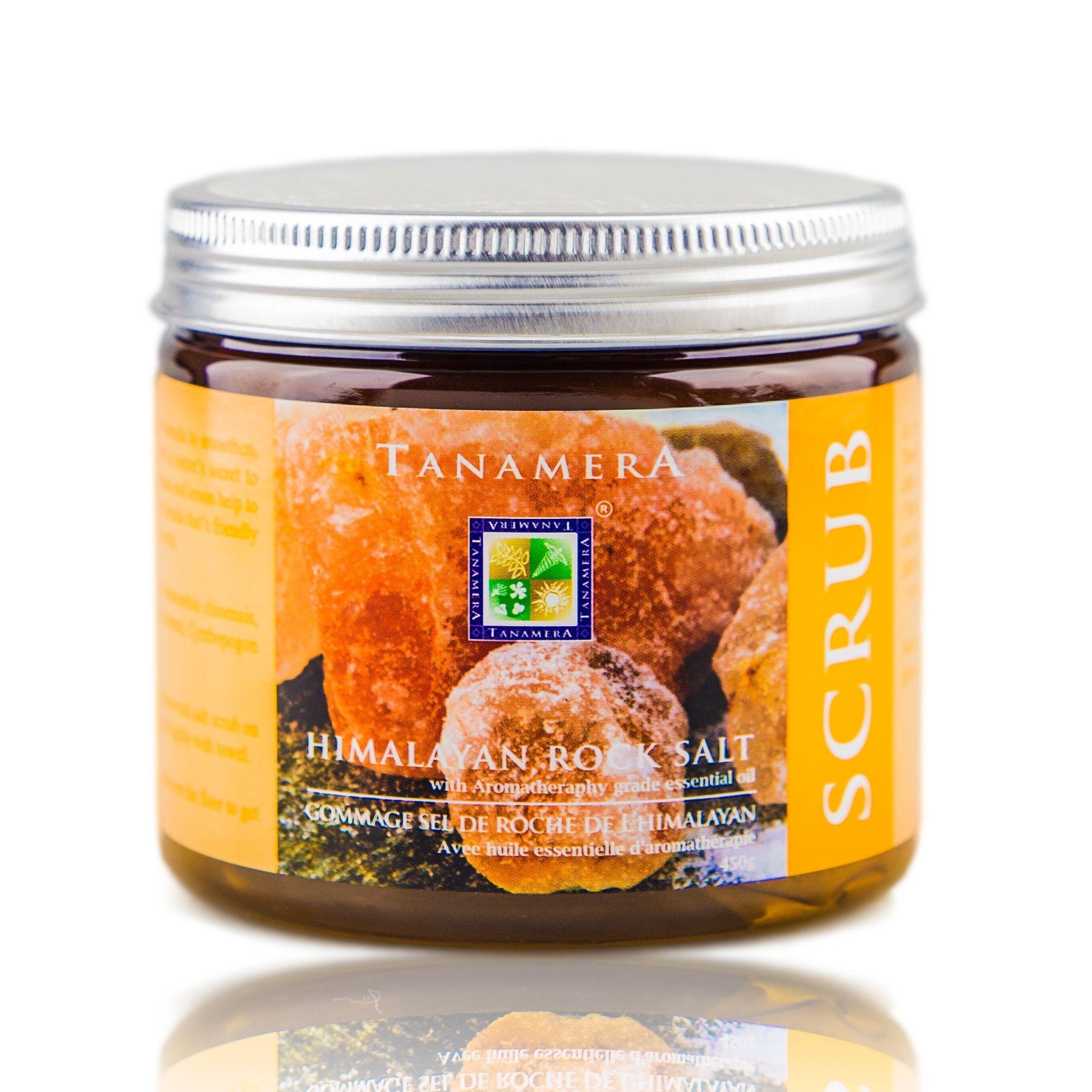 Find more body and wellness highlights here.
| | |
| --- | --- |
| SHARE THE STORY | |
| Explore More | |