Being home-bound doesn't mean giving up entirely—there are tons of ways to get your fitness fix at home, you just have to get crafty! In our isolation fitness guide, we've covered the best ways to get active from the comfort of your own home, so whether you're low on equipment or seasoned gym-fanatic with their own home setup, there's something for everyone.
What are you waiting for? Make the most of a druid situation and get moving!
If you have a home gym…
It literally cannot get any easier for you. Run, lift, cycle or squat! The world home-gym is your oyster.
If you're tech-savvy…
Instagram live classes
Maggy Wang is one half of the co-founding team behind Motion Lab, and if you're looking for some killer virtual classes (and to try out her usually fully-booked classes), find the schedule here. Plus: Don't miss her on BURO Hangouts this Friday (27th March) – she'll be running our fitness session!
If meditation with Dian Lee is not on your to do list, it should be. Get your head on right and support your mental and emotional health the right way with her meditation classes on IG live, every night at 9pm. Oh, and if you can't make it for then (although let's be honest – you're not exactly doing anything else, are you?) she'll also be running a meditation session on our BURO Hangouts event this Friday (27th March).
Keep on top with your Yoga and Pilates Practise with The Flow Studio's array of IG classes. In fact, loads of tools are available to help you keep your practise going, such as apps like ClassPass or the plethora of YouTube yogis. Work out in as small or as big a space as you have, at the exact level of intensity you want—it's a great way to get your body moving and get your head in the right space.
Online personal training
Look for personal trainers who offer video calls in replacement of one-on-one training sessions. Coach Weng has been a personal trainer for six years, and his services include a training plan, meal plan and a weekly one-on-one video call. More info on his website.
ClassPass online
The app provides thousands of free videos, with anything from HIIT, yoga, dance and more for your perusal. Best of all—it's free to use on the ClassPass app for all logged in users! Download the app for Apple and Android devices.
If you're skint on equipment…
Newsflash: You can DIY some makeshift workout props out of stuff around your house.
Towels: They make great makeshift yoga mats for all of your stretching needs. Alternatively, use it as a prop in your workout like Krystal from Qinetic Live!
Textbooks/shoe boxes: They work great as yoga blocks in a pinch, or you can use them in your strength workouts—squeeze a book between your thighs during wall sits, push ups or planks to get maximum muscle engagement.
Milk jugs/juice cartons: They work great as makeshift weights, and you can fill them up to just the right amount of weight for your workout. Alternatively, use a backpack filled with your heaviest books if you're not quite feeling the burn.
Tables, chairs, benches or couches: These elevated surfaces make the perfect partner for pushups, bridges, stretches and lunges.
Bag of rice (also works with a bag of flour): Hello, DIY kettlebell! Use it during squats, deadlifts and overhead presses.
Watch Jeff Cavaliere, physical therapist and strength coach, make his home-sitch work for him – DIY equipment and all!
If you're low on space …
Core workout:
As it's recommended by a pro-climber (Tom Randall, you're the best), you can bet this six-minute core workout will be equal parts intense and efficient. The workout is a real all-rounder, targeting the abdominals, obliques and back muscles—repeat as many sets as you want, to suit your level of fitness.
On-the-spot cardio:
A short HIIT workout is sure to get your heartbeat up and keep you in good shape: get your sweat on with jumping jacks, squats, burpees, lunges and skaters and keep going until you're dead. If you're bad at self-timing, here's a great interval timer app to keep you on track called Seconds.
Writer's note: If you're too lazy to devise your own workout plan and are looking for one that's equal parts fun and soul-destroying, try the Roxanne workout. It's easy—put on Roxanne by The Police, do some mountain climbers and then do a burpee every time he says Roxanne. Trust me, it's harder than it sounds.
If you've got a competitive streak…
You know what they say – compete with yourself, not others. Why not set yourself some challenges and then see how well you stick to them?
JomRun, Malaysia's leading sports app has just launched a COVID-19 virtual half-marathon, with the aim of getting restless participants to run 5km or 21km (at home) while helping out the community; 30% of the all the proceeds from the event will be used to donate hand sanitisers to primary schools in Malaysia. So, you get fit and help out the kids of Malaysia – win, win!
Fire Station is doing a 10 day exercise challenge, and it is actually achievable. No excuses—it's literally just one minute of your day, so get moving!
If you'd like to amp up the intensity, try Aloha Cycle Club's daily 10-minute challenge. Featuring a cycle of pushups, table tops, heel touches, Russian twists and squats, you'll be increasing the number of reps by the day (and feeling great).
Alternatively, here is Ministry of Burn's 'Boost and Burn' daily challenge, to keep your diet in check and your body working: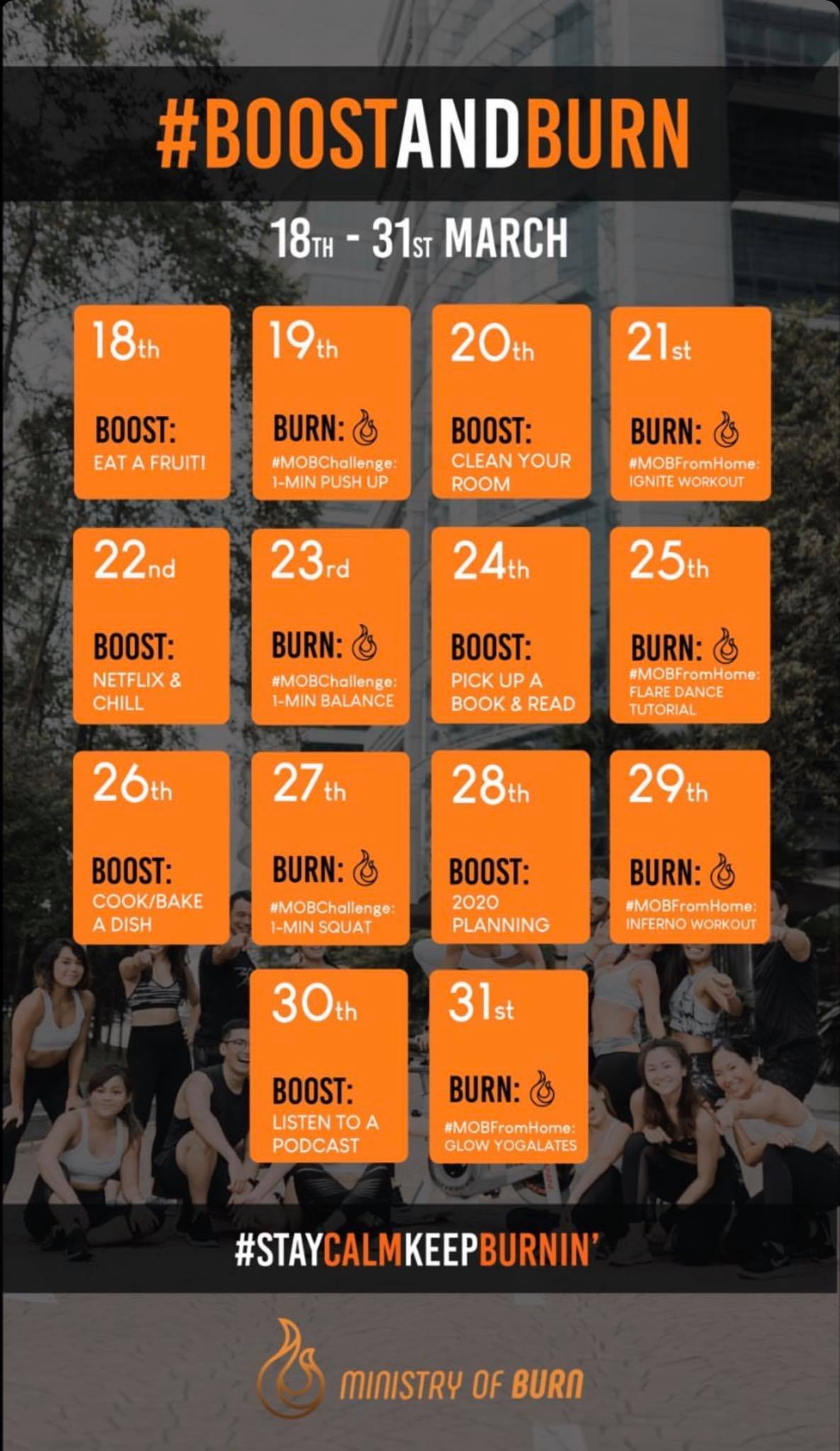 If you're feeling stiff…
Our work-from-home situations likely mean that we're all bed-bound (either voluntarily or involuntarily) for a lot more time than we need to. Whether you're a side, stomach or back sleeper, here are four stretches to get you nice and limber.
So, there you have it—all the ways you can keep active while in isolation. Remember, you don't have to workout to the point of exhaustion; just do what makes you feel good! Light stretching and a bit of movement will do wonders for your mental and physical health while you're stuck inside, so no matter what level you're working at, you'll be doing yourself a favour.
| | |
| --- | --- |
| SHARE THE STORY | |
| Explore More | |